Robot sales in North America hit a record high for the third quarter in a row, according to the Association for Advancing Automation. The growth was driven by a resurgence in sales to automotive companies and increasing demand for logistics automation in e-commerce, said the association this week.
Of the 12,305 robots sold in the second quarter of 2022, 59% of the orders came from the automotive industry, said the Association for Advancing Automation (A3). The remaining orders largely came from the food and consumer goods industry, which saw a 13% increase in unit orders over the same period of April through June in 2021.
"While this quarter shows a marked shift back to historic norms, with more robots going to automotive than to any other industry, the continued growth of robotics in food and consumer goods companies especially demonstrates the ongoing need to automate warehouse logistics for handling the exploding growth of e-commerce," stated Jeff Burnstein, president of A3.
North American robot revenues keep climbing
The 12,305 units sold in Q2 2022 is 25% more than the amount sold in the same period in 2021 and 6% more than the 11,595 sold in the first quarter of 2022, said A3. The Q2 2022 value of $585 million is the second-best quarter ever for revenue, according to the organization. That was down 9% from the $646 million in revenue of Q1 2022, the previous record quarter.
When combined with 2022's first-quarter results, the North American robotics market had its best start ever, with 23,903 robots ordered at a value of $1.249 billion, A3 said. The market grew 26% and 29% for units ordered and revenue, respectively, over 2021.
A record fourth quarter in 2021 resulted in the strongest year ever for North American robot sales, with 39,708 units sold at a value of $2 billion. A3 noted that 2022 is on pace for another record year.
"The larger trend towards robots being used to benefit more companies in North America continues," Burnstein added. "This makes it critical to educate system integrators and users now about how to deploy robots while keeping workers safe."
A3 observes demand across industries
While the automotive industry was again the biggest buyer of robotics in North America, adoption is growing across industries, said Alex Shikany, vice president of membership and business intelligence at A3.
"We're now on the path to realizing what we've been saying for a long time – a record number of companies of all sizes in all industries are looking at an ever-expanding set of applications," he told Robotics 24/7. "We're starting to see issues facing manufacturers – labor, inflation, productivity – come through in the data we collect."
"In Q2 in particular, we saw a resurgence in automotive OEMs and components," noted Shikany. "The cyclical industry is coming back in a big way, with electric vehicles driving retooling of existing facilities and construction of new ones, which will use a lot of automation."
"E-commerce, electronics and semiconductors, and life sciences were hit hard by labor shortages and are still on trajectory," he said. "Some manufacturers have told us that they're slowing down on purchasing to focus on implementation."
FANUC sees an 'inflection point'
"This is a true inflection point for our industry," said Louis Finazzo, vice president of sales at FANUC America. "Everybody is familiar with using robots for the 'Three Ds'—dull, dirty, or dangerous tasks. Now I'm adding a fourth, 'desire,' because of the skills gap, onshoring, and lost opportunity costs. Companies are saying, 'We can't wait anymore; we have to move now,' because of robots' ability to be redeployed, flexible, and maximize returns for customers."
"For example, electric vehicles [EVs] have justified increased automotive spending," he told Robotics 24/7. "In what I would call 'mid-volume, mid-mix, and rapid change requirements,' the industry is buying automation at a record pace to keep up with launch curves that used to be 55 to 60 weeks and are now 24 weeks. They want to be prepared for EVs and not lose market share."
"I've never seen this in 30-plus years in the automotive industry—spending driven by changing architectures," Finazzo noted. "So many things are being developed there that will apply to other industries."
Other industries to benefit from cobots, reshoring
"Healthcare, pharmaceuticals, and e-commerce demand went up because consumers couldn't go out like normal [during the COVID-19 pandemic], said Finazzo. "We're seeing new customer activity at record highs."
"In addition, collaborative robots subsidize labor rather than replace it," he said. "You can take one skilled person, add three robots, and still come out ahead. When cobots came out, there were a lot of false starts around safety, which depends on the end-of-arm [tooling and payloads]. But their ease of programming has been tremendous for processes like welding and assembly, where that skill set doesn't exist anymore."
"We're also seeing people designing for cobots and new tasks, such as quality inspection," Finazzo said. "It's also important to educate the next workforce to fully utilize this equipment. FANUC has a lot of training and has implemented apprenticeships."
Reshoring is another part of the equation. "Companies may look at smaller profit margins on things built here, but with smaller locations and more automation, it's not about labor first and location second," he observed. "In die casting, forge pressing, and general product assembly, companies are now investing in North American facilities built around automation."
Robotics vendors have their own supply chain challenges.
"I describe robotics as an accelerant or a catalyst," Finazzo added. "Everyone is selling to capacity, as demand outpaces supply. There's so much pent-up demand, that it will take a while to catch up from shortages in chips. I'm very bullish."
"There's an industry-wide focus on customer communications and being upfront about shipping and availability of components," Shikany said.
A3 offers multiple events
A3 said it will discuss the North American robotics market at several upcoming events.
"We're excited to share the latest on robots in the logistics space at our upcoming AMR & Logistics Week," said Burnstein.
"There was a day when people went to the Vision Show just looking for components," said Shikany. "Now, it's robots, AMRs, AI, and software. Attendees can see more and meet everybody in one place rather than find siloed technologies. Automate also saw a record number of companies excited to come back."
In addition, Shikany will discuss the end-of-year numbers in detail at the next A3 Business Forum.
A3 said its members includes nearly 1,100 automation manufacturers, component suppliers, systems integrators, end users, academic institutions, research groups, and consulting firms.
About the Author
Eugene Demaitre
Eugene Demaitre is editorial director of Robotics 24/7. Prior to joining Peerless Media, he was a senior editor at Robotics Business Review and The Robot Report. Demaitre has also worked for BNA (now part of Bloomberg), Computerworld, and TechTarget. He has participated in numerous robotics-related webinars, podcasts, and events worldwide. Follow Eugene:
Follow Robotics 24/7 on Facebook
Article topics
Email Sign Up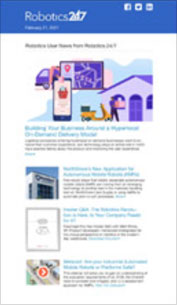 Get news, papers, media and research delivered
Stay up-to-date with news and resources you need to do your job. Research industry trends, compare companies and get market intelligence every week with Robotics 24/7. Subscribe to our robotics user email newsletter and we'll keep you informed and up-to-date.
FANUC America