While the infrastructure to support electric vehicles is still being built out, users of mobile robots have more options. OLogic Inc. has provided engineering and software support to its customers, helping them bring robots to market.
OLogic has collaborated with Vicor Corp. on a modular approach to building power delivery networks (PDNs) for robots, according to Andra Keay, founder and managing director of Silicon Valley Robotics.
In addition, the Santa Clara, Calif.-based firm has worked with companies such as Dusty Robotics, which has developed mobile robots to accurately transfer building plans to floor markings on construction sites. Dusty Robotics raised $45 million in Series B funding in May 2022.
Vicor provides power density
"We started out six or seven years ago," said Ted Larson, CEO of OLogic. "We were working on the Knightscope security robot when Bob Conn [senior engineer] came over from Xilinx. He had been using Vicor power for years in data centers. It was clean, effective, and efficient."
"Our project was the first one where we started using it all over the place, and it worked out well," he told Robotics 24/7. "Vicor's product line started evolving for higher efficiency and lower prices per watt. Its heat characteristics and reliability made it easy to put into designs. We ended up using Vicor again in other mobile robot projects."
"Power density is where we have the strongest play," said Steve Germino, director of public relations and media relations at Vicor in Andover, Mass. "We can deliver a lot of power in a small package, which is a perfect fit for mobile robots, drones, and automotive."
"Vicor recently added a 90,000-sq.-ft. chip fab so we can support growth and more robotics applications," he said. "We also work with Diligent Robotics, which supports and empowers patient care teams, as well as Kodiak Robotics, which is revolutioning autonomous, long-haul trucking. Both require power-dense, reliable converters."
Dusty Robotics turns to power tool batteries for FieldPrinter
"We've known Ted for a long time, since Savioke," said Tessa Lau, founder and CEO of Dusty Robotics, referring to the provider of hospitality service robots. "Dusty's robots use power for mobility, compute, and the painting function."
"When we founded the company, four of us had no office space, and Ted offered up his conference room," she recalled. "We built the first Dusty prototype in OLogic's office in 2018."
"When we designed our robot, we thought of it as a power tool for construction—it had to be reliable and robust," Lau said. "We trusted Ted to make the right choices for us."
"When developing Relay at Savioke, we wanted a long battery life to pull that fairly big robot for a full shift," she recalled. "We thought the same initally for Dusty, but then we discovered a lot of challenges with batteries that were not easily replaceable."
"We then used power-tool batteries with four-hour lifespans," said Lau. "You could then bring the robot on an airplane, making shipping and bringing a robot onto an airplane easier. We needed that to engage with customers like LAX across the U.S."
Now that Dusty Robotics has proven its technology on the market, the startup can futher reduce power needs to optimize battery life, said Lau. The robot also extends the career of workers with experience by taking over physically tedious tasks, she observed.
What about HP's SitePrint robot, which is similar to FieldPrinter? "It really validates the market," Lau said. "We've been doing this for four and a half years and doing it commercially for two and a half. We want to automate more and more of that manual workflow."
"Competition is great because it shows there's a need," she commented. "A big, well-known company investing in this problem shows it needs to be solved, and imitation is the sincerest form of flattery."
Mountain View, Calif.-based Dusty is also working with AutoDesk University to make sure its field printer can print layouts from building information models (BIM) that are accurate to within one-sixteenth of an inch.
"Data is the one truth, the lingua franca for robotics," Lau said. "The BIM is the instruction manual for all robots on what to do on the ground, drywall finish, and trenches for excavation. Construction is already more advanced than other industies, but it has traditionally been reluctant to adopt new technologies."
Partners overcome supply chain challenges
How have supply chain problems from geopolitical conflicts and the COVID-19 pandemic affected robotics developers?
"It was a massive disruption," replied Lau. "Being unable to get parts limited our ability to build robots for two years. Fortunately, we had a good team that could employ creative solutions to get parts we need. We're stockpiling certain serial numbers of parts."
While the robotics industry tends to start small, producing 60 robots rather than 1 million, vendors do need 100% of parts to proceed, she noted. Some companies have had to redesign their systems or have multiple configurations, trading off labor for parts, Lau said.
"On the Vicor side, we've brought plating under the same roof," said Germino. "We now have more control over our own destiny. Our partnership with OLogic makes them preferential for getting parts."
Larson said OLogic advises its customers to do two things: "When designing a new piece, contemplate the components you're using. Also, make sure the supply chain is clear. If it's questionable, stockpile for 12 months while the design process is happening."
"It's not like just-in-time manufacturing," he added. "You now need good relationships with suppliers and distributors. Having everybody in your ecosystem know what one another is doing is key."
The modular approach offered by OLogic and Vicor helps with both resilience and reliability, Larson said.
OLogic observes ongoing innovation
The wish list for features is neverending, said Dusty Robotics' Lau. "It's always 'How can we do more with less power? Can we get more sensors?'" she said. "Everything is battery-operated on job sites, so we turn off components when they're not needed."
"I wish all robotics developers knew what Ted knows," said Vicor's Germino. "We've tried so many things in mobile robots for power density and high efficiency, with an emphasis on thermals. Our founder is a physicist who keeps challenging us to get more power out of a small package."
"It never ceases to amaze me, what new software and applications are coming," said OLogic's Larson. "I remember when Willow Garage got started, and the diaspora of its people has changed the world. It takes pioneers like Tessa to come along and identify where there are opportunies, like in construction."
"Another example is Melonee Wise at Fetch Robotics [now part of Zebra Technologies]," he said. "She and others came up with new ways to use mobile robotics for logistics in warehouses. Now, we see lots of big companies doing it, such as Locus Robotics."
About the Author
Eugene Demaitre
Eugene Demaitre is editorial director of Robotics 24/7. Prior to joining Peerless Media, he was a senior editor at Robotics Business Review and The Robot Report. Demaitre has also worked for BNA (now part of Bloomberg), Computerworld, and TechTarget. He has participated in numerous robotics-related webinars, podcasts, and events worldwide. Follow Eugene:
Follow Robotics 24/7 on Facebook
Article topics
Email Sign Up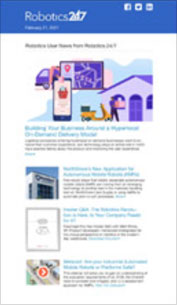 Get news, papers, media and research delivered
Stay up-to-date with news and resources you need to do your job. Research industry trends, compare companies and get market intelligence every week with Robotics 24/7. Subscribe to our robotics user email newsletter and we'll keep you informed and up-to-date.
OLogic