3D printing is one of the 20th century's most catalytic inventions. The process empowers engineers to innovate in a revolutionary way, designing and building things we couldn't have imagined even years ago. As the 3D printing trend continues to mature, what is the next step for this disruptive technology?
In the early 1990s, 3D printing was touted to have a profound effect on the way we live our lives. 3D printers in every house would print everything from school lunches to hoverboards. Although the majority of these Jetson-esque predictions have (so far) failed to materialize, the applicability of additive manufacturing (AM) today is no less impressive.
Most of the things made with AM over the past year weren't futuristic gadgets—although here's a list of "50 cool things to 3D print in October 2019"—they're real and tangible products that are expected to add $7 billion to the global economy in 2019. And while some applications of 3D printing really do have the ability to change the world—check out these 3D printed houses, for instance—the majority of application potential lies in the innovations that AM enables.
By giving companies the ability to manufacture parts that would have been fragile, extremely costly or near impossible to build, AM empowers engineers to manufacture without limitations, and without compromising their design. Take this carbon-fiber prosthetic foot made for precision in athletics, for example, or this fleet of drones which is making reforestation scalable. Both products used AM in their design and innovation process, enabling them to create concepts which will in turn push the limits of their respective industries.
They both also point toward a new phase of maturity for 3D printing. This is where it gets interesting: 3D printing is no longer just a fad. What was once a plaything for makers and hobbyists has matured into its own defined industry, with additive manufacturing now being applied in multiple fields from life sciences, to aerospace, to advanced robotics.
Today, 3D printing is the backbone of a new phenomenon that combines additive manufacturing, CNC machining, injection molding and sheet metal fabrication with other innovative digital technologies. It's often dubbed decentralized, on-demand or online manufacturing (OM). Over the past years, OM has evolved in such a way that some of the most innovative companies in the world now seamlessly integrate it into their product processes.
So why has online manufacturing grown so much in recent years? We believe that this is due to inefficiencies in the traditional process, many of which OM solves.
Traditional manufacturing has become so inefficient that it hinders the innovation process. Today, on-demand manufacturing has become a secret weapon for innovation, and the companies who use it, know it. It's a fully-fledged competitive advantage that empowers engineers and puts companies ahead of the game.
But what's driving the rapid uptake in this new process and what does it bring to the table?
The Old Guard and the Young Buck
Traditional manufacturing has for a long time been a stagnant industry, or at least stagnant in regards to innovation. With such an affinity for raw products and physical machinery, most have struggled to get past a pilot phase integrating Industry 4.0 technologies into their daily grind.
For example, Aime Lachapelle of Emerton Data believes that "85% of the [industrial manufacturing companies] state they aim at implementing AI in their production processes. However, less than 30% actually have an AI development plan."
It's understandable that large manufacturing firms in this space have lacked large scale adoption of new technologies. With thousands of machines scattered around what could be hundreds of factories on multiple continents, it's no small task. However, the implication of this has led to inefficiencies in the production process.
For example, imagine a German aerospace company is launching a custom satellite into space and they need a specific solution. With a traditional manufacturer the lead time may be 4 weeks: 1 to 2 weeks to receive a quote, 1 week for the manufacturing and 1 for shipping. And you have to print a minimum of 40 parts.
Now consider using an online manufacturing platform with an automated, instant quoting system. The end product will be of similar quality, and by using instant quoting, 3D printing and local manufacturers, lead time can be reduced dramatically. Your part also doesn't need to go through human bias during the quote process nor does it need to be printed multiple times to make it profitable for the manufacturer.
In the past, the German firm wouldn't have had any other option but to go down the traditional manufacturing route. But these inefficiencies combined created enough of a gap in the market to be filled by online, decentralized parts manufacturing. As the traditional manufacturing industry is slowly changing, OM continues to solidify its position in the manufacturing landscape.
From 3D Printing to a Whole New World of Innovation
Driven by technological developments in the production process itself, distributed online manufacturing is adding more material capabilities to its portfolio. Platforms like 3D Hubs are continuously expanding their offerings to include key manufacturing technologies such as CNC machining, injection molding and sheet metal fabrication. Together with 3D printing they create a comprehensive range of services that empower engineers to create impactful products.
Because of the speed, the costs involved and the lack of flexibility involved with traditional manufacturing, many are turning to OM as a solution to inefficiency. These two reasons combined show the smoothing of a processes where before there were too many restrictions.
As a result, the developments over the past decade have seen 3D printing become the backbone of online parts manufacturing. And this combination of 3D printing and other manufacturing processes is changing the way in which engineers produce everything from rockets and robotics to soft drink cans.
Developments that have already been seen across sectors have been inspiring, but it's the ones to come that will be truly revolutionary. Just as it took time for the first computers to grow from a niche technology in a university basement in California into what they are today, time will only tell what the future holds for 3D printing and online manufacturing.
Filemon Schoffer is co-founder and CCO of 3DHubs. Send email about this commentary to [email protected].
Article topics
Email Sign Up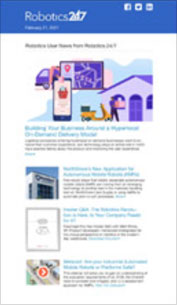 Get news, papers, media and research delivered
Stay up-to-date with news and resources you need to do your job. Research industry trends, compare companies and get market intelligence every week with Robotics 24/7. Subscribe to our robotics user email newsletter and we'll keep you informed and up-to-date.