CHICAGO—The Raymond Corp. continued to showcase its century-long history of innovation and highlighted its latest intralogistics and material handling systems at ProMat 2023. Built on principles of innovation and continuous improvement, the Toyota Industries company said it has integrated automation, telematics, virtual reality, and advanced energy to bring warehouse and distribution operations to new levels of performance.
"For 100 years, Raymond has been designing products to help customers optimize their operations and bring new levels of performance to their warehouses and distribution facilities," stated Michael Field, president and CEO of The Raymond Corp.
"We're proud to provide some of the industry's most advanced products and solutions, and we're looking forward to highlighting those products at ProMat 2023," he said.
Raymond described itself as "a leading global provider of material handling products and intelligent intralogistics systems." It said it has engineered its electric forklift trucks to increase productivity, efficiency, and sustainability.
The company said it delivers systems to the materials handling and logistics markets in North America and globally. Raymond said its reputation is built on on quality, innovation, and service.
Raymond shows automation and integrated intralogistics systems
Raymond said that it and its Solutions and Support Centers network provide technologies to improve the performance of warehouse and distribution center operations. As operations explore automated functions, they frequently must engage multiple vendors. Raymond asserted that it offers a "complete integrated system solution" — from material handing products to semi-automated and fully automated systems for pallet or product movement with minimal labor: 
Raymond Automated Swing-Reach truck. Facility managers can free their lift truck operators to focus on more critical tasks while the Raymond Automated Swing-Reach truck autonomously moves, accurately retrieves, and reliably stores pallets, said the company. Regenerative lowering offers reduced downtime and improved energy efficiency thanks to fewer battery charges, it noted. Natural feature recognition allows infrastructure-free navigation. Automated and manual modes allow full pallet handling or case picking.
Raymond high-capacity reach trucks. "With a unique stability system, heavy-duty mast frame and a universal forward-facing stance, Raymond high-capacity reach trucks offer an exceptional operator experience, along with the highest lift heights, heaviest capacities, and the fastest cycle times in the industry," said the company. It displayed Energy Essentials Distributed by Raymond lithium-ion batteries engineered to integrate seamlessly into the company's forklifts.

Raymond Courier 3030 automated stacker. The Raymond Courier 3030 automated stacker features a 72-in. reach capability and 2,500-lb. capacity for pickup/drop-off, end-of-aisle, and end-of-line applications, as well as end-of-line and in-line conveyor picking. Additional features in the enhanced version allow faster travel speeds in automatic mode and lane staging, to load or unload rows of pallets without having to train each location within the lane or keep track of pallet positions within the lane. The stacker can also travel in areas with lower vertical clearance and with low-clearance arch, and it can detect secondary objects with new lidar technology.

New Raymond Courier Automatic Charging System. Enhance labor efficiency by automatically charging Raymond Courier automated guided vehicles (AGVs). Users can choose when and how the AGVs are dispatched to the charge station: off-shift/full charge, low battery/partial charge, or inactivity/opportunity charge. No manual unhitching is required with the drive-thru configuration; AGVs can be charged while towing carts, said the company.
Raymond 8510 center rider pallet truck with the patented Pick2Pallet LED light system and the patent pending Raymond Advance Operator Assist Technology. Designed for heavy-duty picking applications and long-distance horizontal transport tasks, the 8510 rider pallet jack offers comfort, control and performance, said Raymond. The Raymond Advance Operator Assist Technology can minimize the pick cycle time by allowing the operator to remotely command the lift truck to travel tractor-first in an aisle between picks, it said. The operator can remain on the floor in optimum picking position, minimizing travel to and from the lift truck.
Raymond High Capacity Orderpicker. With an industry-leading elevated height of 456 in., the new High Capacity Orderpicker allows order picking a full rack higher than other current models, said Raymond. This gives operators access to 11% more pick slots and reducing annual cost per pallet stored by 19% compared with competitive models, it added. Built for use in e-commerce applications, the lithium-ion battery technology allows fast, convenient charging, while the In-Aisle Detection System helps operators avoid obstacles in the lift truck's path, the company said.
New trucks for materials handling
Raymond said its complete line of electric lift trucks is built to perform with increased efficiency, ease of use, and productivity: 
Raymond 8810 side-entry pallet truck. Model 8810 brings maneuverability, comfort, and productivity to a wide range of material handling and low-level order-picking applications, claimed the company. With a best-in-class turning radius, ergonomically designed features, and easy access from either side, Model 8810 allows operators to work more easily and ride more comfortably, it said.
Raymond 8530 rider stacker. More economical than stand-up counterbalanced trucks and more productive than walkie stackers, Model 8530 offers versatility and capability, said Raymond. Suitable for horizontal transport, low-level order picking, and vertical pallet-handling applications, Model 8530 can handle floor or first-level loads and can interface with racks and conveyors.
Raymond 8630 tow tractor with cart. Model 8630 is designed for high-capacity, high-volume transport, and batch-picking operations, and it offers 15,000 lb. of towing capacity to handle more carts and to lower the cost per move. At 33.5 in. wide, Model 8630 can work in tight, congested areas, said Raymond, which added that an 11% grade capability allows for good performance on ramps.
Raymond 4800 and 4810 sit-down electric counterbalanced trucks. Models 4800 and 4810 are both designed for outdoor applications, including lumberyards, building material suppliers, container yards, agricultural and commodity applications, and any other application requiring an emissions-free lift truck.
Telematics and connected technologies
Raymond not only designs and builds industry-leading equipment, but it also offers a broad range of intelligent warehouse technologies, including operator-assist technologies. Raymond said its iWAREHOUSE systems allow facility managers to gather data and connect directly with their fleet, assets, and workforce:  
iWAREHOUSE telematics. The iWAREHOUSE Fleet and Warehouse Optimization System provides a suite of tools to enhance the productivity of both operators and vehicles and offers actionable fleet utilization data to help drive down costs, said Raymond. 
iWAREHOUSE Real-Time Location System (iW.RTLS). Using geofencing and zoning capabilities, iW.RTLS can help keep lift trucks, operators, and pedestrians in the right place at the right time by slowing a Raymond lift truck or bringing it to a controlled stop within predefined zones. Zones can be created around pedestrian areas to notify operators that they are in predetermined zones with objects of concern or around other facility environments, such as height-restricted areas, freezer areas, and very narrow aisles (VNA).
iWAREHOUSE FieldSense (iW.FieldSense) proximity notification system. Designed to reinforce best practices while enhancing environmental awareness, iW.FieldSense uses magnetic field generator technology to see through and around racking, corners, and most objects to alert properly equipped pedestrians and lift truck operators when they come within a predefined distance of each other. iW.FieldSense can provide three levels of awareness: truck-to-truck, truck-to-pedestrian, and truck-to-facility, according to the company.
Raymond Zoning and Positioning (ZaP) technology. Raymond said its ZaP options can ensure more reliable, repeatable lift truck operation by automatically controlling many order-picker and turret truck functions in very narrow aisle, wire-guided applications. Operators can learn more quickly, perform the task more accurately, and work more efficiently, instead of searching for locations, it added. Zoning applications limit lift truck functions such as lift height and travel speed according to the unique features of a given facility, while positioning functions guide the lift truck to the next storage location, taking the fastest, most efficient path.
Operator education offerings
Raymond said it offers a variety of training tools designed to help bring new operators up to speed and reinforce training for experienced operators: 
Next-generation Virtual Reality (VR) Simulator. Raymond's VR Simulator uses the latest immersive technology to bring new hires up to proficiency more quickly and to continually expand operator skills for reduced turnover. The updated simulator features a new wireless headset with improved graphics rendering, making training simulations feel more realistic and immersive. It also has a smaller footprint, allowing for easier transport between training sessions.
New integrated tether system. Raymond said its integrated tether system is a training tool designed to reinforce operator best practices. It can be integrated on Raymond's Swing-Reach and orderpicker forklifts, said the company.
ProMat provided opportunities to see Raymond technologies
ProMat 2023 attendees could visit Raymond at Booths S1903 and S1703 at Chicago's McCormick Place Convention Center to learn about the company's material handling equipment, energy systems, connected technologies, and automation products.
Raymond also offered sessions on "Reduce Costs and Improve Operational Visibility With Smart, Connected Warehouses" and "Navigate Operational Challenges and Maximize Labor Productivity With Complete Intralogistics Solutions."
Editor's note: For more about ProMat 2023, visit Robotics 24/7's special coverage page.
Article topics
Email Sign Up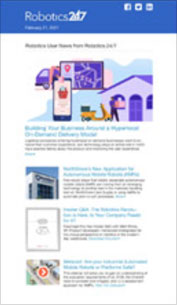 Get news, papers, media and research delivered
Stay up-to-date with news and resources you need to do your job. Research industry trends, compare companies and get market intelligence every week with Robotics 24/7. Subscribe to our robotics user email newsletter and we'll keep you informed and up-to-date.
Raymond Corp.