Companies have started to embrace the digital revolution and are beginning to see the full potential of Supply Chain 4.0, according to a recent study from LogisticsIQ.
The report outlines how real-time product visibility, strategic sourcing and optimization, end-to-end visibility, inventory visibility and optimization, real-time manufacturing asset intelligence, micro fulfillment, efficient last mile delivery and dynamic demand and supply synchronization are some of the major benefits of a digital supply chain.
According to the report, the proliferation of technologies and opportunities around the digital supply chain means companies need to look seriously at outsourcing these functions. This is going to be a major shift towards a new business models as supply chain as a service (SCaaS), the report's authors noted.
In the report, titled "Next-Gen Supply Chain Market – Global Forecast to 2030," this market is likely to reach USD 75 billion by 2030, from USD 32 billion in 2019. Enablers of digital supply chain include Artificial Intelligence (AI), 3D Printing, Cloud Computing, Big Data and Predictive Analytics, Robotics and Automation, Data Capture, Driverless Vehicles and Drones, Digital Twin, IoT, Blockchain, Augmented and Virtual Reality, Wearable & Mobile Devices and 5G connectivity.
According to the report, the lure of low-cost data storage and cloud computing has enabled organizations to capture and process large volumes of data in a short period of time in order to find valuable business insights and thus achieve end-to-end digitization of the supply chain. Companies have started implementing technological changes in crucial logistics functions across various internal processes covering supply chain planning, procurement, sales & operational planning and customer services. For example, under its "Strategy 2025," Deutsche Post DHL Group will be spending around EUR 2 billion on digitization until 2025 and the digitization investment is expected to lead to yearly benefits of at least EUR 1.5 billion by 2025.
Major drivers of a digital supply chain include demand for greater visibility and transparency in supply chain data process, faster adoption of Internet of Things (IoT), increasing investment in supply chain innovation, and huge demand from e-commerce.
Rise of The Digital Supply Chain Market with IoT
Organizations are looking to leverage IoT in supply chain management by installing sensors and communication devices to achieve accurate asset tracking, improve inventory management, predictive maintenance, and establish demand driven supply chain network. Logistics companies have been using smart sensors to increase automated data collection and processing and GPS to improve visibility of shipments and improve fill-rate for quite some time now. If we take an example of Jabil then their Intelligent Digital Supply Chain (IDSC) solutions enable the best strategies, innovation, and design throughout the supply chain, delivering superior financial performance and customer experience which include Jabil InControl™, Procurement Solutions and Supply Chain solutions.
5G to Revolutionize NextGen Supply Chain Market
Widespread 5G rollout is expected to occur starting 2020, promising mobile networks with high data speeds, improved quality, and reduced latency. With growing number of smart devices being used in supply chain, there is a challenge to handle all on network which can be addressed by 5G to track the even smallest item, V2X communication and order fulfillment through Augmented Reality in warehouses. 5G is likely to enable massive amounts of data to be collected from remote and mobile sensors analyzed in real time to drive transportation management optimization and predictive analytics. Assuming that there will be at least 5 Million mobile robots in more than 50000 warehouses to pick, store, sort and transport the materials and everything will be connected through WMS/TMS. It makes really important to have a fast, stable and secure connection of 4G LTE or 5G. In June 2019, AT&T Business, Samsung Austin Semiconductor, and Samsung Electronics America unveiled the first manufacturing-focused 5G Innovation Zone in America which explores using 5G in combination with LTE and Wi-Fi to illustrate key use cases like Automated Guided Vehicles, Digital Twin etc.
Artificial Intelligence and Supply Chain 4.0 Market
AI in supply chain is being used to address key challenges such as constant change in process, shorter product lifecycle, and increased demand uncertainty by analyzing complex data and forecast future demand. AI is already being deployed in supply chain planning and optimization, including demand forecasting, inventory management, warehouse management, and fleet management. If supply chain has to be dynamic, responsive and interconnected to the ecosystem and processes the solutions like IBM® Sterling Supply Chain Suite gives you the end-to-end visibility, real-time insights and recommended actions to turn disruptions into opportunities for customer engagement, growth and profit.
The Age of Robotic (AGV, AMR, ASRS, Picking Robots) in Logistics 4.0 Market
The rise in e-commerce has led robots to enter warehouses, sorting centers, and are evening being deployed for micro-fulfillment and last-mile delivery. Autonomous mobile robots (AMRs) are now being used in entire logistics chain, from order intake to customer delivery resulting in faster order fulfillment, greater order accuracy, reduced damages and improved labor productivity. Robots are also being used by large retailers such as Amazon, JD and Walmart to pack and sort items for Warehouse Automation. Automated guided vehicles (AGV) are now being deployed in warehouses as autonomous forklifts, carts and pallet movers. Recent developments like Shopify acquiring 6 River Systems for $450m and Teradyne acquiring AutoGuide Mobile Robots & Mobile Industrial Robots (MiR) for $165m & $272M respectively are the outcomes behind this disruptive technology in the warehouses and logistics. Apart this, there have been some major M&A like KUKA (Midea Group) acquiring Swisslog, KION acquiring Dematic and Egemin, Toyota acquiring Vanderlande and Bastian Solutions, and Murata Machinery acquiring AGVE AB as well.
Deploying Last-Mile Delivery Market (LMD) with Delivery Robots and Drones
Last-mile service has been identified as key differentiator amongst competitors, from renowned retailers to local businesses. Drones and unmanned ground vehicles (UGV) are showing up in last mile delivery. Amazon has been testing its Scout delivery robots to deliver packages and has planned to expand it on larger scale. FedEx collaborated with Pizza Hut to test FedEx's SameDay Bot for pizza delivery. We can also see some similar trends related to delivery robots which are working towards last mile delivery issue and its solution. Driverless delivery start-up Nuro just got a $940 million in financing from Japan's SoftBank Vision Fund and has partnered with Kroger to deliver the groceries and with Domino's to deliver the pizzas. KiwiBot is providing similar services for the university campus. The University of California at Berkeley and the University of California, Los Angeles were two of the earliest colleges to welcome the food delivery robots, KiwiBot.
Drones as an enabler for Future of Logistics
Companies such as DHL and Amazon are testing drones for last mile delivery. DHL has already tested Parcelcopter, a Microdrones md4-1000 UAV to deliver a package. Boeing has come up with unmanned electric vertical-takeoff-and-landing cargo air vehicle (CAV) that could deliver up to 227 kg of cargo within a fifteen- to thirty-kilometer radius. In June 2019, Amazon has unveiled the latest version of its Prime Air delivery drone to deliver packages up to five pounds in 30 minutes. Drones are expected to have a major impact on supply chain not just for deliveries but warehouses too. In future drones could be the best way to track inventory anonymously and can even be used to move items quickly. Walmart has already tested warehouse drones to catalog and manage inventory. PINC started developing PINC Air indoor inventory technology in 2014 based on its outdoor technology used for tracking inventory in equipment and storage yards. Apart this, the DroneScan system provides two revolutionary solutions to scanning products and pallets in warehouses. Either the Hadeda system consisting of a Drone and Dronescan payload which reaches the high shelves and methodically moves down the aisles scanning pallet barcodes.
The Micro-Fulfillment Market Shift
Micro-fulfillment brings a distribution center closer to the end-customer which allows businesses to operate via an online delivery model and reduce costs of last-mile delivery for retailers. Micro-fulfillment centers are small warehouses that utilize high-end automated systems, AI and analytics to deliver goods rapidly. Companies such as Takeoff Technologies and Fabric (Commonsense Robotics) are focused on automated micro-fulfillment centers by bringing automated storage system, floor-based free roaming robots, bin racking structure, and a lift/load handling device within the racking structure. Recently, Takeoff Technologies announced that it has placed a $150 million order with Knapp, would allow for a 50-site deployment of its robotic micro-pick centers. Even Dematic who is pioneer for warehouse automation solutions, is extending its solutions for Micro-Fulfillment with Dematic Multishuttle and Goods-to-Person picking solutions.
Blockchain for Digital Supply Chain Market
Blockchain in supply chain establishes provenance of products, authenticity and enhances traceability of the products by transferring information with multiple partners during manufacturing, assembly, and transportation in a trusted and automated way. Maersk and IBM are working on cross-border, cross-party transactions that use blockchain technology to help improve process efficiency. Maersk and IBM jointly developed TradeLens, a blockchain-enabled shipping solution smart contracts in order to enable digital collaboration across the multiple parties involved in international trade. Walmart started using Hyperledger Fabric blockchain-based food traceability system for authenticity and provenance.
Impact of 3D Printing on Digital Supply Chain 4.0 Market
With 3D printing technology being made more accessible, companies are starting to use 3D for on-demand manufacturing and streamline their supply chain. 3D printing allows local facilities to 3D print designs on-demand leading to significant transportation and logistics cost reduction. DHL has tested this future concept by 3D printing replicas of spare parts that the organization currently stores for automotive and technology customers. Similarly, Mercedes-Benz Trucks announced it will now allow customers to 3D print more than 30 different spare parts for cargo trucks in an effort to resolve backlogs in spare parts delivery.
Digital Twins to Optimize NextGen Supply Chain Market
Digital twin is another breakthrough technology that creates virtual models of product design, production, and IoT and allows companies to realize new design to have a proper supply china network. Digital twins provide greater insight into and visibility from a material surface to a critical infrastructure resulting in proactive decisions being made deployed in the field. Current use cases in logistics includes digital twins of packaging & container, shipment, warehouses and distribution centers, logistics infrastructure, and logistics networks. Recently, AspenTech and Hexagon PPM have partnered to enable Digital Twin Workflow Solution for EPC Firms. The partnership aims to help manufacturers in process industries better manage the financial risks of big, complex projects as EPC workflows have historically been document driven processes as they progress through the lifecycle, from conception to construction, and this can lead to inefficiencies, delays, lost documents, and miscommunication—especially when multiple external contractors or firms are involved.
Influx of Start-Ups in Supply Chain Management and Logistics 4.0 Market
Future supply chain needs to be both intelligent and customer-centric, combined with continuous improvement and an emphasis on innovation in order to deliver value to customers consistently. This has led to growing need for technology driven solutions in order to transform the logistics and supply chain market. Start-ups are taking advantage technologies that were earlier limited to large companies only to come up with innovative digital supply chain solutions in order to streamline business processes by targeting areas of need.
Download the sample and ToC of Next-Gen Supply Chain Market worth $75B by 2030.
Key players considered in this study
IBM, Oracle, Manhattan Associates, JDA Software, SAP, Infor, Epicor Software, Descartes Systems Group, WiseTech Global, Kinaxis, E2Open, Logility, Coupa, Basware, Jaggaer, GEP, BravoSolution, Zycus, PTC, High Jump, IFS, Cisco, Microsoft, Intel, Om Partners, H. Robinson, Dematic (KION), Swisslog (KUKA), SSI SCHAEFER, Daifuku, Murata Machinery,TGW Logistics Group, Yale Materials Handling Corporation, Zebra Technologies, Honeywell AIDC, Honeywell Intelligrated, Data Logic, DMLogic, Nulogy, SICK AG, ABB, Jabil, Siemens, Logistyx Technologies, Advantech iLogistics, PINC, UPS, Righthand Robotics, BluJay Solutions, Locus Systems, Brightpearl, Veridian, Avetta, AIMMS, One Network Enterprises, LEGACY Supply Chain Services, Apex Supply Chain Technologies, Kuebix, SEKO Logistics, Landstar, CSX, Arviem, Tapestry Solutions, FedEx Supply Chain, DHL Supply Chain, XPO Logistics, Ryder Supply Chain Solutions, NFI Logistics, XPO Logistics, GEODIS North America (OHL), Lineage Logistics, Kenco Logistic Services LLC (KLS), DSC Logistics, Cainiao Network (Alibaba), Amazon.
Article topics
Email Sign Up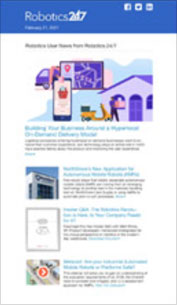 Get news, papers, media and research delivered
Stay up-to-date with news and resources you need to do your job. Research industry trends, compare companies and get market intelligence every week with Robotics 24/7. Subscribe to our robotics user email newsletter and we'll keep you informed and up-to-date.