Innovation Works, along with the Pittsburgh Robotics Network and other regional partners, today launched the Robotics Factory, a set of inter-related programs that are part of the $63 million Build Back Better Regional Challenge grant awarded by the U.S. Economic Development Administration (EDA) to the Southwestern Pennsylvania New Economy Collaborative.
The Robotics Factory intends to create, accelerate, and scale robotics startups in the Pittsburgh region. The accelerator program kicks off first with applications opening Feb. 1, 2023, for startups in robotics, robotics-adjacent sectors, and related technologies. Interested individuals should go to www.roboticsfactory.org for more information about the accelerator program.
The regional EDA grant will enable southwestern Pennsylvania to advance its regional robotics and autonomy cluster, said the partners. It is funding five regional projects—including the Robotics Factory—which are designed to provide long-term opportunities for people, businesses, and communities in the region.
The grant offers opportunities for individuals to get involved in the burgeoning robotics sector, especially those who have historically been excluded from employment, wealth creation, and innovation, said Innovation Works.
Robotics Factory includes three programs
Innovation Works (IW) said it is leading the Robotics Factory to further develop a globally prominent robotics ecosystem in the Pittsburgh region. With four-year support from the EDA, IW will match a portion of the $12 million from the EDA with additional operating and investment capital to provide seed funding to selected startups.
The Robotics Factory includes three programs intended to create startups focused on industry-identified challenges that require robotics and related innovations, accelerate the growth of startups, and scale up manufacturing.
The Robotics Factory – Create program will drive innovation to meet industry demands, said IW. It will bring together entrepreneurs, technology experts, and researchers with specific industry experts to define existing and emerging problems and identify potential solutions.
IW and the Pittsburgh Robotics Network (PRN) said they will convene and facilitate multiple workshops per year. Each workshop will focus on one specific industry/customer segment, such as agriculture, construction, and aviation, etc.
The program will select a number of entrepreneurs, technology experts, and researchers from southwestern Pennsylvania to meet with industry leaders to understand their pain points. They will also collaborate on developing innovative solutions to these problems.
The Robotics Factory – Accelerate program will give as many as six pre-seed robotics startups up to $100,000 in funding from IW, mentorship, and resources to take their company to the next stage of growth.
Similar to IW's nationally ranked AlphaLab accelerators, the Robotics Factory accelerator is an intensive, seven-month program. In that time, companies will move into the Robotics Factory's co-working space, have access to manufacturing and robotics resources including a production-grade prototype shop and robot lab, and receive coaching and support tailored to their specific business needs.
The participants will also have access to mentorship opportunities with other Pittsburgh-based robotics companies and national and global industrial partners via the PRN. Startups in robotics and related sectors and technologies, can apply for the accelerator when the one-month application period opens Feb. 1.
The Robotics Factory – Scale program will provide expertise in product prototypes and services to help startups develop production-ready products. The program offers in-house design for manufacturing, supply chain management, prototyping assistance, and access to the region's manufacturing resources.
The Robotics Factory said it includes a production-grade prototype shop with in-house staff to support product development and low-rate production, as well as to focus on the production of complex physical products. By considering manufacturing during the early design stages, companies can rapidly grow, deploy their technologies and achieve scale more quickly, it added.
Innovation Works invests in southwestern Pennsylvania
"The Robotics Factory will further the region's efforts to grow robotics startups and link them to industry and manufacturing capabilities," said Ven Raju, president and CEO of Innovation Works. "What captured the attention of the EDA and made the Southwestern Pennsylvania application stand out for the competitive Build Back Better grant was the region's cohesive approach to building and leveraging the workforce and capabilities of robotics industries."
"Not only will the Robotics Factory programs address existing problems experienced by industries that can be solved using robotics and automation solutions; we plan to also provide the resources and funding that are so critical to emerging companies," he continued. "Together, the Robotics Factory Create, Accelerate and Scale programs will be dynamic additions to one of the region's most important economic engines."
Innovation Works said it is the Pittsburgh region's most active investor in and supporter of early-stage companies developing hardware, software, and life sciences technologies. Although it focuses exclusively on helping startups in southwestern Pennsylvania, IW claimed that it is one of the most active investors in the U.S.
Innovation Works is part of the statewide Ben Franklin Technology Partners, a network of four centers developed to help diversify Pennsylvania's economy and retain the innovations that are invented and incubated there. The Ben Franklin Technology Partners are partially funded by the commonwealth of Pennsylvania and overseen by the Department of Community and Economic Development.
To date, IW said it has invested $117 million in over 700 companies that have brought in an additional $3.3 billion in outside funding, making it one of the most productive uses of state dollars.
"The skilled team and specific capabilities of the Robotics Factory programs will make meaningful connections that benefit both emerging startups and the thousands of manufacturers in the region," noted Mike Formica, managing director of hardware at Innovation Works. "By starting and growing companies that build their products locally, we provide opportunities for broader regional job growth."
Pittsburgh Robotics Network welcomes Robotics Factory
The Pittsburgh Robotics Network will assist Innovation Works in marketing the programs of the Robotics Factory.
"Pittsburgh is a world leader in robotics and automation, and the Robotics Factory helps take this to the next level by providing the mentorship, resources, and connections needed to take new innovative concepts from the idea stage to a commercial solution that can be deployed at scale," stated Joel Reed, president and CEO of the Pittsburgh Robotics Network. "The Robotics Factory provides an opportunity for aspiring entrepreneurs to learn how to develop successful solutions to pressing industry challenges."
The PRN represents the companies and leaders that make up the Pittsburgh robotics ecosystem, which is anchored by Carnegie Mellon University (CMU) and incudes more than 130 robotics organizations.
The organization said its mission to accelerate robotics adoption by connecting this community to the world. The PRN makes connections, expands collective knowledge, and tries to positively influence the advancement of robotic and artificial intelligence.
About the Southwestern Pennsylvania New Economy Collaborative
The Southwestern Pennsylvania New Economy Collaborative was formed to apply for the Build Back Better Regional Challenge, the initiative of the U.S. Economic Development Administration's American Rescue Plan programs, which aim to boost economic recovery from the pandemic and rebuild American communities.
The collaborative is an 11-county coalition, which includes dozens of community-based organizations, labor unions, educational and research institutions, and economic development partners. It also includes leaders from the private, public, and philanthropic sectors across southwestern Pennsylvania.
It said it focuses on communities that need support, adopting a hub-and-spoke approach designed to benefit not only the urban core but surrounding communities as well. The collaborative's board of directors is co-chaired by Stefani Pashman, CEO of the Allegheny Conference, and Farnam Jahanian, president of CMU.
On Sept. 2, 2022, the Biden-Harris administration announced the collaborative as one of 21 winners of the challenge. It will receive $62.7 million to build the region's robotics and autonomy cluster.
Application process to open soon
Robotics Factory applications will open Feb. 1 and can be found at www.roboticsfactory.org. Individuals interested in any of the programs should sign up to receive more information or to connect with the Innovation Works team.
Those who sign up to receive further information will receive early announcements about the location of the Robotics Factory and the first industries involved with the Create program.
Article topics
Email Sign Up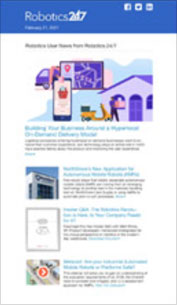 Get news, papers, media and research delivered
Stay up-to-date with news and resources you need to do your job. Research industry trends, compare companies and get market intelligence every week with Robotics 24/7. Subscribe to our robotics user email newsletter and we'll keep you informed and up-to-date.
Getty Images