The untidy process of cucumber picking may seem about as far away from the precise world of robotics as it is possible to get. But in Germany, a lightweight robot is helping solve personnel shortages in this sector of agriculture, even leading to improved yields.
This embrace of robotics on the farm represents just one instance of a growing trend. For many years, the costs of transitioning to automation exceeded the reach of many small businesses. With advancing technology, however, the barrier to entry has dramatically shifted.
For as little as $5,000, companies can find a robot to do jobs that previously required manual labor. Even something as mundane as picking cucumbers is something that can be done with automation.
"Businesses today are under constant pressure to lower costs while improving operational efficiency," said Alexander Mühlens, head of low-cost automation at igus, a German manufacturer of motion plastics with U.S. offices in Rumford, R.I. Its products have been incorporated in many low-cost automation applications.
"Labor shortages, reducing costs, improving workflows, and reducing workplace accidents are among the reasons why organizations are seeking automated solutions," Mühlens said.
Fraunhofer Institute designs dual-arm cucumber harvester
Harvesting cucumbers is a physically demanding task. Some companies have workers lie prone on a support surface behind a vehicle, picking the vegetables off the vines by hand.
In more rudimentary businesses, workers walk down rows carrying a harvesting bucket, bending down to look for the ripe cucumbers. Carrying boxes that weigh up to 12.2 kg (27 lb.), the workers must walk, bend, stoop, and reach. Finding workers to perform these tasks has become increasingly difficult.
In response to this challenge, the Fraunhofer Institute for Production Systems and Design Technology IPK in Berlin is developing and testing a dual-arm robot for the automated harvesting of cucumbers.
"There is an urgent need for improved harvesting technologies to maintain the economic viability of cucumber farming in Germany," the Fraunhofer Institute said. Researchers from the institute have been seeking a cost-effective and dependable automated solution to pick cucumbers and other products.
"Even in adverse weather, it would need to be capable of first identifying ripe cucumbers and then using its two gripper arms to gently pick and store them," according to the Fraunhofer Institute. "To this end, cutting-edge control methods equip the robot with tactile perception and enable it to adapt to ambient conditions."
Researchers needed to ensure that the robot did not damage crops or pull their roots out of the soil. It also needed to meet or exceed the efficiency of humans, who can pick as many as 13 cucumbers per minute.
Robolink proves effective
For this application, engineers used an articulated robot arm with up to five degrees of freedom. Called robolink, the product from igus reaches out to 790 mm (31.1 in.) and can include an encoder/control system. A linear adjustment on the drylin ZLW toothed belt axis can extend the robot's radius of action by a seventh axis.
The robolink can be used in pick-and-place, palletization, welding, and testing applications. It has also proved effective in cucumber harvesting, even in the dirty field environment.
The unit also includes a special camera system that helps the robot detect and locate the cucumbers. The Fraunhofer Institute said the robot can locate approximately 95% of the cucumbers.
"It is a considerable challenge to design autonomous systems capable of optical and tactile sensing, assessing, and evaluating," the institute noted. "Cucumbers are randomly distributed through a field, and some are concealed by vegetation. Varying light conditions make the mission all the more difficult."
Automation becomes more accessible
The cucumber picker is one example of the increasing number of businesses that are jumping into the automation game. More technology is now available, which has helped reduce cost and allow even small businesses to use robotic applications.
"Companies need cost-effective, and above all, easy-to-operate solutions that any company can use without incurring high costs and integration effort," Mühlens said. "And it is precisely for these applications that have developed various low-cost and kinematic systems with the help of our plastics expertise: articulated arm robots, linear robots, and SCARA and delta robots."
The barrier to entry is not only becoming less costly but is also becoming easier to navigate. This year, igus started a service in which companies can work with a company expert to build their own robot with lightweight, maintenance-free components.
The centerpiece of most solutions from igus is a ReBel collaborative robot arm that is embedded with an electronics link for monitoring.
The company also started building its own low-cost automation products. It builds robots for industrial and private applications as a cobot or a service robot. It can be used to aid in assembly, pick-and-place tasks, collection and delivery services, and mobile applications.
"Our goal is to make low-cost automation as accessible as possible," Mühlens said. "We have customers that are as diverse as their applications. Some are just looking for compatible hardware and do the rest of the integration journey by themselves. And some users need help with the design. It's exciting that affordable solutions allow anyone to start their automation journey."
Unique and diverse applications
The cucumber harvester is certainly one of the most interesting applications for low-cost automation. There are, however, many others. In Bruges, Belgium, Roose's Chocolate World uses a robot called "Chocomatic" to pack chocolates in full view of customers.The day might be coming in the not-too-distant future in which a robot might even serve the cucumbers that were harvested with automation.
Dexai Robotics in Boston has a food-preparation system that can assemble a meal in only a few minutes. The company introduced its first robotic unit, Alfred 1.0, in November 2018.
In 2020, the company unveiled an upgraded model that allows for hands-free ordering through any device with an internet connection. The robot also includes a new subsystem for utensils.
"The COVID-19 pandemic has dramatically altered the way that we eat," said Justin Rooney, a mechanical engineer on the Dexai team. "Hands-free orders reduce human proximity and contact with Alfred, thus reducing the chance of transferring pathogens. This feature should reduce the spread of infectious disease and keep food fresh for longer."
Another unusual application involves worm farming. Superwurm, a German company, uses several igus components, including robots and automated guided vehicles (AGVs), to breed worms that are used for fishing. The system allows feeding and irrigation to be carried out around the clock.
Robots start facing the public
As low-cost automation takes root, it becomes even more forward-facing. Customers at the chocolate store, for instance, were impressed by the novelty of the project (see video below).
The process includes a touchscreen terminal, a smartphone, and an electric assistant. It moves up and down the glass room, pivots its arm in all directions, picks up the chocolates with a suction pad, places them in a box, and wraps the delicacies in gold foil.
"The Chocomatic is slowly becoming a tourist attraction," said Michiel Roose, son of the owners of Roose's Chocolate World, CEO of Roose Automation, and inventor of the Chocomatic. "Many people come especially with their children to watch the robot at work. There's something almost magical about it."
With lower costs opening the door to more and more uses for automation, this particular form of magic seems to be here to stay.
About the author
Thomas Renner writes on engineering, building, construction, architecture, and other trade industry topics for publications throughout the U.S.
Article topics
Email Sign Up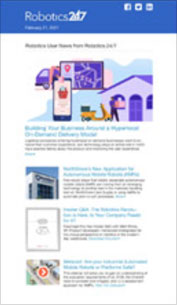 Get news, papers, media and research delivered
Stay up-to-date with news and resources you need to do your job. Research industry trends, compare companies and get market intelligence every week with Robotics 24/7. Subscribe to our robotics user email newsletter and we'll keep you informed and up-to-date.
igus