Is Amazon In-Sourcing or Creating a New Service? You Already Know
Amazon didn't get to where it is today (hitting a market cap of $1 trillion in Sept. 2018) by resting on its laurels.
At the time I wrote this, Amazon's market cap is $777.8 billion. We can all rest assured that Amazon is looking to get back up to $1 trillion and stay there.
Amazon understands the value and importance of innovation, and it's size and service portfolio variety means that it looks at problems differently than other large companies.
It's that perspective that allows Amazon to enter new industries and take them by storm. But why logistics, and why now?
Why Amazon Is Bringing Logistics In-House
Amazon's Chief Financial Officer Brian T. Olsavsky said it: "What we like about our ability to participate in transportation is that a lot of times we can do it at the same costs or better and we like the cost profile of it, too."
Not to mention, Amazon can use all of the data they can bring to bear to create the most efficient ecommerce shipping solution possible. But what is behind the big push?
Shipping is expensive. Companies everywhere are wrestling with slim margins made slimmer by heavy operations costs. Amazon has some of the most advanced warehouses on the planet (Thanks to Amazon Robotics). They're constantly looking to innovate and streamline their current operations.
Despite these efforts, Amazon's worldwide shipping costs were fifteen times higher in 2018 than in 2009. You don't have to puzzle over the reason why too long.
Amazon's Most Recent SEC Filing | Re: competition
Item 1A. Risk Factors
Please carefully consider the following risk factors. If any of the following risks occur, our business, financial condition, operating results, and cash flows could be materially adversely affected. In addition, the current global economic climate amplifies many of these risks.
We Face Intense Competition
Our businesses are rapidly evolving and intensely competitive, and we have many competitors in different industries, including physical, e-commerce, and omnichannel retail, e-commerce services, digital content and electronic devices, web and infrastructure computing services, and transportation and logistics services, and across geographies, including cross-border competition. Some of our current and potential competitors have greater resources, longer histories, more customers, and/or greater brand recognition, particularly with our newly-launched products and services and in our newer geographic regions. They may secure better terms from vendors, adopt more aggressive pricing, and devote more resources to technology, infrastructure, fulfillment, and marketing.
Competition may intensify, including with the development of new business models and the entry of new and well-funded competitors, and as our competitors enter into business combinations or alliances and established companies in other market segments expand to become competitive with our business. In addition, new and enhanced technologies, including search, web and infrastructure computing services, digital content, and electronic devices, may increase our competition. The Internet facilitates competitive entry and comparison shopping, and increased competition may reduce our sales and profits.
The Amazon Effect is Hitting Amazon's Bottomline
Amazon Prime's free two-day shipping burst onto the ecommerce scene when it felt like the best we could expect for an affordable price got us our items in 1-3 weeks. Now, consumers want their shipping free and their products fast because that is the standard Amazon set.
Amazon almost single-handedly disrupted the way people shop in 2005 with the introduction of Amazon Prime. Those ripples are still being felt. Businesses of every size have to offer fast and free shipping to compete and survive.
In addition to a smooth shopping experience, Prime members can now even get one-day shipping on their qualifying orders. Many families put shopping trips off for the weekend, which means one and two-day shipping can actually bring products to consumers faster than if they went to the store.
This consumer expectation was great for Amazon….until it wasn't. Especially once other large retailers, like Walmart, began to catch up.
More Than In-Sourcing: Amazon Has Done This Before
Amazon has come into other industries and devastated the market leaders before. Let's take a look at a couple of examples.
Amazon vs. Traditional Bookstores and Publishing
Bookstores are going the way of the dinosaur. Just recently, I walked around my local mall and realized with dismay that there wasn't a single bookstore. I can't recall walking around a mall without a bookstore until that moment. What happened?
Large book retailers didn't understand what the advent of digital media heralded. They failed to compensate for the pull of convenience. Borders invested in physical media and handed their online sales over to Amazon. Border's last profitable year was 2006, and they closed in 2011.
Major bookstores everywhere couldn't cope when Amazon Kindle came into the world. Even resistant bibliophiles like myself can't deny the convenience of accessing their books on multiple devices whenever they want. I no longer had to go into the store to feed my reading habit. I could do it from the comfort of my own home. Or my barracks in Afghanistan, which is where I got my first e-reader.
Now we're looking at the age of self-publishing. Publishing houses still have a place, as people understand that the power of a publishing house lies in their reach. However, Amazon's Kindle Direct Publishing offers a 70% royalty return. With younger generations understanding what it takes to grow your "tribe" and have evangelical followers, self-publishing and then promoting online to a homegrown online community looks better and better.
Amazon vs. Cloud Infrastructure
Amazon launched the platform known as Amazon Web Services (AWS) internally in 2002. It officially launched to the world in 2006. It's now the leader in the cloud infrastructure industry, beating out market pillars, like IBM and Microsoft. According to AWS CEO, Andy Jassy, AWS was born from out of internal needs. Then they realized they could develop it into a real service company.
AWS was the first cloud infrastructure as a service, and competitors like Microsoft, IBM, and Google took years to respond. This is what allowed Amazon to capture the market share. They created a service in response to internal needs. Then they began to look at the problem differently, and AWS came into the world.
Amazon's Current Logistic's Fleet
Amazon's current transportation fleet is impressive in size. Not when you stack it up against UPS or FedEx, but they only started building it in the last few years. That makes it impressive.
So impressive in fact, that Morgan Stanley Analyst Ravi Shanker assessed that it's too big for even Amazon to utilize to full capacity alone. Which is what has business analysts everywhere speculating that Amazon will offer third-party transportation services on top of Amazon Fulfillment.
Amazon's current transportation fleet consists of:
40 Boeing 767 aircraft (with ten more coming in 2019 and 2020)
Over 5,300 ocean freight containers moved in 2018
More than 20,000 Mercedes-Benz sprinter vans (leased over time)
141,000,000 square feet of supply chain facilities
10,000 branded trailers
120 U.S. fulfillment centers
52 Prime Now hubs
With this massive distribution network growth, Amazon went from handling none of it's shipping in 2013 to handle 26% of it. In that same time, UPS's share of Amazon's shipping decreased by almost half (49% to 22%), and FedEx went from 9% to just 3% of Amazon's orders.
Read: Wall Street commentary on Amazon creating problems for UPS and FedEx may be overblown
It's fair to say that UPS and FedEx offer a slew of services that Amazon doesn't. However, to say that Amazon doesn't pose a threat to these companies because of that is not. It's incredibly likely that IBM and Microsoft believed the same thing. Border's was certainly in that boat until it went out of business.
Any industry that Amazon aims at should perk up and take notice. Amazon is innovative, but they're also persistent. If they can do it, and do it better, then they will.
UPS and FedEx Shouldn't Underestimate Amazon
Did you know that Amazon is a front-running competitor for a $10 billion federal contract for cloud computing services? The Joint Enterprise Defense Infrastructure contract, known as JEDI, is poised to be a single award contract that pays out $10 billion over 7 years. The frontrunners include IBM, Microsoft, and, of course, Amazon.
During the second half of 2018, Google dropped out of the competition for JEDI. Amazon is a favorite to win the contract, thanks to the $600 million contract they won with the CIA for similar services. With that past performance and the praise from the CIA's Chief Information Officer, Amazon has an incredibly strong position.
No matter what is said publicly, I hope that UPS and FedEx take Amazon seriously as they look to build their network. They may be taking their own shipping in-house, but make no mistake, Amazon will offer it as a service externally.
In Amazon's 2018 annual SEC filing, they claimed that they face intense competition from transportation and logistics companies. That may be the last quiet warning the transportation industry gets. If Amazon sees you as a competitor, then you're a competitor.
About the Author
Ruthie Bowles is Owner, Chief Consultant, and Senior SEO Writer for DEFY - Defy The Status Quo Through Content
Image Credit: Ryan Companies US, Inc.
Related Article: State of Logistics Industry: Recent Reports Indicate Logistics to Excel in 2019 in Key Ways
Related Less-than-Truckload White Papers
How Logistics Technology Will Shape Shipping in 2019 New!
This white paper, How Technology in Logistics will Shape Shipping in 2019, is a must-read for shippers looking to improve their shipping practices & reduce costs. Download Now!
---
The Evolution of LTL Shipping Best Practices New!
This exclusive, & educational white paper is for shippers who are accustomed to shipping LTL freight or are starting to ship more LTL freight, it addresses capacity woes, use of last-mile delivery, and how to choose the right LTL carrier. Download Now!
---
Current Factors Driving the Less Than Truckload Pricing Market New!
This white paper is a must-read for shippers who are seeking information on the less than truckload pricing market in order to plan for 2019. Download Now!
---
More Resources
on Shipping
Article topics
Email Sign Up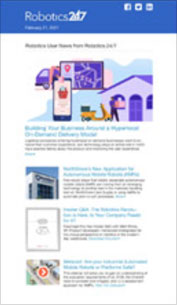 Get news, papers, media and research delivered
Stay up-to-date with news and resources you need to do your job. Research industry trends, compare companies and get market intelligence every week with Robotics 24/7. Subscribe to our robotics user email newsletter and we'll keep you informed and up-to-date.