The New Way to Warehouse
As a critical component of the supply chain, product fulfillment and warehousing are not immune from these same changes. Online shopping and consumer expectation for rapid delivery are reshaping how warehouses are structured, operate and succeed in a robust e-commerce climate, as described in a recent inVia Robotics white paper, "The New Way to Warehouse."
A new way to shop: key trends
Online shopping is here to stay
With brick-and-mortar stores shuttering seemingly overnight, experts believe that the pandemic has accelerated the shift to online shopping by as much as five years. In the post-Covid reality, storefronts are back offering consumers a tangible retail experience. However, consumers are now accustomed to having options – 49% of those who tried online shopping during COVID said they would shop online more frequently once the pandemic subsides. The convenience and speed of online shopping means that e-commerce will continue to challenge and reshape traditional shopping.
Year-round peak season
Peak season in traditional retail terms is normally thought of as the holiday buying season, October through December. However, many retailers have started holiday promotions as early as September to help the impact of shipping and labor related shortages over more months. As a result, the pressures and demands of peak season are now becoming a year-round phenomenon, forcing warehouses to look for solutions to increase productivity to steer clear of logistical bottlenecks, overburdening their employees and managing labor shortages.
Fast delivery is a given
Today's consumers are accustomed to prompt delivery of their online purchases. Convenience and speed are at the top of their priority list, and they have little patience for businesses that fall short. A vast majority of consumers (90%) see 2-to-3-day shipping as the baseline delivery promise. Any time beyond that fails to meet their expectations.
4 e-commerce fulfillment innovations to meet the pressures of the on-demand world
Today's fulfillment centers need to look for ways to optimize warehouse space, intelligently manage inventory and increase the productivity of the existing labor pool. One of the best routes for warehouses and fulfillment centers to be more productive is through automation and robotics that can be tailored to a company's unique workflows and service needs. inVia Robotics' "The New Way to Warehouse" white paper describes four productivity-boosting strategies for e-commerce distribution centers to realize favorable results and quickly capture a measurable return on their investment.
1. Intelligent inventory placement and management
Before the recent surge in e-commerce, warehouse automation involved managing bulk pallets with as many as 1,000 units of the same SKU. With e-tailers fulfilling orders that are directly shipped to customers, thousands of different SKUs need to be randomly accessed in small quantities. Pickers report walking as much as 10 miles each day to perform their jobs.
This mix and match SKU assortment requires a very different form of automation to handle products in the warehouse and can lead to a variety of inefficiencies with worker productivity. That's where intelligent software and technologies can add real value in simplifying and managing a broad range of products. AI and sophisticated algorithms are at the heart of today's automation technology to enable random access inventory management. These technologies pinpoint the quickest path to take across a warehouse to pull random items and can also place SKUs that are ordered more often closer to pack out.
2. Smart labor productivity tools
With consumer demand for goods stronger than ever, companies are looking for ways to increase productivity and resources to ensure timely product delivery. Different picking methods such as zone, cluster, and wave picking have been used to make product picking more efficient. Various technologies have been helpful in this area including the use of RF guns and pick-to-light systems.
Still, with multiple unique SKUs being ordered and the ongoing pressure for accelerated speed of delivery, picking products from inventory shelves continues to be a labor-intensive process. Labor productivity tools should be easy to use to help warehouse workers improve both the search and dwell time aspects of picking and replenishment orders. The technology should also be easy and intuitive for training purposes.
3. Decoupling dependencies between people and robots
Incorporating automation into existing infrastructures creates smarter warehouses, improves flow of goods and business output without disrupting current operations. Robotics is ideal for tasks that are tedious and repetitive. While it is an improvement in productivity, many systems on the market today intertwine robotic processes with processes that direct human work.
However, people work differently from robots. They are most efficient when working in bursts whereas robots can work 24/7, unhindered from the need for breaks or meal stops. Deploying a system that can eliminate the dependencies of workers on robots and vice versa fosters a highly functioning and symbiotic relationship between robots and people. Orders get fulfilled and delivered more quickly to customers.
4. Creating a fully orchestrated warehouse
One of the key objectives of using automation and robotics is to address inefficiencies across many areas of warehouse operations. The ultimate goal is to orchestrate all the processes to reduce idle time and maximize productivity. e-commerce fulfillment has made warehouses more complex, with added logistics, systems, and workflows necessary to speed up order fulfillment.
An orchestrated solution coordinates tasks spanning the full enterprise of operations: picking, packing, returns, sortation, consolidation, pack-out, and replenishment. These operations need to work smarter through more intelligent allocation and orchestration of resources.
To learn more about how distribution centers need to innovate amid labor shortages and a multi-SKU environment to cope with the on-demand world, download the full whitepaper.
Article topics
Email Sign Up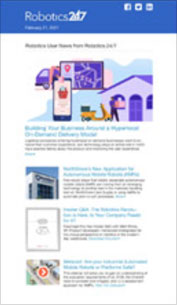 Get news, papers, media and research delivered
Stay up-to-date with news and resources you need to do your job. Research industry trends, compare companies and get market intelligence every week with Robotics 24/7. Subscribe to our robotics user email newsletter and we'll keep you informed and up-to-date.