Businesses need more skilled robotics operators, technicians, and developers. In April, Addverb Technologies Pvt. opened a smart factory with Purdue University's School of Engineering Technology in Indianapolis.
The facility will give students and faculty the opportunity to work with the company's Dynamo autonomous mobile robot (AMR), its Veloce carton picking robot, its Movect fleet management system, and its Concinity warehouse execution system (WES).
Founded in 2016, Addverb said its robots and software use artificial intelligence to serve the global e-commerce, warehouse and distribution, and manufacturing industries. The Noida, India-based company, which recently received $132 million from Reliance Retail Ventures Ltd. and partnered with Amazon Web Services to improve data security and reliability, has its U.S. offices in Irvine, Calif.
Robotics 24/7 spoke with Sangeet Kumar, co-founder and CEO of Addverb, about the collaboration with Purdue and his vision for the future of manufacturing.
How did this partnership come about?
Kumar: Purdue University was looking for some flexible solutions as it was setting up a smart lab for undergraduate students. It had also collaborated with Microsoft and other companies.
The university wanted to teach students about smart manufacturing through practical experience of what it can enable, and it wanted to do it at industrial scale.
We spoke to [the professors] and said we could add value if it was about warehousing or manufacturing that has to be completely flexible. They explained a vision of the future where the batch scale is one—customized to a particular person—and we said, "We have to be part of this."
What technologies can students learn and build upon?
Kumar: For the program with Purdue, we're providing picking and mobile robots, as well as WMS and fleet managment software.
One robot will run natural-feature navigation, and another with no QR codes on the floor. Students will be able to determine what tasks go to the robot to complete a set, using the optimizer running in our fleet manager.
If students have questions, they have access to our experts in U.S. and our R&D team.
Addverb to demonstrate the factory of the future
How will Addverb's systems demonstrate industry needs and processes?
Kumar: We came up with our solutions to enable flexible manufacturing and mass customization. Veloce is our robot that can pull the right crate and bring it to the picker for kitting applications.
Companies need to have certain SKUs [stock-keeping units] be picked and brought to various manufacturing stations. Once the material is picked, there are workcells that are organized according to various skills, like riveting, screwing, and welding.
The bridge between the workcells is our Dynamo AMRs. They go from the warehouse where material was kitted and then to each cell, depending on what is required. It's the perfect example of human-robot collaboration, with the robot handling repetitive tasks.
While these materials are transferred from one station or robot to another, there's a lot of data on the process—what has happened, and also the cycle type, the operator, and the geneaolgy of the material. If there's a problem with quality, users can trace it back.
All this data moves at the edge and in the cloud. It's a perfect example of how the future of manufacturing will look.
Where and when will the future of manufacturing take hold?
Kumar: It's already happening now. The companies doing it are the first to imbibe the principles of Industry 4.0 and mass customization, in FMCG [fast-moving consumer goods] and automotive. These are the first movers.
It will take effort from educational institutions and industry to follow, then others will take it to a massive scale. For that to happen, apart from making the technology affordable, you also need skilled people who can implement such projects and use the technology.
If you're a student, be open to all these possibilities and become the right resource to implement this. For the next five to seven years, first movers will come out of forward-thinking universities like Purdue.
At the same time, companies like us must work to make these technologies more informative, and we have to invest a lot in R&D. We've already invested in making things work.
Now, industry is at a second stage, by working on different parts and doing things smartly in their own manufacturing.
Students can gain career, industry-defining skills
What types of roles can Purdue students get with smart factory experience?
Kumar: They'll find roles in three different types of companies. First are companies like Addverb that produce these technologies.
Second, there are large companies like EPC [engineering, procurement, and construction] firms. Their don't only design one segment of a warehouse or a factory; they design entire projects. How do these technologies fit, and how do they interact?
Third are the actual users of robots and automation: the automakers, consumer durables and appliance makers, FMCG, food, and e-commerce. These companies require a lot of skills, not just to know the tech, but also their own processes.
This is the largest category, and students will find roles making their systems more efficient. Students will change how manufacturing is done at these companies.
What does Addverb hope to get out of this partnership?
Kumar: We're looking for mechatronics, software, and controls engineers. Robotics is multidisciplinary; even mechatronics itself combines mechanical, electrical, and IT engineering.
Addverb also has an R&D office in the U.S. Not only do we need people to develop conceptual solutions for our customers, but we also work with customers and sometimes play the role of the integrator. People can use technology to solve end users' problems.
A third category is when you actually execute. This includes engineering leads, project management, and implementation.
Fourth is manufacturing. Once students are trained on our technology, it's much easier for us to get them onboard.
We're very excited about the program and want to see how it unfolds and how effective it is for students, professors, and the industry to learn from it.
Is Addverb considering similar programs with other universities?
Kumar: Today, robotics engineering is an evolving field. We look at how machine learning, computer vision, and grasping techniques are changing.
A lot of money has been pumped into autonomous vehicles. For us, robots are driving autonomously in a more controlled environment in comparison with roads. All these technologies are evolving, so we need students to be constantly trained.
We will send our people for training to institutes of repute, where they can learn how to bring future technologies to industrial processes.
About the Author
Eugene Demaitre
Eugene Demaitre is editorial director of Robotics 24/7. Prior to joining Peerless Media, he was a senior editor at Robotics Business Review and The Robot Report. Demaitre has also worked for BNA (now part of Bloomberg), Computerworld, and TechTarget. He has participated in numerous robotics-related webinars, podcasts, and events worldwide. Follow Eugene:
Follow Robotics 24/7 on Facebook
Article topics
Email Sign Up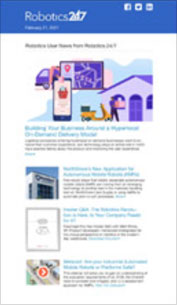 Get news, papers, media and research delivered
Stay up-to-date with news and resources you need to do your job. Research industry trends, compare companies and get market intelligence every week with Robotics 24/7. Subscribe to our robotics user email newsletter and we'll keep you informed and up-to-date.
Addverb Technologies