If there is one thing Jenn Apicella values, it's partnerships.
"I'm a passionate-partner person," she said in a recent interview with Robotics 24/7. "You can only grow in this current world with strong business partnerships, and just great partners in your corner, whether those are the vendors you do business with or like-minded businesses that help you grow."
Apicella was recently named the interim executive director of the Pittsburgh Robotics Network (PRN), a role that was previously held by Joel Reed, the former CEO and president of IAM Robotics and a known robotics expert in the Pittsburgh area.
Apicella previously served as a vice president at PRN and has been with the nonprofit since 2021 when she was hired as program director.
Robotics 24/7 recently caught up up with Apicella to ask her about her career and her plans.
Editor's note: This interview has been edited and condensed for clarity
Can you briefly state the Pittsburgh Robotics Network's mission and goals?
Our mission is to bridge Pittsburgh with worldwide robotics communities to accelerate the adoption of autonomous solutions. We do that to achieve our vision of Pittsburgh being the robotic capital of the world.
What was your background, and what led you to this new role at PRN?
I spent most of my career at IBM doing complex multimillion, multifaceted solutions sales. One of my passions was talking to customers about challenges they had in the workplace and things that they need to get put in place that will help achieve more operational efficiency, help their businesses grow, help their teams be more performative – all the things that companies seek technology for to help them. … I got involved in technology sales and development because I'm passionate about helping businesses get what they need to grow, and to hire, and to do great things in the world.
I then left IBM to work for a small channel partner. I'm a passionate-partner person. You can only grow in this current world with strong business partnerships, and just great partners in your corner, whether those are the vendors you do business with or like-minded businesses that help you grow.
It was through that partner network that I ended up working for a business partner directly, but I went from a global enterprise giant to a smaller, much smaller company, almost startup size. That was a fun change, but I think I went from something that is too big to too small.
I found myself living in Pittsburgh, but never having worked in Pittsburgh because I was traveling around working from different cities for my clients all the time.
When I exited from the small boutique consultancy, I ended up taking the time to scope out what is going on in Pittsburgh. Pittsburgh has a dynamic technology ecosystem, but it isn't always the most talked about city because of its size, because of its history, or a variety of factors.
Pittsburgh hasn't been in the New York City or Bay Area big city narrative, but what's been happening in this region has been at the same level as some of those larger cities, which is what I think makes it so unique. We have so many strong academic institutions.
Because of those institutions in academia, we have such a dynamic talent pipeline and talent pool that is here. Because the city itself is not really big, but also not small, we've attracted a massive remote workforce because of its cost of living and then access to all these technology startups that are here.
What led me here to the Pittsburgh Robotic Network was the fact that I lived here, and I took the time to engage. … I started creating networks and gatherings.
I started to get more closely knit into the robotics and technology ecosystem, and my skill set is such that I can't help myself. I help solve tough problems.
What are some of your accomplishments at PRN?
The early stages was getting in touch with all the companies, making sure they knew that we were here, and we were here to help them. We started to convene those companies through strategic gatherings. I designed all our programs with our community in mind. I had to understand what our community was and what their needs were.
From there, I designed thoughtful programs that would allow us to attract investment, attracting corporations that invest in these types of technologies, venture capital, and other types of investors who are looking at early-stage companies in this space that they would like to partner with.
[I also focused] on other opportunities and influence, so media partnerships, tradeshow partners, and industry partnerships. I felt like that was the best way to catalyze with the limited amount of time that we had. It was Joel Reed and myself. I knew partnerships were the only way that we could really get the word out and bring those opportunities here. But it wasn't difficult to show people.
Once we showed people how many companies were here, and we showed people what the opportunity was, they realized it was a lot easier to spend time here. We can do a lot more, make a lot more connections, have more relationships, and ultimately grow your business.
We also spent a lot of time talking to companies that were not located in Pittsburgh. There are robotics companies out there operating in a vacuum. They might be one of the only robotics companies in their town or city or maybe even in their state. It's beneficial for them to know if they were interested in moving to Pittsburgh or operating in Pittsburgh, they wouldn't struggle to get the talent that they need.
They wouldn't struggle so much to find opportunities for investments. They wouldn't struggle so much to find good supply chain customers as they grow. They can build their prototypes and start to productize and commercialize. All that is here. It's here, and it's around them. They would also have a community of their peers, so as they faced problems with growth, they could pop into meetings or gatherings that we host and talk to other founders.
That was my strategy behind all the program design. We were also of course designing programs for sustainability. We are a nonprofit, so one of the things that we had to do is we had to prove that this community was worth supporting. We had a lot on our plate in those early days. There was no way one person can do that. Between Joel and myself, we just came up with that plan and started doing it.
Now that you are the interim executive director, what are some of the key things you'd like to get done?
Now that the groundwork has been laid, it's really about continuing to expand on that already excellent community process. We have more staff now. We will continue to get more staff. As a nonprofit, it's important that we have strong regional economic development partnerships. The early days were about educating them about the depth and breadth of this community.
I think something that is interesting, not just locally but globally, vocabulary for this sector has still not become common knowledge. There was a lot of education around what is robotics. That's a tricky question. If you ask a roboticist, "What is robotics?" you are going to get a very different answer than if you asked just a random person on the street. There's a lot of noise out there.
There are some bad narratives, misconceptions, [and] stereotypes. Entertainment has portrayed robotics in an unrealistic unattractive way. It's all very dystopian. I think the early waves of automation decades ago, and the offshoring of manufacturing also scared some people about the concept of what is robotics. People started to associate it with job loss. … Those narratives are false. Those narratives are not accurate. The robotics of today are very different than the robotics of the past or the robotics you see in fiction or in entertainment. I think everyone globally is working to recalibrate the understanding of that.
Multiple regions are aligned on the same initiatives. We are seeing jobs be created through robotics. We are seeing humans aren't being replaced. … That's where we see our work really starting to pick up. We've proven that it's here. We've proven what it is. Now we are going to show the world what it can do.
You mentioned a lot of these robotics clusters are on a united front. During last year's Cascadia Connect event, there was an announcement of a new U.S. Alliance of Robotics Clusters. I was wondering if you could share more details about how that effort is going.
Right now, it's Boston, Silicon Valley, and Pittsburgh. We are the more mature, more developed, and definitely are the critical-mass clusters of the regions. There are also international ones that we talk to. But from a USARC perspective, we're just trying to figure out are there more emerging clusters. How do we integrate them into USARC. And what is our annual plan? What are our goals?
Regional robotics clusters are all operating very differently in the U.S. because they are not funded directly from our government. … In other parts of the world, we see more centralized funding for the growth of their ecosystem.
In the U.S., it's a lot more distributed. There's more opportunity. We're a much larger country, but at the same time we are not all funded through the same sustainable streamlined funding sources. So, every region has to work locally to figure out how their work is going to be funded and how they are going to be supported and what the regions want them to do.
What we found in USARC is that we're all suffering from similar circumstances. [So we thought] perhaps there is a better way to [operate] in a more streamlined way, in a more systematic way, directly with the U.S. federal government.
I believe right now, there is talk of an update to the U.S. Robotics Caucus, which does exist but has some transition pieces in terms of who is involved and who's engaged in that. [We are also] making sure that our government, our legislative leaders, are aware of what is the truth of intelligent autonomous systems in robotics, and how does that impact U.S. manufacturing.
[But] manufacturing is just one industry area that is adopting these things. … It's just happening everywhere.
How do you see PRN's role in helping startups navigate the tough economic climate?
We sit in between the companies and the world, and we know investment comes in all forms. Some of these early-stage companies, it depends on what they want their exit it to be. Some of them say, "I'm developing a life science application for automation. It could be for surgical robotics, or it could be for some other type of life science application or research."
They know they are not ready for investment now. They might have some seed funds or some grant funds. And they know they are in development.
As they are coming out of development, and many of them are, and going into commercialization, they need customers. They need investors to understand what they do for customers.
We sit in between that. It's not just venture capital. … That's just one pathway. If you aren't ready for that pathway, there are other places you go for investment. Also, there are corporations that have their own investment and acquisition departments and innovation initiatives. They are looking to have an audience with those companies.
One way the Pittsburgh Robotics Network has been helpful and will continue to be helpful is that we welcome all of those types of organizations that say, "Gosh, we would really like to meet with some of those startups. These are our priority initiatives. These are our technology solution areas that we're looking to innovate and fund in." I have a directory of over 100 companies I can introduce them to.
Can you speak about the process PRN will take to search for a permeant executive director?
They'll be more to come on that. There aren't a lot of details on that right now, but for now I'm working with the members and our executive board to talk about what type of work this is, what type of work this will become, what more needs to be done and how we are going to do.
Right now, I'm deeply involved with that and any search or any other opportunity that may arise from this, I'll also continue to be deeply involved in.
Is there anything else you'd like to share?
Joel will continue to be an active and present community member. Who knows, maybe we will see him become another founder within our community. Joel has a wealth of experience and knowledge and has been a champion of this community for quite some time because he walks the walk. … It'll be exciting to have him as an ally and a champion out in the industry.
About the Author
Cesareo Contreras
Cesareo Contreras was associate editor at Robotics 24/7. Prior to working at Peerless Media, he was an award-winning reporter at the Metrowest Daily News and Milford Daily News in Massachusetts. Contreras is a graduate of Framingham State University and has a keen interest in the human side of emerging technologies. Follow Cesareo:
Follow Robotics 24/7 on Facebook
Article topics
Email Sign Up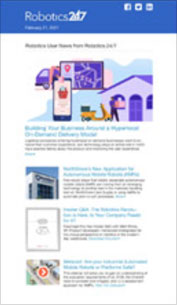 Get news, papers, media and research delivered
Stay up-to-date with news and resources you need to do your job. Research industry trends, compare companies and get market intelligence every week with Robotics 24/7. Subscribe to our robotics user email newsletter and we'll keep you informed and up-to-date.
Pittsburgh Robotics Network