Robots, drones, marine systems, and autonomous vehicles typically rely on some sort of energy storage device. Just as other automation technologies are advancing, so too are the performance and management of batteries and power systems for robotics.
Lithium-ion batteries are quite common. They are useful for robots and autonomous vehicles because they have a high energy density and a low self-discharge. Lithium-ion cells can hold a charge for quite some time.
Such batteries can be installed in series or parallel to form banks that can power larger electric vehicles, or they can be smaller for smaller robots and unmanned aerial vehicles (UAVs). They do pose some hazard of fire and danger, as seen in recent incidents. For instance, the Chevrolet Bolt, an electric vehicle, was recalled because of some risk of fire.
Several years ago, Boeing 787s were grounded because of concerns about fire and explosion from lithium-ion batteries.
Powering over rough terrain
However, lithium-ion technology has moved forward and is being used in high-performance autonomous vehicles. One example is the Jaguar autonomous ground vehicle (AGV) employed by the Israeli Army. The Jaguar uses a COMBATT 6T NATO-standard battery produced by Epsilor Corp.
The military robot is deployed around the Gaza Border, and it's also not far from other borders and infantry and special units. The Jaguar has several 6T batteries that provide it with over 16 kilowatt-hours of energy.
The Jaguar is a heavy-duty vehicle that's maneuverable in combat and combat-support applications. It works in hazardous environments and requires high energy capacity on board to enable traction in very complex terrains.
Epsilor's 6T batteries represent new applications in challenging environments. Not only can they provide power, but they also have enough energy density to last quite some time.
Such improvements in battery technology could pave the way for robots and autonomous underwater vehicles (AUVs) that require safe power sources that do not need to be recharged too often.
Ensuring safety
As mentioned, lithium-ion batteries pose some safety hazards. An electrical engineering professor at the University of Texas at Arlington has focused on developing a safer battery specifically to power drones inspecting mines. Such drones could go deep into a mine and perform inspections that would otherwise be difficult for a human to do.
David Wetz has been conducting research based on his background in energy storage. He examined battery failures and has worked to design a battery that meets all energy needs.
Wetz also noted that the structure to house the battery and other electrical components must meet the U.S. Mining Safety Hazard Authority's strict safety requirements. In gas-filled environments such as mines, any sparks or arcing discharge from a battery could result in explosive or even fatal outcomes.
Not only should battery enclosures suppress any sparks, but they must also ruggedized for the difficult terrain and other hazards. As drones continue to be used in site exploration and inspection, their utility will depend on safe power sources.
Alternate power sources
Lithium-ion batteries aren't the only power source being explored by electrical engineers for robotics. At Washington State University, a research team has successfully demonstrated the use of liquid hydrogen in a unique fueling system for an aerial drone.
This is one of the first times that such a system has been used in UAVs, it said. The test demonstrated that the technology can be used for long endurance in all-electric flights of medium-size UAVs.
One of the key benefits of using hydrogen power is its extremely low carbon dioxide emissions, but it hasn't been fully developed yet. Hydrogen cells have not been seriously considered for aviation until now.
However, as the market begins to be more receptive to the use of hydrogen fuel, the testing of liquid hydrogen and a hydrogen refueling system is gaining interest.
Over the past decade, Washington State University's team has developed a unique liquid-hydrogen storage tank that UAVs could carry for power. Liquid hydrogen occupies much less space than hydrogen gas and provides more fuel to allow longer flights. The tank is made from a very lightweight polymer in lieu of metal.
The researchers used a liquid hydrogen gas station to fill a tank. A fuel cell power-conversion system would enable a drone to fly, and the researchers then simulated the energy demands for a flight.
Washington State University is one of the few places in the U.S. where this sort of research is being carried out. The tests occurred at the very low temperatures that the liquid hydrogen storage demands.
It also saves weight on the aircraft because the heat-exchange system within its tank wall is able to warm the hydrogen vapor. The hydrogen gas is able to be used to power a fuel source, which then creates electricity to power the UAV.
The researchers examined the range and how often the UAV would have to be refueled. They've been working on it for quite some time, but they were able to power a flight with hydrogen.
Power to change
In response to concerns about weight, endurance, and safety, power technology is evolving. Options for robotics developers include safer lithium-ion batteries and wireless charging to alternative power sources.
With wireless charging, drones and robots can autonomous land on or park near a platform for opportunistic recharging. Such technology, as well as power- and fleet-management software, will increase the viability of electric and autonomous vehicles, drones, AUVs, and robots.
About the Author
Jim Romeo
Jim Romeo is a freelance writer and contributor to Robotics 24/7 based in Chesapeake, Va.
Follow Robotics 24/7 on Facebook
Article topics
Email Sign Up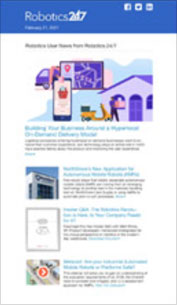 Get news, papers, media and research delivered
Stay up-to-date with news and resources you need to do your job. Research industry trends, compare companies and get market intelligence every week with Robotics 24/7. Subscribe to our robotics user email newsletter and we'll keep you informed and up-to-date.
Epsilor