E-commerce demands have led retailers around the world to test robotics. Collect&Go, Colruyt Group's online shopping service, is currently testing a vehicle built by Estonian technology company Clevon that combines remote teleoperation with advanced autopilot functionality.
The first test runs of the CLEVON 1 vehicle took place in recent weeks on the parking lot of a distribution center in Londerzeel, Belgium. The delivery system took to public roads for the first time this week. It covered a 4 km (2.4 mi.) route from the distribution center to Collect&Go's pickup point in Londerzeel. This is the longest route for unmanned vehicle in Belgium to date, said the companies.
"In this first phase, we mainly want to test the technology, study what the vehicle is already capable of and see how, together with the local and federal government, we can provide not only safe, but also ecological transport on public roads in an urban environment," said Kim Vancauwenberghe, managing director of Colruyt Group Smart Technics.
"The tests not only provide useful insights for the online shopping service Collect&Go," she added. "Other formulas in our group are also following the study with great interest."
Smart Technics innovation team tests thoroughly
The Smart Technics team is the driving force behind other recent innovations, said Colruyt Group. They include OKay Direct, a 24/7 automated shop concept, and the Smart Fridges vending machines operated by Solucious and found in all Jims gyms. The innovation team is testing Clevon's remotely controlled vehicle before determining whether it can be deployed for last-mile delivery in cities.
E-commerce is a fast-growing and competitive market, capitalizing on the trend of electric transport in densely populated areas worldwide, said the companies. Colruyt Group said it sees opportunities, especially for Collect&Go, which started home delivery in Belgian cities in June 2022. The grocer chose to test a compact, all-electric vehicle that has sufficient storage space and that can be unlocked with a numerical or QR code.
"Online grocery shopping is an important pillar for Colruyt Group, and it is our ambition to be and remain best in class in this," said Tom De Prater, business unit manager for Collect&Go. "In a rapidly changing e-commerce context, we are therefore constantly looking for ways to organize the 'last mile' as efficiently and sustainably as possible."
"There is already a worldwide shortage of drivers, the cost of those last kilometers is sky-high and mobility in cities is a real challenge," he said. "Investing in innovation, new solutions, and state-of-the-art technologies is therefore crucial. This pilot project obviously fits in with that. We are enthusiastic about the potential. At the same time, we are very realistic and will proceed step by step."
How CLEVON 1 works
The CLEVON 1 vehicle uses vision technology, machine learning, and sensors. In a suitable controlled environment, the vehicle can operate in autopilot mode. It can travel up to around 50 km/h (31 mph), but it will stay under 25 km/h (15 mph) for the initial test phase.
The vehicle can perform a large number of general driving tasks autonomously, with the teleoperator supervision. The teleoperator can also take over the control of the vehicle at any given time to ensure the highest level of safety, asserted Clevon.
To observe its surroundings, CLEVON 1 uses three front cameras, two side cameras, and one rear camera, said the company. The vehicle is also equipped with short- and long-range radars to measure distances and identify "obstacles" such as cars, cyclists, and pedestrians. In this way, it has a clear field of view of its surroundings and can predict and thus avoid possible collisions in traffic.
Clevon uses multiple deep neural networks, fusing camera and radar data to allow its vehicles to detect and identify the dynamic environment. It said its technical team in Estonia is constantly developing and improving the CLEVON 1, so one teleoperator could eventually manage five to 10 vehicles simultaneously.
The CLEVON 1 communicates via 4G with the operator in the control room and includes redunandcies for safety.
"Reliable data connectivity is crucial for this technology," explained Vancauwenberghe. "To be sure, the vehicle has two SIM cards from two different providers, so there is always a network available. In the unlikely event that both networks fail, the unmanned vehicle comes to a safe stop."
Service to operate longest driverless route in Belgium
Collect&Go will be the first service in Belgium to test electric, driverless vehicles on public roads​ in Belgium, claimed Colruyt Group and Clevon. Previous tests with unmanned vehicles involved safety drivers, they noted.
The CLEVON 1 drove completely autonomously during the test in the Collect&Go car park, for the ride on the public road, it was remotely controlled by a teleoperator. The mayor of Londerzeel and local police forces have been closely involved in this pilot project, being responsible for safety and guidance along the route.
Conny Moons, stated: ''As mayor of Londerzeel, I am immensely proud that our municipality can contribute to this technological tour de force. With the entire municipal council, we highly value innovation, and we like to encourage projects that work around it. Collect&Go has become a permanent value in our region since the distribution centre was opened, so the picture fits for us."
Sander Sebastian Agur, CEO of Clevon, said he is confident that the test will also go smoothly in Belgium
"Our third-generation autonomous driving vehicle, CLEVON 1, has the necessary permits to drive on public roads in Estonia and Lithuania," he said. "License applications are pending in the United States and many other European countries. Our driverless, all-electric vehicles have already been in city traffic for 2.5 years with an impeccable safety record, proving that the technology is functional and safe for everyone around."
Colruyt Group gets government approvals, liability insurance
In addition, the test required a license from the Federal Government Department of Mobility to run a remote controlled car on public roads. VIAS, the Belgian road safety institute, mapped possible risks. Local and federal government officials and Colruyt Group said they left nothing to chance.
"Self-driving cars are an additional mobility choice, which can usefully complement existing public transport," said Georges Gilkinet, federal minister for mobility. "Together with the regions and the sector, I want to establish a regulatory framework for the development of self-driving cars. That is why we support these tests."
"For the logistics sector, the self-driving car has interesting potential, but it is not the only option to be further developed for the future," he noted. "Cargo bikes for the last mile or rail for long distances also still have a lot of potential as competitive transport solutions. After all, a self-driving car stands still in traffic jams just as well as a classic car."
AG took care of liability insurance for the vehicle because it had previous experience with such projects.
"AG wants to play an important role in the mobility of the future," said Edwin Klaps, managing director non-life insurance at AG. "This new phase of autonomous vehicles is a good opportunity for us to follow new evolutions closely, gain experience with them and collect data that we can use in the evaluation of risks."
Article topics
Email Sign Up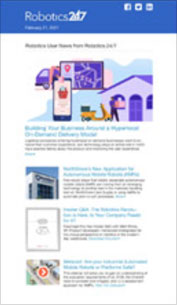 Get news, papers, media and research delivered
Stay up-to-date with news and resources you need to do your job. Research industry trends, compare companies and get market intelligence every week with Robotics 24/7. Subscribe to our robotics user email newsletter and we'll keep you informed and up-to-date.
Clevon