The advent of Artificial Intelligence (AI) technology has been making inroads over the years in various sectors. But a joint report issued this week by global express and logistics services provider DHL and technology powerhouse IBM takes an in-depth look into the impact of AI within logistics.
The report, entitled "Artificial Intelligence in Logistics: A collaborative report by DHL and IBM on implications and use cases for the logistics industry," examines different ways in which AI can be used for augmenting logistics operations, especially now at a time when leveraging AI is more accessible and affordable than it has been in the past.
"Everything can be enhanced through modern technology, and I think AI is at the beginning of really big usefulness," said Ken Allen, CEO of DHL Express, in an interview. "We already have big data and IoT and this is another part of that. This type of digitalization proposes the next 'S-curve' after globalization that is really driving our business in this fast-growing world of e-commerce. Now…for the first time through broadband and mobile devices everyone can be connected, and the possibilities are endless. It creates massive opportunities, as well as massive complexities in that everyone in the world is a potential customer now. And we need to use AI, big data, and other forms of digital marketing to reach all of our customers."
The DHL executive also noted that the areas where AI and related technologies are likely to initially have the biggest impact are not just in robotics, augmented reality, smart glasses, intelligent drones, and voice recognition, among others, but will also have the ability to drive huge improvements in managing efficiency of the base business and lower costs and drive further business gains in a smart, economic, and high-quality way.
As for the types of ways in which AI can be used in logistics, DHL and IBM cited various things, including:
transitioning away from legacy enterprise resource planning systems to advanced analytics, increased automation, and hardware and software robotics and mobile computing;
taking logistics operations redefine today's behaviors and practices;
taking operations from reactive to proactive and planning from forecast to prediction and taking processes from manual to autonomous and services from standardized to personalized
On a more practical level, they also noted that AI technologies can use things like: advanced image recognition to track the condition of shipments and assets, bring end-to-end autonomy to transportation; and predict fluctuations in global shipment volumes before they occur.
"There are many reasons to believe now is the best time for the logistics industry to embrace AI," the report stated. "Never before has this maturing technology been so accessible and affordable. This has already made narrow forms of AI ubiquitous in the consumer realm; the enterprise and industrial sectors are soon to follow."
What's more, the report added that in logistics the network-based nature of the sector offers up what it called a "natural framework for implementing and scaling AI, amplifying the human components of highly organized global supply chains," adding that the companies declining to adopt AI risk becoming obsolete down the road.
Ben Gesing, project manager of DHL's Trend Research team and one of the report's co-authors, explained that the future of AI within logistics is full of potential.
"As supply chain leaders invest more into the digital transformation journey, AI will become a bigger and more integral part of that, specifically in the form of automating back office processes and new improvements in the operational environment through intelligent assets and AI-powered tools and also in the form of customer-facing activities like digital marketing."
There are four paradigms related to AI that broadly show how it's changing things in the supply chain sector, according to Gesing. These things include being more proactive, predictive, autonomous, and personalized in terms of the future of logistics.
"What has happened in recent years is that AI is soaring out of research laboratories and becoming more ubiquitous and ambient in our personal lives," said Gesing. "I say ambient because it is so widely used by many apps and services that most people don't really realize they are interacting with basic forms of AI. The things that show up in the consumer world eventually make their way into the enterprise and soon the industrial sector follows suite. That is why we think the time for AI in logistics is now."
Gesing offered up some examples for what DHL is doing with AI in the aforementioned four paradigms that are featured in the report.
One was DHL Resilience360, a cloud-based tool for monitoring risks in the supply chain, which includes an offering called Supply Watch that is used to mitigate supplier risks by monitoring the content and context of 8 million posts from more than 300,000 online and social media sources. Through sentiment analysis this tool understands how people are talking and can identify signs of distress or dissatisfaction of an employer, for example, which allows the company to identify risk in a certain area that might have downstream effects on the supply chain or the customer.
Another example he cited was the DHL Global Trade Barometer, which focuses on making things more predictive by leveraging import and export data of intermediate and early-cycle commodities from seven countries measured in air freight and containerized ocean freight levels, and also evaluate 240 million variables from the seven countries representing 75% of global trade activity. This tool can provide up to three months of directional prediction for where global trade levels are headed.
From the IBM perspective, Keith Dierkx Global Industry Leader, Travel & Transportation IBM Industry Academy, said that what fuels things when thinking about leveraging AI, machine learning , and machine vision, among other things, is that most of the world is viewed about being owned by enterprises.
"This could be decades of pricing, decades of logistics and route management that DHL has and taking that data from physical and logistical enterprises and using AI to drive and create new values," he said. "That is really the intent here. The other thing is 80% of all the data being created today is not traditional structured data that you can find in a database. It could be computer vision, text, speech, social networks, or weather data, so using the algorithms and capabilities of AI combined with enterprise data allows you to look for insights that a system that system continuously learns and becomes important."
Looking at the slow advancement of AI, Dierkx pointed to Watson, IBM's AI platform for business to provide a sense of the evolution of AI's advancement.
"When IBM introduced Watson, it reached a population of 400 million English-speaking people, and now it can speak with 1 billion people in their native languages," he said. "The inherent capability of systems like Watson and AI to learn and enhance their insight on a daily basis is one of the key strengths of it. So when you think about DHL deploying AI today, that AI in an hour will be smarter than it is now and it will be smarter tomorrow. This drives a higher level of service to the client that DHL and other logistics providers serve and potentially take costs out. We have also optimized our platform for the enterprise for IBM's B2B business, and because these systems are now cloud-based. That becomes important when you think of global networks as an extension of DHL that gives it the ability to access that information with the security, transparency and all the compliance needed to handle mission-critical business becomes really important."
About the Author
Jeff Berman
Jeff Berman is Group News Editor for
Logistics Management
,
Modern Materials Handling
, and
Supply Chain Management Review
and is a contributor to Robotics 24/7. Jeff works and lives in Cape Elizabeth, Maine, where he covers all aspects of the supply chain, logistics, freight transportation, and materials handling sectors on a daily basis.
Follow Robotics 24/7 on Facebook
About the Author
Jeff Berman
Jeff Berman is Group News Editor for
Logistics Management
,
Modern Materials Handling
, and
Supply Chain Management Review
and is a contributor to Robotics 24/7. Jeff works and lives in Cape Elizabeth, Maine, where he covers all aspects of the supply chain, logistics, freight transportation, and materials handling sectors on a daily basis.
Follow Robotics 24/7 on Facebook
Article topics
Email Sign Up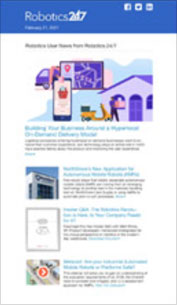 Get news, papers, media and research delivered
Stay up-to-date with news and resources you need to do your job. Research industry trends, compare companies and get market intelligence every week with Robotics 24/7. Subscribe to our robotics user email newsletter and we'll keep you informed and up-to-date.