DHL eCommerce Solutions this week said it has conducted a successful year-long pilot of two Dorabot Inc. sortation systems in its 150,000-sq.-ft. Atlanta distribution center. The project is part of the company's $100 million, five-year automation investment plan, as it opens innovation centers around the world.
"With a near-zero error rate and packages sorted on average in 3.6 seconds, our robotic arm pilot ... has increased our efficiency, speed and streamlined our processes," stated Scott Ashbaugh, vice president of operations at DHL eCommerce Solutions, Americas. "It has also allowed our employees to focus on other non-repetitive tasks, and for some, it has provided new skills to work with robotic arms and automation."
DHL eCommerce Solutions, a division of Deutsche Post DHL Group, partnered with Dorabot, an Atlanta-based provider of robots and artificial intelligence for the logistics, e-commerce, supply chain, consumer goods, and other industries.
Dorabots come in two configurations
"We spent time trying to understand the needs of the environment, including months of prototyping and a few weeks of testing before we put the robotic sorting system into production," said Jian Shi, the U.S. robotic engineering lead at Dorabot.
DHL adopted two DoraSorter systems with separate configurations: Sort-to-Bag and Sort-to-Gaylord.
These configurations are each capable of sorting more than 1,000 parcels and packages per hour weighing up to 15 lb. (6.8 kg), said Jian Shi. "It uses a combination of multithreading and real-time motion planning, and a high-speed arm."
"The robots can do 50 to 75 bags or 200 to 500 packages an hour," he told Robotics 24/7.
The DoraSorters are equipped with 3D and bar-code cameras to scan the package, informing the robotic arm about the package's location and which bag or container is the targeted destination. The operation occurs within a safety enclosure and light walls.
Using the Sort-to-Bag configuration, the system receives parcels and packages from the facility's primary sorter and reads a bar code to distribute them to 80 separate final-mile ZIP code destinations. The robot can detect if a bag is full and increase labor efficiency by 80%, said DHL.
The Sort-to-Gaylord system has a proprietary, drawer-shaped conveyor-belt end effector that enables parcels of different weights and sizes to be sorted and placed in Gaylord containers. Currently, it sorts to 20 separate 60-in. (23.6 in.)-tall Gaylord containers with a practically perfect sorting accuracy, the companies claimed.
"The DoraSorters are essentially like owning power tools that allow DHL eCommerce Solutions to improve the output by a factor up to four and perform important tasks with greater efficiency," said Spencer Deng, CEO of Dorabot. "As a robotic solutions provider, this is what we have been working on constantly—to deliver impactful results to our partners."
DHL opens innovation centers to be close to customers
"DHL wants to be close to customers and operators—where the technolology is used," said Klaus Dohrmann, vice president of innovation Europe and trend research at DHL Customer Solutions & Innovation. He spoke at a media event from DHL Americas' Innovation Center in Chicago.
DHL opened its innovation center in Bonn, Germany, in 2007 and reopened it in 2015, noted Megan Wolski, senior innovation engagement manager at DHL. It was followed by Singapore in 2015, Chicago in 2019, and Dubai in 2021. Their mission is to discover trends of the next five to 10 years, connect available technologies and expertise, and create proofs of concepts, she said.
Dohrmann and other DHL executives discussed the company's new trend report on "The Future of Work in Logistics." They pointed out DHL's "trend radar," which has been tracking technology trends, as well as social and business cases, since 2013.
The report cited three forces changing the future of work, starting with shifting demographics. This does not just include age; it also encompasses incoming workers' expectations of sustainability, diversity, and inclusion; a technology-forward environment; and employee wellbeing, he noted.
The second force is technology advancement, Dohrmann said. Robots can now pick and pack 10,000 different items at DHL, and a semi-autonomous truck can save 10 hours over 1,530 km (951 mi.). DHL and Volvo Autonomous Solutions are developing hub-to-hub autonomous freight hauling.
The third force is the acceleration of e-commerce demand around the COVID-19 pandemic.
"The Dorabot deployments in DHL eCommerce Solutions is a winning example of the effective collaboration between the business unit and the DHL Innovation Center," said Ben Perlson, robotics and automation lead at DHL Customer Solutions & Innovation.
Last year, DHL eCommerce Solutions' sister division DHL Express announced the deployment of its first Dorabot AI-powered robotic sortation systems at its service centers in Singapore, South Korea, and Miami.
"We started our robotics and loop-sorter programs well before COVID—there wasn't enough time to respond to volumes when the first pandemic surge hit," noted Dohrmann. "We're also looking at trends in radar, IoT [the Internet of Things], and vision AI to reduce accidents."
Survey finds worker interest, hesitance on tech
DHL recently surveyed 7,000 respondents, including 6,000 operations and office workers, and 1,000 incoming workers. It found that 9 in 10 believe that technology has been helpful in their roles in the past five years.
However, more than 58% in operations viewed advancements such as robots and AI as threats to their jobs, so more education needs to be done, acknowledged Dohrmann.
In addition, operations workers said the top three incentives for them to stay include access to training, more technology support for their tasks, and a greater variety of tasks. All of these support a drive toward more robot arms, autonomous mobile robots (AMRs), and software, "but it will be a while before we see lights-out logistics," said Perlson.
DHL's "Future of Work in Logistics" also segmented supply chain automation. Robots will continue to work alongside people because of the complexity of tasks, said Dohrmann.
In long-haul operations, AI, virtual reality, and network planners will support drivers. DHL said it doesn't expect fully automated last-mile delivery to be an option for more than 10% of deliveries by 2032.
About the Author
Eugene Demaitre
Eugene Demaitre is editorial director of Robotics 24/7. Prior to joining Peerless Media, he was a senior editor at Robotics Business Review and The Robot Report. Demaitre has also worked for BNA (now part of Bloomberg), Computerworld, and TechTarget. He has participated in numerous robotics-related webinars, podcasts, and events worldwide. Follow Eugene:
Follow Robotics 24/7 on Facebook
Article topics
Email Sign Up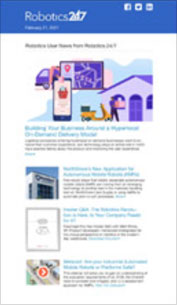 Get news, papers, media and research delivered
Stay up-to-date with news and resources you need to do your job. Research industry trends, compare companies and get market intelligence every week with Robotics 24/7. Subscribe to our robotics user email newsletter and we'll keep you informed and up-to-date.
DHL