Robotics will be among the biggest disruptive technologies over the next 10 years, say industry analysts, but automation producers took a big blow last November when Walmart announced that it was ending its contract with Bossa Nova Robotics. So what can we really expect from robots and automation?
Humans have been trying to make jobs easier since the dawn of time. It is one reason why we domesticated animals. It is why we built watermills, windmills, automated looms, steam engines, tractors, and a whole host of other machinery that allows us to do more with less effort, less danger, and in less time. It is the same driver behind autonomous mobile robots (AMRs) – to reduce hard work, injuries, and costs while increasing speed, flow-through, and efficiencies.
In a recent poll of 1,000 supply chain executives, Deloitte and MHI found that they anticipated that robotics and automation would be the biggest disruptive technologies in the industry over the next 10 years.
The harsh truth
While the current crop of mobile robots can reduce some labor, some time, and some costs, right now, the benefits have not been enough to justify the purchase of tens of thousands of such robots for some large corporations. In Walmart's case, the benefits provided were not enough to justify the purchase of 1,000 robots, even though they were already ordered and announced.
If industry had the robots that it really needed right now, there would be more robots in service.
— Milan A. Račić
If industry had the robots that it really needed right now, there would be more robots in service. AMR start-ups and integrators have been working on this for a decade.
Over a billion and a half dollars of capital has been invested across the ecosystem, yet there is no clear winner and a very wide, sprawling tail.
The ratio of hype-to-robots is about 10,000:1
Are mobile robotics start-ups pushing technology barriers? Many are, yes. But very few of these products pass the return-on-investment (ROI) test.
Over the past 10 years, many automated guided vehicle (AGV) and AMR companies have produced disruptive technologies that get investors and technology aficianados excited. But these machines don't do enough for actual customers. They can do some useful tasks, but they are ancillary to companies' core operations.
These robots can move autonomously, but they usually do so at speeds far below that of a forklift with a human driver for safety reasons. They show operational potential but lack compelling capability.
Some in the market have told vendors that their robots don't bring enough savings or additional revenue within a reasonable timeframe to warrant senior executives putting their careers on the line with a significant purchase. The Walmart example demonstrates the problem of product/market fit.
An epic convergence provides disruption
On the other hand, a number of factors have converged to accelerate business automation plans. Initially, warehouse and distribution centers considered AMRs because workers were hard to find or were unwilling to do hard, monotonous, and low-paying jobs.
Large enterprises then realized that they had to reduce their "people risk" during COVID-19 lockdowns. Having too few workers is a headache, but having no workers is a nightmare. That nightmare was compounded by an economic recession and U.S.-China trade tensions.
Virtually overnight, automation converted from a "nice to have" pilot or public relations coup to a life raft. Enterprise customers are willing to devote more resources to automation, even if it means lowering the ROI threshold or giving it more time to prove itself. However, they have not lowered that threshold to zero.
AI and autonomy are being commoditized
Many excellent teams are developing artificial intelligence and autonomous systems. Not only are new players entering the market in record numbers, but key factors in AI development like machine learning are being automated. These forces will lead to the commoditization of AI and autonomy.
That is not bad. After all, the cloud is a commodity. Companies like Amazon, Google, Microsoft, Oracle, SAP, and others make billions of dollars because they know how to package, deliver, and support that commodity at scale. So it will be with autonomous robots.
Execution will drive AMR adoption
If all the above factors have only heightened demand for AMRs in sectors like logistics, manufacturing, retail, consumer goods, and pharma, then we should expect a large number of robots to enter service in those sectors. However, I do not expect that robot uptake will be concomitant with demand until we have resolved the product/market fit issue.
Walmart may have pulled the plug on Bossa Nova, but no one has pulled the plug on robots. The winners in this race will be the disruptive technology providers who respond to what enterprise customers have been telling them all along.
About the author:
Milan A. Račić is a co-founder of visual AI-based mobile robot start-up Gideon Brothers. He writes and speaks on AI, robotics, and strategy.
Article topics
Email Sign Up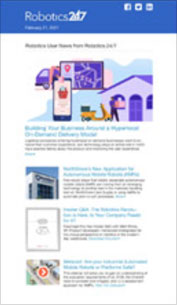 Get news, papers, media and research delivered
Stay up-to-date with news and resources you need to do your job. Research industry trends, compare companies and get market intelligence every week with Robotics 24/7. Subscribe to our robotics user email newsletter and we'll keep you informed and up-to-date.
Getty Images