When HP CEO Meg Whitman announced in 2013 her company would start building 3D printers, the announcement took not only the 3D printing industry by surprise, but also many inside HP. Researchers rushed to get a prototype up and running in time for a press event a few months later.
Fast forward to 2019. Whitman has retired, but what she set in motion has taken off on an unexpected trajectory. The company and outside analysts alike believed in 2013 that HP would focus on consumer and small lot print runs including prototyping and mass customization of consumer products. Instead, HP is taking aim at high volume industrial parts production.
HP now uses its own 3D printers to create parts for its line of Multi Jet Fusion 3D printers, and will shortly be releasing a new 3D additive manufacturing ecosystem (the 5200), which HP says will bring "new levels of manufacturing predictability, efficiency, repeatability, and quality" to volume part production. They are doing what HP has done for 70 years, use existing products to jumpstart research. From an audio oscillator for its first customer (Walt Disney Company) to microwaves, from calculators to personal computers, and now from 2D wide format printers to 3D, HP is putting its considerable size and vast R&D expertise to work in additive manufacturing.
"The future is distributed manufacturing," HP's Ramon Pastor, general manager and global head of Plastics Business, HP 3D Printing and Digital Manufacturing Groups, told a group of industry press and analysts invited to the June 2019 grand opening of the new HP 3D Printing and Digital Manufacturing Center of Excellence in Barcelona, Spain. Delayed by the discovery of Roman-era ruins on the building site, the new center is an extension of HP's existing Barcelona campus, and is now headquarters for both HP's 2D wide-format printing and 3D digital manufacturing endeavors. 100 3D printers are in use for its own part production as well as doing service bureau work for existing customers.
"3D printing is how we will manufacture in the 21st century," says Christoph Schell, president of HP 3D Printing and Digital Manufacturing. "We will give the blacksmith back his tools. This truly is the 4th Industrial Revolution."
The phrase "digital manufacturing" is new to HP nomenclature in 2019, based on the company's conviction that fast printing of parts using its PageWide technology is only part of the manufacturing workflow they need to create. Learning from its experience with wide format 2D printing — hugely profitable but also a closed proprietary technology — HP is reaching out to form partnerships as it seeks to create a model for end-to-end digital manufacturing that starts with CAD and ends with products. Partners present at the grand opening included Siemens for software and factory processes; BASF and GKN for materials; Materialise and ZiggZagg for services; and Avid Product Development for design optimization.
Disrupting Manufacturing Business Models
Business model disruption was as much of a theme as any particular technology or partnership. "We are in this business to impact how manufacturing affects the whole business model," says Schell. An example can be found in orthodontics. First Invisalign (a 3D Systems customer) used 3D printing to create custom braces sold through orthodontic offices, then SmileDirectClub (an HP customer) moved to a home delivery model, bypassing clinics altogether.
When HP built a mammoth business in wide-format printing, it put together a proprietary manufacturing and services business model. As with its consumer printers, other companies wanting to sell print heads, inks, or add-on products had to reverse engineer each HP printer. With 3D printing, HP is becoming more open. Specifications for plastics materials will be made public; the new metal printers (more below) will use commodity powders; and the partnerships extend throughout the business cycle, all the way back to R&D. GKN Powder Metallurgy is an official Research and Development partner, says Schell. "We have few such deep relationships, to be in charge of quality."
Nurturing a New Market
Part of HP's more open approach to product development is also market development. "We are working with software partners for things like generative design, CAD, and CAE," says Schell. "We must be doing the right work for the design freedom 3D printing provides." The value chain "must understand the start in design and the finish in post-processing," Schell adds. "The on ramp is design."
HP also sees the slow pace of modernization in design as a challenge; there are just too many users of 2D. "We must show the value of 3D design, not 2D," Schell adds.
HP is aiming its new Jet Fusion 5200 at volume manufacturing. As profiled recently in Digital Engineering("Production 3D Printing System Brings Together Industry Leaders"), the 5200 is not just a printer but a production system with separate stations for 3D printing, removable build units, a cooling unit and a processing station. There are also third-party products for the production cycle from Hovmand (a forklift) and Girbau (a dyeing station), extending HP's new open business model to the hardware of production.
Data in the Ecosystem
Part of the grand opening and open house at the new HP 3D Printing center was to introduce the division's renaming as the 3D Printing and Digital Manufacturing Group. The company sees the new ocean of data being created by additive manufacturing workflows as an important asset. "Data intelligence is on several levels," in additive manufacturing says Schell. HP is working on software that saves, manages and optimizes the design data thatfeeds the print process and also the telemetry data of how a print run is going. This includes real-time analysis of parts for conforming to design specs, materials usage patterns and more.
To support its vision of digital manufacturing, HP is organizing a Digital Manufacturing Network that allows customers, service bureaus and HP to link 3D printers into one network. It will allow customers with 3D printers in multiple locations to manage all printers from one digital dashboard, and allow partners and service bureaus to contribute to the workflow while respecting and protecting a company's intellectual property (IP). HP sees their Digital Manufacturing plan as a win-win for HP partners (monetizing additional services like cloud provisioning) and for customers to create digitalized workflows.
Leveraging 30 Years of R&D
Throughout the two days of meetings with press and analysts, HP regularly reminded its guests that it brings to the table a trifecta of strengths no startup or one-product business can match. "We have the building block," notes Pastor. The building blocks of thermal jet printing, ASICs and PGAs, and mechatronics all enabled HP "to go from first announcement to product in less than two years."
HP's expertise gave it "very powerful learnings," Pastor says, while acknowledging the company is a new player in manufacturing workflow. Thus the many partnerships, including Siemens not only for its supportive CAD and CAE products but for its long history in factory automation.
"A major inflection point is happening in manufacturing," says HP's Rebecca Campbell, head of business models and programs for the 3D printing digital manufacturing group. Cost per part is a "big opportunity," she says, as well as the rise of robotics, new connectivity in factory operations, and software that can drive all aspects of the workflow. "Companies are ready for a digital and customized world," she said, and HP intends to be a leader. "Our methods scale. We are creating a whole new market, not thinking about competition," Campbell adds.
Article topics
Email Sign Up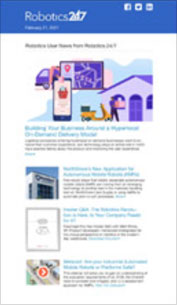 Get news, papers, media and research delivered
Stay up-to-date with news and resources you need to do your job. Research industry trends, compare companies and get market intelligence every week with Robotics 24/7. Subscribe to our robotics user email newsletter and we'll keep you informed and up-to-date.