Robotics, artificial intelligence, and, increasingly, integration with other enterprise systems are helping warehouse operators to meet increased demand, according to inVia Robotics Inc. The Los Angeles-based company provides mobile robots and software driven by artificial intelligence to improve fulfillment center efficiency.
The COVID-19 pandemic may have accelerated e-commerce demand, but scarce labor has persisted as a driver of automation, said Lior Elazary, co-founder and CEO of inVia Robotics, which promoted its software at ProMat DX this week.
"The uptick started in May of last year, and some customers have seen the largest volumes than they've ever seen," he told Robotics 24/7. "They saw peaks much earlier in the year and couldn't get the labor force. Each quarter has been the best ever for inVia in turn."
inVia approaches warehouses holistically
"At inVia, we're approaching the problem of modernizing warehouses holistically," Elazary said. "We've built a platform that programmatically digitizes every logistics workflow and uses AI to continually optimize both machines and people."
"For example, one customer wanted to optimize lift drivers in addition to robots last year," he noted. "While 80% of our customers have robots, everyone uses inVia Logic in the entire warehouse. We can get productivity to 10x."
"We use AI in two places—in robots to adapt to infrastructure, and in learning the flows of machines and people in the warehouse," explained Elazary. "Our system organizes jobs such as picking totes. 3PL [third-party logistics] customers are now using our software to improve guidance to human pickers and forklift drivers as well as robots."
"As Steve Mulaik said in a LinkedIn blog post, 'If you replace a picker who is 65% active with a robot, that robot is not likely to be any more utilized than the picker!'" he said. "If a replenishment or packing process is inefficient, of if zones for forklifts and small parts are moving independently, you'll have people working on the same orders but still waiting for massive part flow."
Logic plans in both space and time
inVia provides its simulation, warehouse execution system (WES) software, hardware, and services through a Robotics-as-a-Service (RaaS) model. inVia Logic incorporates the PickMate software, human pickers, autonomous mobile robots (AMRs), and the remote operations center (ROC), said Elazary.
"We can see a plan in five different dimensions —in both space and time—and know when someone has paused. It can route robots around, reducing bottlenecks for orders and items," he said. "This solves the 'job shop' problem from computer science: How can you reorganize jobs to minimize Idle time? You can make a plan, but then it changes. inVia's systems can adapt to the current situation and understand the dependencies. It's not just one person or robot picking fast but making sure all orders get out the door."
"inVia's flow management system is better than WMS [warehouse management system] waves," Elazary claimed. "With us, every single order is in play, so if there's an issue with an order or packout, the robots can fix it in real time. The system also handles labor management and optimizes path and flow."
"In addition, inVia solves the 'traveling salesman' problem and also does spatial batching," he said. "There's the traditional path of 70 UPH [units picked per hour] versus the Smartpath of 150 UPH. It's guiding people in real time with a wearable device, and it includes features like pick to color showing the associate where to pick."
Last week, inVia announced that Gnarlywood Group, which provides merchandising fulfillment for entertainment brands, selected its Logic WES. Some customers are using only inVia's software, but Gnarlywood plans to include its picking system, said Elazary.
inVia optimizes multiple tasks
Elazary said that inVia's combination of AI-powered WES, AMRs, and round-the-clock monitoring and support are more productive than automated storage and retrieval systems (ASRS), at up to 800 UPH. The company's systems can not only handle picking, but also replenishment and other tasks, he said.
"By introducing robots, customers can optimize putbacks and returns, packout, and pallet packing," he said. "We've decoupled people from robots for picking and packing—this lets them do different tasks and allows for reorganization. We can see on a heat map of 10,000 totes which ones have been touched once and reserve storage."
Last month, Cargo Cove Fulfillment chose inVia's PickMate software and Picker AMRs to optimize operations at its facility in Jacksonville, Fla.
Do inVia's systems work with other robots, such as other AMRs or pick-and-place arms? "We can work with other robots, but we're not finding a huge ROI [return on investment] there," Elazary replied. "We've limited travel so that it's not as much of a pain point, and you still have to get a person to travel to pallets and unload them. It's more about guiding human pickers than optimizing forklifts."
"The biggest thing for ROI right now is deciding on whether a person or a robot should conduct tasks," he said. "This has helped us scale and move quickly."
About the Author
Eugene Demaitre
Eugene Demaitre is editorial director of Robotics 24/7. Prior to joining Peerless Media, he was a senior editor at Robotics Business Review and The Robot Report. Demaitre has also worked for BNA (now part of Bloomberg), Computerworld, and TechTarget. He has participated in numerous robotics-related webinars, podcasts, and events worldwide. Follow Eugene:
Follow Robotics 24/7 on Facebook
Article topics
Email Sign Up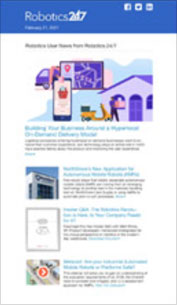 Get news, papers, media and research delivered
Stay up-to-date with news and resources you need to do your job. Research industry trends, compare companies and get market intelligence every week with Robotics 24/7. Subscribe to our robotics user email newsletter and we'll keep you informed and up-to-date.
inVia Robotics