Restaurants are looking to fast orders of robots. Miso Robotics today announced the latest model of its Flippy flagship food-preparation robot. The Pasadena, Calif.-based company said Flippy 2 is able to perform twice as many fry-station tasks as its predecessor. Miso said it received valuable feedback from White Castle, which deployed the original Flippy at a location in the Chicagoland area in September 2020.
"Like all technologies, Flippy 2 has evolved significantly from its predecessor, and we are extremely grateful for the insights collected from White Castle to truly push its development forward in a real restaurant environment," said Mike Bell, CEO of Miso Robotics. "Flippy 2 takes up less space in the kitchen and increases production exponentially with its new basket-filling, emptying, and returning capabilities."
Back-of-house positions at quick-service restaurants (QSRs) have historically been labor-intensive, physically demanding, and even hazardous, given staff proximity to hot oil and grills in compact kitchens. Flippy 2 looks to alleviate these pain points and create a better environment for its human co-workers while also maximizing kitchen efficiency, said Miso.
White Castle provides Flippy feedback
White Castle said Flippy improved kitchen productivity during its initial pilot. The Columbus, Ohio-based fast-food hamburger chain said it plans to expand to additional locations once the current pilot is over.
"We learned so much from Flippy and our partnership with Miso Robotics," said Jamie Richardson, vice president at White Castle. "It's amazing to see the future of how we provide even better service."
While the robot helped team members stay in their designated locations, employees noticed that it needed human assistance on both sides—from the initial point of contact with the uncooked product to when the cooked food was placed in the holding area. Basket management wasn't automated, so the cooking process wasn't as seamless as it could be.
"Over the last year, we've learned a ton about real kitchen operations and how automation solutions like Flippy can help improve efficiency, productivity, and safety in the back of house," Bell told Robotics 24/7. "At White Castle specifically, we learned that Flippy was able to improve kitchen operations by allowing staff members to remain in their designated locations. But we also learned that the cooking process and worker interaction with Flippy required too many steps, and sometimes more than one employee to operate, so we took note and introduced several changes to continue improving daily operations."
"AI and automation have been areas White Castle has been looking to experiment with for quite some time in order to optimize its operations and provide a better work environment for its team members," he said. "Since we launched the pilot program back in September 2020, White Castle continues to fully utilize Miso's intelligent automation, and it has replaced the existing machine with Flippy 2 to continue handling the fry station."
Flippy 2 capabilities
Flippy 2 can be customized to cook whatever a brand needs, including anything that can be fried, claimed Miso Robotics.
"The new features are based on the feedback we received from White Castle," said Bell. "We're confident that these improvements will also help improve operations for the rest of our current and future stakeholders."
Flippy 2 is designed to free team members to focus on other duties, said Miso Robotics. It includes the new AutoBin system for lower-volume and specialty foods such as onion rings or chicken tenders. Each bin can hold as much as a full fry basket, be customized for a kitchen's specific needs, and be dedicated to individual products like vegetables and fish to prevent cross-contamination, the company said.
The AutoBin system can automatically drop food into the frying basket without the need of human assistance. Once the product is placed in the bin, AI vision identifies the food, picks it up, cooks it in the correct fry basket, and places it into a hot-holding area, said Miso.
Eliminating the transfer task lessens overall human-to-food contact and reduces the potential for dripping oil and burns caused by lifting and moving baskets. This also ensures a closed-loop system where Flippy 2 can operate on its own without human intervention in the middle of the process, according to Miso.
"So now we've gone from requiring one or two employees to making the frying station less than a full-time task, allowing team members to focus on other important duties such as sorting the food and serving it to customers," noted Bell. "In addition, the system can increase throughput by 30% – or around 60 baskets per hour – which is more than what is needed in high-volume QSRs."
Flippy 2 is also designed to take up less space within the kitchen – including a 56% reduced aisle intrusion, a 13% height reduction, and fewer surfaces requiring cleaning.
Software and customization
"While most of our enhancements were focused on Flippy's hardware and design, we also introduced additional software updates to operate the AutoBin system and allow Flippy to perform additional cooking tasks," Bell said. "And since Flippy is essentially built on an AI platform, it is constantly learning how to recognize and cook new food items, making it easy to install and customize, depending on each kitchen's menu and needs."
"Not only are we able to customize and program Flippy to meet the specific needs of each kitchen from a software perspective; we also offer more than 120 hardware configurations to make sure Flippy meets the operational needs of each restaurant," he added. "We can design different Flippys, with more or less fryers, AutoBins, or hoppers, for example, to make sure it can successfully take over any frying station in the world."
Miso Robotics finds partners, investors
Miso Robotics offers its commercial food-service systems through a robotics-as-a-service (RaaS) model. The company said its AI powers products including Flippy Wings, CookRight Grill, the Automated Beverage Dispenser, and Flippy 2. Miso said they can drive consistency, increase productivity, reduce costs, and improve the overall dining experience.
"In addition to Flippy 2's new features and design, we are in constant conversations with industry leaders, restaurant operators, and partners, and we're making sure their input and feedback is reflected in our products," said Bell.
The QSR market in the U.S. is worth $296.5 billion, according to IBISWorld Inc. Miso's partners include Levy Restaurants, Compass Group, CaliBurger, and most recently, Inspire Brands, owner of Buffalo Wild Wings.
Miso Robotics is primarily funded by individual investors and has raised more than $30 million in crowdfunding to date.
Miso is now accepting new investors for its Series D round, which kicked off with a market valuation of $350 million – a $270 million increase since its $80 million Series C open. It has raised $10 million from nearly 15,000 shareholders so far.
"With this funding, we are seeking to continue growing our team and operations in order to speed up research and development, production, and business development efforts to pursue multiple revenue streams simultaneously," said Bell.
About the Author
Eugene Demaitre
Eugene Demaitre is editorial director of Robotics 24/7. Prior to joining Peerless Media, he was a senior editor at Robotics Business Review and The Robot Report. Demaitre has also worked for BNA (now part of Bloomberg), Computerworld, and TechTarget. He has participated in numerous robotics-related webinars, podcasts, and events worldwide. Follow Eugene:
Follow Robotics 24/7 on Facebook
Article topics
Email Sign Up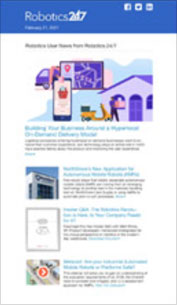 Get news, papers, media and research delivered
Stay up-to-date with news and resources you need to do your job. Research industry trends, compare companies and get market intelligence every week with Robotics 24/7. Subscribe to our robotics user email newsletter and we'll keep you informed and up-to-date.
Miso Robotics