Robotics have played a significant role in surgical procedures over the years. Recently, significant advancements have been made in the arena that deserve exploration. This includes a series of "firsts" where robots are performing more difficult surgeries, amplifying the role they play in the medical community.
Surgical robot used to perform soft tissue laparoscopic surgery
At John Hopkins University, researchers have deployed a smart tissue autonomous robot (STAR) that performed a laparoscopic surgery on a pig. The event is a precursor to what's possible for humans: soft tissue surgery performed by a robot.
Surgeons require years of practice to become skilled at performing this type of surgery. It involves connecting two ends of an intestine. It is a challenging procedure, perhaps one of the most challenging in gastrointestinal surgery.
Normally, a surgeon sutures the intestinal tissues with precision, being careful to do so without causing infection. There's a scant margin of error. Mistakes could lead to an intestinal leak that could pose adverse consequences for the patient and even jeopardize their life.
Correcting a problem of the heart with robotics
Laparoscopic surgery on a pig is, well, just the tip of the iceberg, it seems, regarding surgical "firsts." At the University of California San Francisco, a robot was used during a mitral valve surgy to correct a mitral valve prolapse. The university notes this was the first time robots had been used in this kind of procedure in the city. (Robots have been used for mitral valve repair for years.)
The patient was a 63-year-old man. The condition often is genetic and causes the mitral valve to open and close inadequately.
The robotics team collaborated with the surgical team and provided a 3D view of the mitral valve. This clarified the spatial relationship of the mitral valve, showing its position relative to other organs and tissue.
The robot allowed smaller incisions to be made. Within 5 days, the patient was home. The robot opens an entirely new avenue for correcting mitral valve prolapse and paves the way for faster, better, and more successful outcomes.
"Robotically assisted mitral valve surgery allows us to make even smaller incisions with greater precision," said Tom C. Nguyen, MD, robotic heart surgeon and chief of Cardiothoracic Surgery at UCSF in an article posted on the university's website. "By using the robotic arms, we have more degrees of articulation than with our natural wrists. The robot also magnifies the surgical field 10X in 3D. Ultimately, this translates into more precise surgery with faster recovery."
Cancerous lung detection and removal made easier thanks to robots
Robots are also being used to survey the body for cancerous tissues. At University of California Davis Heath, surgical assist robots have helped diagnose and treat lung cancer. Using a method called "robotic-assisted bronchoscopy," medical staff at the health center use robots to detect lung cancer masses and even remove them, all within one surgery.
"Innovations such as the robotic bronchoscopy platform are patient care at the absolute highest level, from diagnosis to treatment with a multidisciplinary team approach," said Bahareh Nejad, medical director of Robotic Surgery in an article posted on the university's website. "As we continue to grow the UC Davis Robotics Program, the institutional support we have received has been instrumental. We are excited to facilitate more growth with robotic surgery to make patient treatment better and more efficient."
Fixing femur fractures with robots
This one is not there yet, but the National Science Foundation believes in it enough to grant an assistant professor of biomedical engineering at Rowan College of Engineering at Rowan University, a $250,000 grant to develop a system called Robossis, which will be used to assist in repairing femur fractures.
Why is this so remarkable? The femur, located in the upper leg, is one of the longest bones in the human body. The upper leg, however, is wrapped in an intricate network of muscles, which must be accessed and cut through to reach the femur.
Because of the bone's location and its difficulty to be reached, less invasive procedures are now being explored and the funding is in place to design a robot to help. But the grant was given to the engineering department, not the medical center.
If the professor is successful, the robotic system could assist orthopedic surgeons all the over the world.
Robots enable dental students to conduct dental implant surgeries on their own
At the NYU College of Dentistry, the first dental implant surgery using state-of-the-art robotic technology was performed entirely by dental students.
As the university described the significance, it emphasized that "NYU Dentistry is one of only three dental schools in the nation with a robotic system for dental implant surgery."
Robots are disrupting the surgical community
A March report by consulting group McKinsey & Company highlighted the many ways technology is changing medicine and the patient experience. Of course, no such discussion is possible without including robotics, as the report notes.
"Technologies such as remote patient monitoring, home telemetry, and robotic technologies are supporting the blending of virtual and home-based care delivery," reads a portion of the piece. "Technology is also supporting the shift to lower-acuity sites of care—for example, joint-replacement-surgery robots can help make procedures more predictable and therefore possible to perform in ambulatory-surgery settings, and medical wearables that are able [to] detect certain health issues earlier can help prevent the need for inpatient care."
For surgical robotics, there are several firsts that occurred in the past year. But there will be even more first next year, and in subsequent years. Robotics are pervading many, if not every facet of our lives.
The merit of robotics and their accuracy and precision are on the cusp of changing our lives and our society for the better, with surgical practices for the ordinary and the extraordinary parts of health and medicine. The best is yet to come.
About the Author
Jim Romeo
Jim Romeo is a freelance writer and contributor to Robotics 24/7 based in Chesapeake, Va.
Follow Robotics 24/7 on Facebook
Article topics
Email Sign Up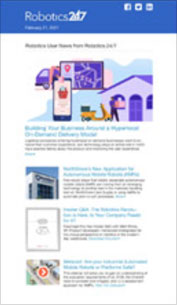 Get news, papers, media and research delivered
Stay up-to-date with news and resources you need to do your job. Research industry trends, compare companies and get market intelligence every week with Robotics 24/7. Subscribe to our robotics user email newsletter and we'll keep you informed and up-to-date.
UC Davis Health