Attendees at ProMat 2023 in Chicago next week will be able to see the latest robots for many supply chain and manufacturing applications. RIOS Intelligent Machines Inc. said it has developed haptic intelligence for manipulation tasks that were previously difficult to automate, such as packing, machine tending, and autobagging.
Smarter and more dexterous robots sound great, but how can the majority of warehouses, which are not yet automated, get started with them? Robotics 24/7 chatted with Dr. Bernard Casse, founder and CEO of RIOS, about rethinking business models as capital becomes scarce and how the robotics-as-a-service (RaaS) model can enable robot adoption.
Do your due diligence
Even before Silicon Valley Bank's problems, robotics suppliers and users were complaining about a lack of capital. What does that mean for the industry?
Casse: VCs [venture capitalists] are becoming risk-averse. 2023 may have a recession, and investors want to figure out which companies are category leaders.
That's a shift from the mindset of previous years—it's no longer growth at all costs, pouring in money, and startups hoping they'll make it. We've seen inflated valuations and not the revenue VCs had hoped for.
Now, companies can only hire based on revenue per employee; executives want metrics and to see unit economies.
Customers want to know that their robotics suppliers will stick around for a while. The due diligence for investors and customers typically took a month to a month and a half, but now, it's four months and higher. We've had weekly meetings for due diligence for more than six months. Everyone is rethinking their business models.
But at the same time, haven't worker shortages continued pressure toward automation?
Casse: It's a national crisis, with about 5 million jobs unfilled and the labor force participation rate going down as 3.4 million people have left the U.S. workforce. Some have retired, and some are never coming back to their old jobs.
The dilemma is that everyone wants automation. 3PLs [third-party logistics providers] tell us, "Automation's the real deal. I want a scalable, robotic task force, but it costs millions and is disruptive. Which suppliers should I talk to?"
Their first instinct is to go the the "big four" [industrial automation providers, ABB, FANUC, KUKA, and Yaskawa], but that's like looking for a plumber in a phone book.
RIOS previews discussion of robotics as a service
You'll be speaking about RaaS at ProMat. How can it help?
Casse: Comparing traditional business models works for established businesses, like capex [capital expenditures] and automotive manufacturers. But what about bleeding-edge technologies?
It's all about certainty. Customers will pay money when they're very confident a product or service will work out and that the company has a track record of deploying on a large scale.
Common objections to automation include:
"It's too bleeding-edge."
"I don't want to be a guinea pig."
"I prefer gross margins."
"There are not enough referrals. We want more proof points."
"We're not sure we can meet KPIs [key performance indicators]."
"The provider has existential risks."
In addition, some executives fear they will look bad if the machines don't work out. But RaaS can address all these concerns.
The "six pillars" of RaaS that I'll discuss at ProMat include maintenance, zero money down, a pay-as-you-go model, leasing, white-glove service, and 24/7 support. We're moving away from the concept of "pure RaaS."
RaaS is based on the software-as-a-service or SaaS model, but how does RIOS look at services for hardware versus those for software?
Casse: It's all about flexibility. We address it very differently than other providers. We don't distinguish between hardware and software. We just provide services to customers, some of whom want a one-stop shop.
Midmarket or small businesses are happy if we can match or be close to labor rates. They'll pay a fee that's reasonable to them for a single solutions provider.
Larger companies are more sophisticated. They're used to capitalizing equipment and don't mind. For them, it's all about the production process.
Our way of looking at it is proprietary. We tell customers exactly how we can help them make more money by implementing robots, moving away from conversations about the minimum wage.
How do we bring value? It's not just about a robot arm or labor replacement. We bring end-to-end robotic workcells to improve throughput and help them make more money.
RaaS and ROI
Speaking of value, what time frames are we talking about for RaaS and returns on investment (ROI)?
Casse: Most companies are looking for value over the next 10 years. Some customers want RaaS, and others want to capitalize their equipment, so we make money on both capex and opex [operating expenses].
There are all sorts of permutations. Some companies want to own their equipment after a certain number of years. The savvy ones compute everything and look at their numbers to avoid overpaying for services after three years.
With robotics as a service, how much customization happens?
Casse: We're moving away from customization. We want to make our flagship workcell product available with RaaS.
Vulcan is an integrated module for packaging and sorting. For example, for handling, sorting, quality control, packaging, and palletizing, we can build 80% to 90% for the entire line.
There's always some customization—like different grippers to pick up corn versus a stick of deodorant—but we made our modules like building blocks.
How are you scaling up to meet customer demand?
Casse: A year ago, our goal was to prove our technology platform and prove that we're able to roll out our robotic workcell and that it was easy to use and integrate into workflows. Now, we're shifting to operations at scale, with multiple lines.
We scale nicely with installations and have 24/7 support. The unit economics work out, even if we're addressing large installations.
ProMat priorities
What are you looking forward to seeing at ProMat?
Casse: Our primary reason is to meet with customers. We'll do some networking and meeting with colleagues, but this year, everyone will be stringent about returns.
Tracxn recently recognized RIOS as a "Top Manufacturing Tech Startup" for 2023—does that help you stand out?
Casse: This serves as validation. We love that it makes customers want to engage with our company.
Right now, our focus is on end-of-line applications in the food and beverage industry. We've architected a lot of infrastructure to handle raw proteins. Being recognized as a Top 5 robotics provider helping that industry adds credibility for customers and investors.
Editor's notes: RIOS will be exhibiting its technologies and services at Booth N6956 at ProMat in McCormick Place.
Casse's session, on "Get Started With Robotics-as-a-Service to Immediately Increase Productivity and Supplement Labor," will be at 3:30 p.m. CT on Wednesday, March 22, in the Emerging Technologies theater.
For more about ProMat 2023, visit Robotics 24/7's special coverage page.
About the Author
Eugene Demaitre
Eugene Demaitre is editorial director of Robotics 24/7. Prior to joining Peerless Media, he was a senior editor at Robotics Business Review and The Robot Report. Demaitre has also worked for BNA (now part of Bloomberg), Computerworld, and TechTarget. He has participated in numerous robotics-related webinars, podcasts, and events worldwide. Follow Eugene:
Follow Robotics 24/7 on Facebook
Article topics
Email Sign Up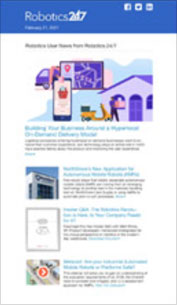 Get news, papers, media and research delivered
Stay up-to-date with news and resources you need to do your job. Research industry trends, compare companies and get market intelligence every week with Robotics 24/7. Subscribe to our robotics user email newsletter and we'll keep you informed and up-to-date.
RIOS