The past year has been challenging for manufacturing, supply chain, and other industries, but it has also provided opportunities for improving safety, efficiency, and productivity with robots and automation. Milton Guerry, president of tooling supplier Schunk as well as the International Federation of Robotics, or IFR, recently answered questions from Robotics 24/7 about current trends in technology and industry.
Recession and recovery
Global manufacturing had started to slow down even before the pandemic because of factors such as China-U.S. trade tensions. How quickly do you expect it to return to steady growth?
Guerry: This is exactly right. In 2019, we were feeling the slowing related to trade tensions and changes in the automotive industry related to EVs [electric vehicles]. The slowdown was coming off an all-time high in 2018, but robot deployments remained at a high level, even with trade tensions and changes in the automotive industry.
With the challenges of 2019, the worldwide operational stock reached a high of 2.7 million robots, which equals a 12% growth year over year. The early indications show we are close or even back to steady growth.
Even as unemployment drops with the COVID-19 pandemic finally easing, how can automation help businesses?
Guerry: Companies that adopt and embrace automation are more productive and competitive, and through their success, they employ more people. Automation played a crucial role during the pandemic. Many goods were in short supply due to the disruption, and automation was quickly deployed to scale and fill the critical needs from everyday products to PPE [personal protective equipment].
As the grip of the pandemic eases, we see the advantages of automation more clearly than ever. When we automate, supply is more distributed, more secure. When we produce more locally, our carbon footprint is smaller. When manufacturers are more productive, wages and standards rise.
Put these factors together with unemployment dropping to pre-pandemic levels, jobs will soon go unfilled. Automation will keep us moving forward and will help us will help us ensure that jobs stay in our country.
Which countries does the IFR project to increase their robot density the most?
Guerry: Robot density, operating robots per 10,000 employees, is one of the most telling indicators of the culmination of many factors. We consider the following by region: the outlook for manufacturing, the economic growth cycle, technological advances, the policy position for investment, and the available labor to adopt the automation. The countries able to align these factors will have the highest density increases.
China has recently aligned these factors and has progressed from No. 28 to No. 15 in only five years, thereby increasing its robot density from 36 in 2014 to 187 in 2019, as published by the IFR.
Singapore is a second example, growing its robot density from 299 to 918 within five years.
So far, the frontrunner countries with respect to robot densities are strongly active in the automotive and/or the electronics industry. Once we manage a broader diffusion into general industries, the picture can quickly change—to the benefits of those economies being most successful in this process. We already see that economies that invest in their automation infrastructure are more successful.
Does the IFR have any projections on how much robotics will grow this year in verticals other than manufacturing, such as agriculture, construction, healthcare, or food and beverage?
Guerry: With the uncertainty remaining, predictions could be a little difficult. If we look at the success in 2020 in North America, the 3.5% growth in 2020 reported by A3 [the Association for the Advancement of Automation] was amazing. More interesting, general industries like you mentioned surpassed automotive in unit sales for the first time in history.
The unexpected success in 2020 coupled with the current optimism in North America and growth in areas like China, pushes overall expectations close to 2018 highs, possibly even exceeding those levels this year.
Manufacturing sectors, particularly automotive, struggled most in the crisis, while the services sectors invested heavily in automation technology to keep up with demand. Healthcare and logistics were among the beneficiaries of this shift. Nontraditional industries will lead the charge.
Robots for both industry veterans, newcomers
You've noted that the automotive industry is likely to continue leading the way for industrial automation and robotics. How will the push toward electric and autonomous vehicles affect that?
Guerry: The automotive industry knows what automation brings to a business: quality, flexibility, productivity, and the ability to produce all over the world. With the automotive industry's deep understanding, [companies] will embrace new automation technologies and find new applications through sensing, collaborative equipment, and mobile solution developments.
The push towards electric and autonomous may change some processes and even cause some small blips in consumption. Schunk's engineers are getting inquiries daily for new processes related to battery production, motor housing assembly, winding, and assembly. Automation will be part of their ability to scale, and this industry knows it very well.
Robotics adoption is growing in the U.S., but what should companies that have never used robotics know now?
Guerry: It can be very hard to get started or know where to start. Manufacturers have so many things to think about these days—the ever-increasing competition, short business cycles, and labor shortages and gaps, to name a few. These are such universal subjects, so why not learn from those who have paved the way? Listen to the stories of the companies that have implemented robotics.
There are communities out there with resources to help. For example, with users, suppliers and implementors, A3 is a great place to start. Technology suppliers are also a tremendous resource. Schunk's engineers have decades of experience and are working on cutting-edge applications. Challenge us.
Business and tech trends in robotics
Supply chain and logistics are areas of strong interest in robotics—do you expect consolidation among mobile robot providers?
Guerry: Today is a very exciting time in the robotics industry. The IFR is tracking approximately 900 mobile robotics companies for "World Robotics – Service Robots." The service robotics industry is a young and growing industry, showing tremendous diversity from technology to industries to applications.
About 20% of the companies qualify as startups, being founded within the past five years. Eighty-two percent of those companies are SMEs, a quarter of them with 10 or fewer employees. There will likely be some settling in the future, and this could mean consolidation, as we have monitored for the industrial robotics industry in the past.
You've mentioned artificial intelligence and machine learning as enabling capabilities such as more precise piece picking. Where do you expect AI and manipulation to advance the most this year?
Guerry: AI is on everyone's minds and there are a lot of predictions out there; we all agree machine learning will have a huge impact on the future of robotics. Manipulation, vision and gripping have been working together for a long time.
With the changes in computing power, computing location—edge— machine learning is a natural step. What I see progressing is packages ready to implement. Packages consisting of hardware, sensing, and software will unweight deployment.
As for Schunk, do you see grippers and end-of-arm tooling becoming more specialized or more generalized in the near future?
Guerry: Can I pick both? Specialized grippers today become standardized tomorrow. Our experience is as market areas open, the first grippers are very specialized. We see so many new markets for robotics, and many will require specialty devices for those workpieces.
The end-of-arm tool, the primary touch point where the work is being done, is critical to the success. If we use cobots as an example, the first applications required self-compliance for gripping.
Now, Schunk's offering of certified off-the-shelf collaborative grippers is growing rapidly. These developments are one of the many factors making our industry and our work so much fun.
As shops begin to deploy robots from multiple vendors, how important are data management, integration, and orchestration of different robots?
Guerry: With the arrival of new technologies like cobots and mobile robots, there is an increasing necessity to have multiple platforms working in the same company. In the past, robots and machines were often deployed as cells.
In the future, integration of the systems will provide further productivity and the capability for connectivity will be a given. Communication and interoperability standards like OPC-UA will help to facilitate this process.
Considering collaboration
At Automate Forward last week, you participated in the session on "How Collaborative Automation Is Driving Productivity." How have cobot arms, autonomous mobile robots, and light industrial arms with new sensor and safety features converged?
Guerry: This was such a great panel, and I was honored to be included in this group of industry leaders. We discussed the rapid growth of cobot and light industrial applications. Three of us are rooted in this area. I happen to know that Joe Gemma, [global vice president of sales and marketing at] Calvary Robotics, has a passion for mobile platforms.
Greg Smith, [president of the Industrial Automation Group at] Teradyne, obviously has a tight connection to diverse technology—MiR, AutoGuide, Universal Robots [UR], and Energid. Dave Robers, [sales manager—Americas at] DENSO, had a unique perspective [being from] a robot company with strong connections to one of the world's largest automotive tier suppliers.
This new class class of robots includes features such as ease of programming, ease of handling, software integration, and components ecosystems now bundled to applications.
The adoption of cobots has grown slowly among small and midsize enterprises (SMEs)—do you expect that to grow this year or next?
We are seeing and hearing a lot of buzz from SMEs about robotics. The leaders of SMEs have a lot of forces acting in their investment strategies, from short business cycles to staff development and investment incentives, naming a few.
If we look to what is changing on the technology side, there are many positive developments that will drive adoption for these crucial companies. Programming simplification is advancing; FANUC's new CRX and UR's new interface are shining examples of user-friendly software.
Robot ecosystems, where companies like Schunk are developing interfaces and software modules to speed deployment and redeployment, may be one of the biggest drivers to lower the barriers for SMEs. Many Schunk products now come packaged with software. This is a jumpstart to deployment.
What would you like to say to Robotics 24/7's audience of robotics developers, integrators, and users?
First, thanks for making it to this point in the interview. You are on Robotics 24/7, so I am confident you are a fan of robotics and the awesome coverage on this site. In the past 20 years, there has never been a more exciting time for robotics. We are not at the peak. Stay in touch, stay informed, get involved every where possible. Join me in absorbing all the industry news on Robotics 24/7.
About the Author
Eugene Demaitre
Eugene Demaitre is editorial director of Robotics 24/7. Prior to joining Peerless Media, he was a senior editor at Robotics Business Review and The Robot Report. Demaitre has also worked for BNA (now part of Bloomberg), Computerworld, and TechTarget. He has participated in numerous robotics-related webinars, podcasts, and events worldwide. Follow Eugene:
Follow Robotics 24/7 on Facebook
Article topics
Email Sign Up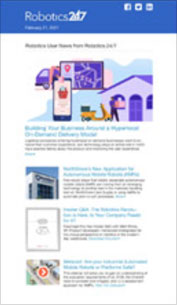 Get news, papers, media and research delivered
Stay up-to-date with news and resources you need to do your job. Research industry trends, compare companies and get market intelligence every week with Robotics 24/7. Subscribe to our robotics user email newsletter and we'll keep you informed and up-to-date.
IFR