On this Labor Day, it's worth noting that, contrary to some alarmist predictions, robotics can help create meaningful and rewarding careers rather than eliminate jobs. The East Kentucky Advanced Manufacturing Institute, or eKAMI, has helped retrain former coal miners and other people to be robotics technicians. One recent graduate shared his story with Robotics 24/7.
"I was a cable guy for five to six years, and I worked at my family's retail tool store, which supplied a lot of mines," said Dustin Porter. "We were built upon coal in eastern Kentucky, and when that declined, I knew I would have to find something else. I saw an ad for eKAMI, applied, and got in. It has been an adventure ever since."
As the robotics industry grows, there is demand for people to service and maintain robots who don't have Ph.D.s in engineering, noted Frank Rakos. He is technical support manager for the Americas at Mobile Industrial Robots ApS (MiR), which supplies autonomous mobile robots (AMRs) to a variety of industries and is among the companies supporting eKAMI's programs.
"What eKAMI is doing is fantastic—it's not just changing people; it's also changing the entire area and providing a more robust workforce," he said. "Other companies are hiring graduates, and it's the tip of the iceberg of the kinds of training that can provide much-needed talent into areas that a four-year degree doesn't fill. These are incredibly rewarding careers."
The eKAMI experience
"I started at eKAMI around September of last year," Porter recalled. "There was an odd fear of going back to school after 25+ years. I didn't know anybody there, but I absolutely loved it."
With equipment from major robotics vendors and mentors, eKAMI provides all the support needed to acquire new skills, he said.
"The whole adult class was a mix of people with technology experience and some who had never even used a computer before in their lives," said Porter. "The instructors know if someone needs more help and will work to get you to where you need to be."
"Some people started with no clue on how to use computers or CNC machinery, and when they left, you'd think they'd used one their whole life," he added. Porter said he was pleasantly surprised to learn about himself and new technologies at eKAMI.
"I learned about getting motivated to get into a new career," he said. "The school had a lot to do with that. When you get in with Kathy Walker [founder of eKAMI] ... they've done a lot for me. I didn't really have my act together until my 40s, but if you have the smallest amount of wanting to get yourself together, they can pull the want out of you and help provide direction."
MiR comes calling
Rakos understood the need for reinvention, as well as the skilled talent that eKAMI can supply to the industry.
"I'm a Navy veteran, and I started working odd jobs," he said. "I attended tech school for electronics and had a career installing and repairing industrial machines for 25 years. I've worked with industrial automation and got into robotics 10 years ago. My experience in field service, tech support, and leading teams led to my position at MiR, where I lead tech support for North and South America."
"Recently, Kathy Walker contacted Teradyne leadership, and the company's units, including MiR, Universal Robots, and AutoGuide, donated equipment to the lab," Rakos explained. "I was fortunate to be there to meet the instructors and recent graduates."
Among the people Rakos met at eKAMI was Porter.
"I was very impressed with Dustin and his tech competency and work ethic," he said. "We're relocating him to Holbrook, N.Y., to replace an individual who was promoted. We're adding staffers across the U.S. to compensate for increased business. It's exciting to add diversity and new blood."
"One of the most exciting things about working with any robot is that you're helping integrators and end customers to solve new problems with robots," Rakos said. "At MiR, we hire all sorts of people for tech support—some with an advanced education and some nontraditional, like eKAMI's graduates."
"As a hiring manager, I look for core tech competencies and a good attitude," he added. "We can teach you our robots, and if you want to do well and take pride in what you do, there will be quality inside and out."
Learning on the job
Robotics jobs require constant learning, but eKAMI provides a solid foundation to build on, said Rakos.
"The job itself is mainly a tech-support role, working with installers and integrators and putting in MiR systems for distributors and customers," Porter said. "It takes me back to my roots—I was always a bit of a techie—and there's still a lot to learn."
"Dustin was fortunate to attend class where we were training instructors, so he was able to sit in on a CNC program," Rakos said. "He already had been in one of MiR's classes and had knowledge of computers and electrical and mechanical systems. We put him through about two and a half weeks of classroom time on our products, the same as our customers and partners."
"One of the biggest things Dustin brought to the table is a positive attitude—he can do whatever he needs to be successful," he said. "By the beginning of his third week, he was already helping out in MiR's New York office, and he wasn't afraid to ask questions."
"At eKAMI, they encourage curiosity," said Porter. "If you don't understand something, speak up. It's a 'leave nobody behind' kind of deal. They're good at pinpointing someone's weakness and helping them along. In some cases, an instructor will sit with one person."
"Even though our team is remote, with folks in New York, San Diego, and Mexico, they communicate and lean on each other," said Rakos. "Everyone is there to answer Dustin's questions so he gets the support he needs. There's no such thing as a stupid question, and we have a common goal. I use the analogy—it's like a wrestling or a swim team—individual success builds the team, even if they're not on the same tickets."
In addition, Porter will spend up to 25% of his time traveling for on-site support for repair and application issues, and he could even teach classes himself, said Rakos.
"I never saw myself in a teaching position," Porter said.
"We're looking to send Dustin and a few other new employees over to our headquarters in Denmark for more weeks of additional training, plus a lot of on-the-job training," Rakos said. "He'll be working with teams in the region and our headquarters as needed, building his internal knowledge base and proficiency, as well as communications and service skills."
"I look forward to it—it would be my first international trip," said Porter.
Serving wider needs
"MiR needs people with diverse skill sets, with electrical, mechanical, knowledge of computers, as well as customer-service skills," Rakos said. "I had considered doing some teaching in retirement myself to help people qualify for these jobs."
"I've had some conversations with Kathy, and I'd love to see other programs like eKAMI's in areas where they need it," he said. "I live near Detroit, and the move of automotive production out of the country or to other regions created deficiencies in income. I'd love to see programs like this for different marketplaces and geographic sectors."
"This is a very cool collaboration, and MiR may take more graduates," Rakos said.
What recommendation does Porter have to others who might be considering new careers in robotics support?
"If I was talking to myself a year ago, I'd say, 'There's nothing you can't do. You never know until you try,'" he replied. "I'm having a lot of fun."
About the Author
Eugene Demaitre
Eugene Demaitre is editorial director of Robotics 24/7. Prior to joining Peerless Media, he was a senior editor at Robotics Business Review and The Robot Report. Demaitre has also worked for BNA (now part of Bloomberg), Computerworld, and TechTarget. He has participated in numerous robotics-related webinars, podcasts, and events worldwide. Follow Eugene:
Follow Robotics 24/7 on Facebook
Article topics
Email Sign Up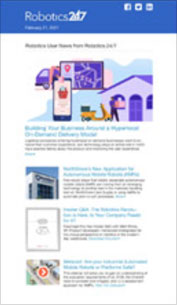 Get news, papers, media and research delivered
Stay up-to-date with news and resources you need to do your job. Research industry trends, compare companies and get market intelligence every week with Robotics 24/7. Subscribe to our robotics user email newsletter and we'll keep you informed and up-to-date.
eKAMI