Part of the challenge of scaling automation to multiple logistics facilities is making sure that software, robots, and people work together smoothly. inVia Robotics today announced that ShipHero has chosen its warehouse execution system and mobile robots for fulfillment centers in Allentown, Pa., and Las Vegas. The companies had already automated picking and replenishment in ShipHero's location in Jacksonville, Fla.
"Partnering with inVia Robotics in our Jacksonville facility has given us a competitive advantage that benefits our clients," stated Aaron Rubin, founder and CEO of ShipHero. "It also allows us to adjust and enhance our warehouse team's ability to work more efficiently and effectively. We're looking forward to working with inVia more and making even more exciting enhancements to the e-commerce logistics world."
ShipHero provides cloud-based systems to help online retailers and third-party logistics providers (3PLs) ship more efficiently to anywhere in the world. The Garnerville, N.Y.-based company offers a warehouse management system (WMS), as well as outsourced fulfillment as a service.
ShipHero started with inVia WES
ShipHero began working with inVia Robotics last year when it added the inVia Logic warehouse execution system (WES) to the Cargo Cove distribution center it had acquired. The company started by adding intelligent labor orchestration to improve the productivity of its warehouse workers.
However, once ShipHero saw the efficiencies it was able to obtain with the software alone, it said it quickly decided to add task-automation services with inVia Picker autonomous mobile robots (AMRs).
"Over the last two years, we've seen demand for 3PL services grow dramatically, which has led to a greater need for technology that can help keep products moving quickly through the order process," said Lior Elazary, co-founder and CEO of inVia Robotics. "The native integration between our WES and ShipHero's WMS will allow us to very rapidly expand both of our technologies into additional warehouses, bypassing the need for time-consuming custom systems integration."
"With nine years of experience, we know it's hard to build a WMS," said Maggie Barnett, chief operating officer at ShipHero. "We want processes to scale in multiple warehouses, and culture-wise, we're both incentivized to iterate quickly."
inVia focuses on configuration rather than customization
Westlake Village, Calif.-based inVia Robotics provides AMRs and artificial intelligence that it said can quadruple or quintuple warehouse productivity and increase accuracy to 99.9%. The company claimed that it can do this at a fraction of the cost of traditional automation and without disrupting existing operations.
"The whole system is complex—what a lot of people don't realize about WES is that you have to take care of everything within the four walls of a warehouse to make it happen," Elazary told Robotics 24/7. "If you only manage the flow of traffic in one area, say, picking, then you'll have a bottleneck at packout."
"If you're only shipping the same SKUs to stores, the flow is very predictable," he said. "Now everybody's ordering random items at different times of the day, and 3PLs have very tight SLAs [service-level agreements] and need things out the door. We can batch items in holding zones until they're complete and push them to the truck. That was the biggest challenge we had to work through."
inVia works closely with customers, using digital twins and simulation. It implements its modular software before introducing robots, Elazary said.
"We want to configure systems, not customize them," he noted. "We sometimes have to convince customers to reconfigure workflows to our optimized WES. We don't do any deployments of just the robots. You have to use our software, or it becomes a customization project."
"For example, we created different modules for packout and receiving to help everything flow," Elazary said. "It took a while to decide the business rules, and we started calling ourselves 'packout QC'—we don't decide the shipping carrier, but we scan the item and send it to packout. Our system assigns packers and picking on the fly, so that 3PLs don't have idle employees."
"We look at the problem to be solved, then match up the technology," said Kristen Moore, chief marketing officer at inVia. "We don't work with integrators, and we don't get paid until the customer sees the benefit or throughput."
Scaling with SaaS and RaaS
inVia's robotics-as-a-service (RaaS) model complements ShipHero's software-as-a-service (SaaS) offering, said the companies.
"Integrating WMS and WES is like drawing back a bow—there is some tension before you can go fast," said Barnett. "One thing that made this partnership work well is that we built a multi-tenant space. We have an SaaS division, and we are also a 3PL. We want inVia to sell to all of our own 3PL customers, and we also have to pick and pack tens of thousands of our own orders."
Not only does this reduce capital expenditures (capex) and enable fleets to scale between peak and off-peak periods, but RaaS also enables inVia to remotely troubleshoot, said Elazary.
"In a deployment we did with another customer, a robot escaped from one zone into another—from fulfillment to kitting," he recalled. "We take care of issues before customers even notice them so they see the system as flawless."
"3PLs have thin margins and three-year contracts with retailers—how does capex work over 10 years?" asked Moore. "Most of our newest customers have been 3PLs."
WMS and data help scale fulfillment
"We have over 1 million sq. ft. over nine warehouses," Barnett said. "Low SKU counts and high volumes are great for scale, but I also think that's just Step 1."
"inVia's solutions allow us to reserve a percentage for high-touch customers," she added. "Amazon and others aren't doing that. ShipHero and inVia enable an autobagger to push workers doing motonous things to higher-paying custom work such as returns."
With its WMS, ShipHero already collected a lot of data before its partnership with inVia, said Barnett. "What is the most helpful data we can push back to a 3PL and its merchants?" she said. "We have a Replenishment Report tool. We put in one 25,000-sq.-ft. area everything that should moving out with inVia in one day. Moneymaking spaces are the key to profitability."
"The great thing is that because ShipHero owns the WMS and has that control, even if its warehouses don't look the same, the workflows will be the same for easier training," Elazary said. "Ultimately, this is where the industry has to go."
"Next year will be very challenging—there won't be a lot of capital, but consumers will still be consuming," he added. "Automation is the only way to do it right; it can't be a science experiment anymore."
ShipHero said it has more than 5,000 customers worldwide, including Glossier, Mars, Universal Music Group, and Canadian Tire. It is also the official fulfillment network partner of Shopify and is rapidly scaling a network of warehouses across the U.S. to meet growing demand from online retailers.
"Working with Shopify at the launch of its fulfillment network showed us we could scale with our WMS," said Barnett. "It and other Fortune 100 companies pushed us to make our products better. Our mission is to drive the cost of fulfillment down."
"To get through this economy with lower-margin products, inVia can help merchants push through that volume," she said. "This helps the whole chain and allows merchants to get fast and reliable deliveries within three days."
"We want to roll out inVia to all our locations in a year and a half or sooner and start to offer it to our WMS customers," Barnett said.
About the Author
Eugene Demaitre
Eugene Demaitre is editorial director of Robotics 24/7. Prior to joining Peerless Media, he was a senior editor at Robotics Business Review and The Robot Report. Demaitre has also worked for BNA (now part of Bloomberg), Computerworld, and TechTarget. He has participated in numerous robotics-related webinars, podcasts, and events worldwide. Follow Eugene:
Follow Robotics 24/7 on Facebook
Article topics
Email Sign Up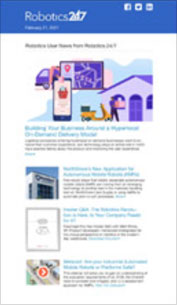 Get news, papers, media and research delivered
Stay up-to-date with news and resources you need to do your job. Research industry trends, compare companies and get market intelligence every week with Robotics 24/7. Subscribe to our robotics user email newsletter and we'll keep you informed and up-to-date.
ShipHero