Among the "dull, dirty, and dangerous" tasks suitable for automation, grinding and finishing are now within reach of robotics, thanks to improvements in sensing and motion control. SUHNER Schweiz AG said its EFC-02 can measure forces and accelerations at high frequency, allowing for control with an advanced algorithm.
Unveiled at Automate 2023, the fully electric Active Compliance System can ensure surface quality throughout a robotic grinding process, said Suhner.
The Herisau, Switzerland-based company is a leading supplier of critical metal components and provides systems from the design phase to after-sales support. Suhner USA Inc.'s offices are in Rome, Ga.
"The EFC-02 has been in development for two years, and we saw a lot of traction at Automate," said Juan Martinez, a mechanical engineer at Suhner Industrial Products. "Fabtech was another opportunity to meet with customers."
EFC-02 measures force, quality
The EFC-02 can automatically detect the amount of force being applied and its position at all times, Martinez told Robotics 24/7.
"One of the advances we see is that, as a compliance device, it's fully active," he said. "The end user can know how much force is being applied for sanding, material removal, or polishing, as well as the consumables used. This data gives us an edge over the competition."
Another feature of the system is that it can inform an operator whether the compensation device is in the 0 to 20 stroke range with a colored LED strip.
"This is especially useful in automotive, where an operator walking by can see green if the tool is good or white if it needs attention," Martinez said. "The EFC-02 can increase quality because its information page lets you observe the running time, so you can know the intervals for changing the abrasive pads. It's available on a Web interface."
"You can look at the values to get the quality result you want," he added.
Suhner offers some customization
The EFC-02 is currently a standalone device, usable with Suhner end effectors. Its all-electric design allows only two connections, eliminating the need to work with air hoses or anything more than a 13-mm wrench.
"But if a customer wanted to use it with its own tooling, such as a manual or electric-driven orbital sander, we'd work with them," said Martinez.
"We've made 3D-printed adapters to use with hand or pneumatic tools, for example in aerospace," he recalled. "They were very wary of using electric tools beause of the environment."
"We're working to make a 360-degree solution and not just say, 'You have to work with our tools,'" Martinez said. "We're also robot-agnostic, and we have an adapter for different robot flanges."
Suhner works with the major industrial automation brands, he noted. "All it requires is a 48-volt power supply and Modbus TCP."
Ease of use a feature
Suhner said its plug-and-play Active Compliance System and interface are designed to get users up and running quickly.
'It takes just a few minutes to understand what's required in terms of power," said Martinez. "We're working with some application engineers now, and it took them just a couple of passes with the Web interface to get the desired results."
"You put in the working range you want, the payload at the end, and the amount of force," he explained. "You enter the values, hit 'Submit,' and you're ready to go. The integrator or end user can provide specific values."
Martinez also touted the EFC-02's accuracy. "With two thousands of a millimeter in the same plane, the user can get instantaneous feedback when the force changes," he said. "That accuracy provides repeatability. We have maintenance intervals scheduled for 2,000 working hours."
The size of the unit was also determined by ease of use.
"We did some testing overseas and here in the States and got feedback from customers," said Martinez. "They didn't want something that was too clunky or hard to detach from the robot, but it couldn't be too small to apply sufficient force. We are looking at different size options in the future."
Applications abound for fine finishing
What industries is Suhner targeting with the EFC-02?
"Anywhere where material removal is needed," Martinez replied. "Companies are interested in taking care of employees in hazardous environments, where there is dust and wear and tear."
'For one big weld removal, the user applies a weld and then cleans it up," he said. "The operators got different welding results, depending on the different amounts of weld applied. EFC-02 provides a window that can knock that down."
"In aerospace, we've had requests for material removal on leading edges and for honeycombed materials," said Martinez. "We've also worked with companies that were doing fiberglass sanding, and we're looking into what we can do with woodworking."
A potential customer had an unusual request at Automate, he added. It wanted the robot to go from one place to another for a pick-and-place operation and provide a readout of force and compliance within a certain window as soon as it made contact, Martinez said.
"In another example, when working with robots, you have to program the robot to attack a surface from on top, the side, or underneath, depending on access," he added. "It can apply 200 newtons of force or retract with the same amount of negative force."
"The EFC-02 takes into consideration different orientations—all you have to do is tell it the amount of force to apply and the axes," according to Martinez. "We're planning on having a calibration jig for the EFC-02 to display in different positions to show how it can take orientation and force into account."
While the EFC-02 is available as a capital purchase, Suhner has considered "pay as you go" or swappable units for maintenance.
'There has been some talk about how to handle smaller companies with models such as robotics-as-a-service [RaaS], but being the only fully electric unit, we stand out at a very competitive price," Martinez said.
About the Author
Eugene Demaitre
Eugene Demaitre is editorial director of Robotics 24/7. Prior to joining Peerless Media, he was a senior editor at Robotics Business Review and The Robot Report. Demaitre has also worked for BNA (now part of Bloomberg), Computerworld, and TechTarget. He has participated in numerous robotics-related webinars, podcasts, and events worldwide. Follow Eugene:
Follow Robotics 24/7 on Facebook
Article topics
Email Sign Up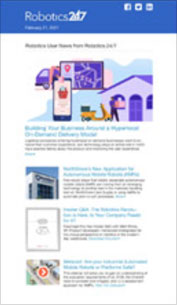 Get news, papers, media and research delivered
Stay up-to-date with news and resources you need to do your job. Research industry trends, compare companies and get market intelligence every week with Robotics 24/7. Subscribe to our robotics user email newsletter and we'll keep you informed and up-to-date.
Suhner