The federal government's mandate to require electronic logging devices (ELDs) in all interstate commercial trucks by late 2017 is being hailed as a boon for safety as well as a potential gain in efficiency for fleets seeking to squeeze every hour of available workers in an increasingly tighter regulatory environment.
"It simply makes us safer as an industry," Chuck Hammel, president of Pittsburgh-based Pitt Ohio, the nation's 17th-largest LTL carrier, said. Pitt Ohio operates 813 tractors and nearly 400 straight trucks in its LTL fleet.
Hammel explained the upfront purchase and installation costs of an ELD unit results in about a 7 to 10 percent loss in productivity. "But once you get up to speed and learn what you can and cannot do, the productivity loss falls to about 3 to 4 percent," he said.
But over time, Hammel and other trucking leaders see productivity gains as a result of ELDs. That's because it gives shrewd operators better visibility of their fleets and drivers and allows for the most efficient use of both tractor use and manpower.
"First and foremost, it gives you visibility as to when the driver is moving or sitting and exactly how many hours he or she has left to drive," Hammel explained. "This is critical information to have when scheduling pickups. With paper logs, it is much more difficult to know."
Not Everyone Agrees
President of the PTAG organization response regarding the new ELD Regulation
The trucking industry's wait on the (FMCSA) to publish its final electronic logging device rule - or ELD mandate is finally over.
"And folks let me tell you that this is the most; stupid, unintelligent, ignorant, dense, brainless, mindless, foolish, piece of legislation I have ever seen come out of capital hill" said Ernesto Gutierrez Jr., President of the Professional Truckers Association Group.

The Trucking Alliance for Driver Safety & Security, a leading proponent of safety reforms in the freight transportation industry, has long backed the idea of ELDs as a way to cut down the amount of illegal hours that some drivers enjoy as a result of falsified paper log books. Those paper logs are often derided by drivers who refer to them as "comic books" because they are not a true reflection of a driver's actual hours driven.
"Congress passed the ELD mandate in 2012, and this new rule will enable our industry to rationally build a safer and more compliant supply chain for the future," said Steve Williams, president of the Trucking Alliance and chairman and CEO of Maverick USA, Little Rock, Ark. The Trucking Alliance includes Maverick, J.B. Hunt and several other large TL carriers.
Williams said the Trucking Alliance is "elated" that all trucking companies must install ELDs in their trucks by the end of 2017.
"ELDs eliminate paper logbooks and the time consuming tasks that filling them out forced on the nation's 3 million truck drivers," said Williams. "These electronic logging devices are incredibly powerful tools to reduce truck driver fatigue, improve highway safety and assure the motoring public that truck drivers are obeying the law."
Lane Chandler Kidd, the Alliance managing director, said the Federal Motor Carrier Safety Administration was "especially thorough" in writing a rule that protects the privacy of truck drivers and has a framework of safeguards to make sure nobody burdens drivers to exceed their on-duty driving time."
Of course, that wasn't enough for the Owner-Operator Independent Drivers Association (OOIDA) to legally object to the new rule. It took OOIDA less than 24 hours after FMCSA announced the measure for it to file a lawsuit opposing the rule. On Dec. 11, OOIDA filed a Petition for Review with the U.S. Court of Appeals for the 7th Circuit seeking to vacate the rule.
OOIDA has had success in the 7th Circuit in the past. That court vacated a proposed ELD rule in 2001 after OOIDA successfully argued that it would harass truck drivers. This rule, OOIDA officials say, is even worse.
"This rule has potential to have the single largest, most negative impact on the industry than anything else FMCSA has done," OOIDA President Jim Johnston told Land Line, OOIDA's magazine. "We intend to fight this with all the resources we have available."
Johnston called the rule "the most outrageous intrusion into the rights of professional truckers imaginable" and will do nothing at all to improve highway safety.
"In fact, we firmly believe it will do exactly the opposite by placing even more pressure and stress on drivers than they already deal with." Johnston said.
"While they choose to call it electronic logging systems, in reality it is an electronic monitoring system for law enforcement purposes," Johnston contended. "They can't even do this to known criminals without a court-issued warrant."
Pitt Ohio's Hammel said the new rule "really puts all carriers on an even playing field from a competitive standpoint." Maverick's Williams said ultimately the new rule will help improve the truck drivers' job and lifestyle.
"Truck drivers are loyal Americans with an enviable work ethic, but all too often, their willingness to 'go the extra mile' is abused by companies that push them to exceed their normal working hours," Williams explained. "ELDs take away the confusion and give truck drivers an effective tool to no longer carry that burden."
Noel Perry, partner and senior economist at FTR consulting, said the biggest effects of the change will occur in 2018, right when several other big changes will also be happening, most notably the requirements for speed limiters.
As a result of what Perry called "this regulatory drag," the negative effects of regulatory change on driver supply will peak in 2018, at roughly twice the levels ever experienced so far. Because many fleets already have installed these devices, FTR is predicting a slow increase in regulatory drag leading up to the deadline.
But Perry predicts that by the early 2020s, ELDS will actually benefit productivity because of information improvement processes between dispatchers and drivers. But he still is predicting capacity problems for trucking customers in 2018.
Perry said he is more concerned about tighter regulations in the refrigerated transport market. FMCSA recently published for comment its new regulations as required by Congress. Perry said the result of this new reefer rule will "certainly curtail" reefer capacity as these regulations become official sometime over the next two years.
Related: FMCSA's Final Electronic Logging Device Mandate

Article topics
Email Sign Up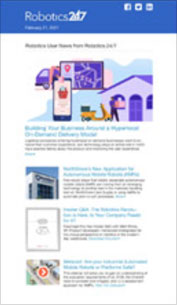 Get news, papers, media and research delivered
Stay up-to-date with news and resources you need to do your job. Research industry trends, compare companies and get market intelligence every week with Robotics 24/7. Subscribe to our robotics user email newsletter and we'll keep you informed and up-to-date.