Aerial Inventory Robots
Unlike their highly publicized home delivery cousins, drones designed for warehouse uses have been flying under the radar.
However, a high-profile board appointment to an indoor drone pioneer could mean aerial inventory robots are ready to come out of the shadows.
In August, Chris Sultemeier, former executive vice president of logistics for Walmart, joined the board of warehouse drone pioneer PINC to help roll out the company's new technology.
Read the Article: Former Walmart Executive Chris Sultemeier Joins Warehouse Drone Pioneer PINC
"I've had the pleasure of knowing the PINC team for almost four years now," Sultemeier said in the announcement of his board position.
"With the company's experience and core intellectual property in asset and inventory identification, I've seen firsthand how large organizations can benefit from PINC's solutions, especially the aerial inventory robots."
Prior to retiring from Walmart in 2017, Sultemeier oversaw the retailers' distribution and fulfillment centers. And in 2016, the retailer reportedly began testing aerial inventory technology at its warehouses.
During the trial, sensor-equipped drones flew in the aisles of a distribution center and alerted management to products that were close to being out of stock or were not in their assigned slot, the New York Times reports. At the time, Walmart said it would move forward with implementing the technology in more warehouses within the year.
Experts say that 90% of a company's inventory is stationary in the warehouse and many companies carry excess inventory because they don't know what they have or where it's located. Solving that problem could allow companies to cut their inventory carrying costs by billions of dollars.
For that reason, tech companies have been testing drones or unmanned aerial vehicles to carry sensors through a warehouse to take inventory faster and more accurately than human workers can manage.
Now, two years since Walmart's pilot, those efforts are ready to transition from testing to a production environment.
Warehouse Drones Support Intelligent Platforms
Underneath the hype of drones or unmanned aerial vehicles in various supply chain use cases, they're actually just a platform that supports a range of other emerging technologies such as sensors, artificial intelligence and inventory and network optimization.
In 2017, the Massachusetts Institute of Technology tested drone technology using RFID tagged items. Drones could read RFID tags tens of meters away with an average error of only 19 centimeters - quite accurate given the distance. Researchers said the goal was to prevent inventory mismatches and locate individual items.
"If you're carrying inventory you have inventory accuracy problems and it doesn't matter what line of business you're in, everybody has this problem," Matt Yearling, CEO of PINC, told Supply Chain Dive.
However, automated warehouse inventory systems like drones suffer from the "garbage in, garbage out" problem. If inventory is misplaced, an automated system will only be able to point out the problem, not prevent it or fix it, Dwight Klappich, research vice president with Gartner, said in an interview with Supply Chain Dive.
"Some companies have locally inadequate inventory management, and they have latched onto the idea that flying a drone up and down the aisles every night would solve their problem, but you really should start by looking at what's causing these problems, whether the staff is putting inventory where they're supposed to put it. Fix those problems, and then you're not going to need the drone."
Furthermore, drone-based technology has to work within existing infrastructure and labeling practices to lead to widespread adoption.
PINC started developing PINC Air indoor inventory technology in 2014 based on its outdoor technology used for tracking inventory in equipment and storage yards.
The technology operates autonomously, taking off and landing from the same location automatically, and avoids any obstructions in its flight path. It surveys large areas of densely packed assets for inventory reconciliation or to pinpoint the location of specific inventory.
Download the White Paper: The Rise of the Digital Yard
The system blends optical sensors and machine learning technology that maps the current warehouse set up and learns existing inventory labeling methods.
"Our two key design principles were not to change the way you do it and not to introduce any additional infrastructure to make this work," Yearling said. "We introduce the robot to the environment and train it to the inventory."
A label may contain many characteristics including alphanumeric data, barcodes and even handwriting.
"We teach the robot to understand what about the labels is important, and we extract that information from the scene and process those labels with relevant information," Yearling said.
The flying inventory robots are many steps beyond strapping a barcode scanner on a hobby-level quadcopter and flying it around the warehouse.
"We've talked to potential customers who said they had tried drones and it didn't work for them, but they tried to fly a drone around manually, and it crashed," Yearling said. "The key is that it has to be autonomous."
Drones Still Face Limitations
At this early stage, the drone technology is facing some limitations that may be overcome in the future.
First of all, the view of inventory is limited to what the drone can see from beside or above a rack. "Realistically, I wonder if anything flying up and down an aisle really gives an accurate view of inventory because all it can see is the front of the pallet," Klappich said.
Yearling conceded that a drone's vision might be impaired or blocked, and it can't see into bins. "The limitation today with this technology is that it has to have that inventory in front of it physically, but there is a lot of rich information that you can get from looking at items on the rack," he said.
Ongoing development of computer vision connected to a neural network could solve those problems in the future, Yearling said.
One alternative to flying drones is a fixed sensor system such as the one developed by Cloudleaf, an internet-of-things based asset tracking company. It's system is a mesh of intelligent sensors and cloud technology that gathers data in the warehouse in real time.
"You can have inexpensive tags on pallets and readers in the ceiling like Cloudleaf that can tell you where every one of your pallets is, and that solves the problem of people not putting pallets where they're supposed to go," Klappich said.
"But Cloudleaf is not going to send you a picture of what's on the pallet."
But They Address Labor Shortages and Expenses
"One of the challenges with physical inventories is that it's not considered productive work, it's more administrative," Klappich said. "And nobody really likes to do it."
For that reason, Yearling said drones can address some of the labor and cost issues warehouses face by removing the need for humans to conduct a physical inventory.
"We increased inventory efficiencies hundreds of times faster than a human can do it, so it actually redefines the process and how it's done," he said.
However, employees at warehouses where tests were done at first expressed misgivings about what the new technology could mean for jobs, Yearling said.
"The system is not used to get rid of people, it comes from our desire to redirect people by getting the technology to do the work for them," Yearling countered.
"Now the workers are embracing it because it makes their job more interesting."
Source: Supply Chain Dive
Related Article: With Tariffs in Flux Digital Inventory Technology Might Be the Solution to Inflated Inventory Levels
Breaking News: FAA Completes Four Pilots in Its Unmanned Aircraft Systems Integration Pilot Program
Article topics
Email Sign Up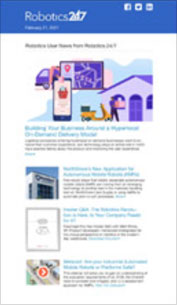 Get news, papers, media and research delivered
Stay up-to-date with news and resources you need to do your job. Research industry trends, compare companies and get market intelligence every week with Robotics 24/7. Subscribe to our robotics user email newsletter and we'll keep you informed and up-to-date.