The merger and acquisition frenzy of 2015 may have abated a bit over the past few months, but the trend for larger third-party logistics providers (3PLs) to consolidate could be played out for some time, contend leading industry analysts.
Since early 2014, there have been 10 major acquisitions by 3PLs totaling $18 billion due to the need to expand the array of services and extend their geographic footprints in order to drive scale.
In the wake of this activity, there are over 30 domestic 3PLs that have revenue exceeding $1 billion.
"The pace of 3PL merger and acquisition will certainly continue," says Evan Armstrong, president of the third-party logistics consultancy Armstrong & Associates.
"In fact, this year we expect to see a large number of mid- and small-sized deals versus the $100-million-plus deals seen throughout 2015."
In the meantime, Armstrong stresses that the pace of technology implementation by 3PLs will continue to accelerate at breakneck speed, as more and more shippers need to be interconnected by systems to keep pace with the evolving challenges of e-commerce and omni-channel fulfillment.
"In today's logistics management environment data is the new oil"
Armstrong & Associates Top 50 U.S. Domestic 3PLs
2015 Gross Logistics Revenue (USD Millions)*

Third-Party Logistics Provider
*Revenues are company reported or Armstrong & Associates, Inc. estimates and have been converted to USD using the average exchange rate in order to make non-currency related growth comparisons.
*38 & 39 Tied.

Similar findings surfaced in Gartner's annual "Magic Quadrant" report that was released last month at its supply chain conference in Phoenix, Ariz. Gartner notes that 3PLs have extended their services beyond the basics, providing opportunities to increase their value and resolve additional customer supply chain challenges.
For example, standard services now include transportation procurement, logistics network design, returns and repair processing, assembly and kitting, cross-docking, shipment consolidation, packaging, postponement, shipment consolidation and project logistics.
"However, technology, whether proprietary or private-label, is playing a significant role in sustaining growth for service providers," says Greg Aimi, Gartner's director of supply chain research and co-author of the "Magic Quadrant" (pictured right).
Aimi notes that as Big Data continues to saturate the space, logistics managers are looking for partners that can help capture, analyze and execute information.
"Integration with customer processes and data strengthens the relationship, "says Aimi, adding that technology investment increases visibility so logistics managers no longer fear losing control over their networks.
"The challenge for 3PLs is in how their customers are choosing to engage with technology, and whether 3PLs are perceived as the vendors or facilitators of technology," says Aimi.
"Software vendors are just as likely to promote their technology packages and managed services to logistics managers directly as they are to their outsourced 3PL partner."
These observations mirror those contained in a recent study by the University of Tennessee's (UT) Haslam College of Business Supply Chain Management titled "Selecting and Managing a Third-party Logistics Provider."
Armstrong & Associates Top 50 Global 3PLs
2015 Gross Logistics Revenue (USD Millions)*

Third-Party Logistics Provider
*Revenues are company reported or Armstrong & Associates, Inc. estimates and have been converted to USD using the average exchange rate in order to make non-currency related growth comparisons.
*43 & 44 Tied.

"Today's 3PL is not your grandfather's 3PL," says Paul Dittmann, executive director of UT's Global Supply Chain Institute (GSCI). "The scope of third-party logistics has widely increased and expectations of them have accelerated, but that does not mean that firms are using 3PLs to their full advantage."
Dittmann partnered with Kate Vitasek (pictured below), author of "The Vested Way," to find the best practices for creating competitive advantages through use of a 3PL. More than 60 executives interviewed for the study said that the biggest mistake they made was not doing a thorough needs assessment before hiring a 3PL. Kenco a Chattanooga-based provider of integrated logistics solutions and technology, sponsored the report.
The report also found that many - if not most - bids for third-party logistics providers contained unrealistic data on company operations. Omitting business leaders from the selection process was another common pitfall, leading to a lack of business-wide strategy for the partnership.
Finding the Right 3PL Fit
The authors of the UT report maintain that the major merger and acquisition trend in the 3PL industry is going to spawn the emergence of small niche players, just as it has in the software industry. In this environment, logistics managers will need to craft more incentive-based contracts in which each side will need to share in the risks as well as rewards.
"More risk will be transferred to 3PLs, including headcount, environmental, and supply chain performance," says Dittmann. "At the end of the day, it's going to be about getting the best people, and there will continue to be a major competition for the best and brightest talent."
Corporate procurement will also be involved in the outsourcing process, say UT researchers, who maintain that it's "incumbent" on both sides to work hard at developing a mutual understanding and trust to get maximum benefit from the relationship. At the same time, innovation will also increase.
"The wide array of technology and the rate of its adoption will become more and more important in defining how we do business with 3PLs," says Dittmann. "This will range from omni-channel support to disruptive technologies like drones, 3D printing, Internet of things, driverless vehicles, advanced robotics, wearable technology and 'Uberization.'"
According to the logistics and supply chain practitioners that the UT team interviewed for the study, the future growth projections show e-commence doubling to over 20% of total sales in just three years.
"With that in mind, companies will want to partner with their 3PLs to help navigate the maze of a constantly changing business model," says Dittmann. "There will be an emergence of creative ways to fully utilize available capacity, including co-shipping and co-habitating even with competitors."
Value Proposition Flipped
According to Adrian Gonzalez, founder and president of the consulting firm Adelante SCM, the 3PL value proposition is "flipping."
"Meeting a shipper's capacity and service level requirements at a competitive cost is no longer enough," says Gonzalez (pictured right).
"Logistics service providers also need to meet the information requirements of shippers - that is, provide them with timely, accurate, and complete data and insights."
For the past few years, Gonzalez has explored the convergence of business models - specifically the business models of logistics service providers, technology companies, and consulting firms - and how shippers are looking for the right mix of technology, advice, and managed services from their 3PL partners. "What's becoming clear is that technology, including access to IT resources and advice, are contributing more to the overall value proposition these days," he says.
For example, at a 3PL customer conference earlier this year, a leading shipper presented a case study that focused not on transportation or warehousing services, but on the master data management and business intelligence services the 3PL was providing them. "If the names and logos had been taken out of the presentation," says Gonzalez, "you would have thought the customer was talking about an outsourced IT provider instead of a 3PL."
Gonzalez also maintains that it's still difficult for logistics managers to obtain IT support and funding for technology, so executives are looking to their 3PL partners to meet their technology needs. This includes software such as a transportation management system (TMS), automation technology in the warehouse, or a business intelligence or analytics-based Control Tower platform.
"There has been a lot of buzz in recent years about how Amazon is becoming a 3PL," says Gonzalez. "What's ironic is that customers are pushing 3PLs to become more like Amazon - specifically, more like providers of cloud computing services such as Amazon Web Services."
Gonzalez concludes that this shift is forcing 3PLs to re-evaluate their business models, as well as their pricing and go-to-market strategies, what technologies and resources to invest in, as well as how they communicate their value proposition to shippers.
Return to Growth
Nearly all of the 3PLs in Gartner's 2016 "Magic Quadrant" report posted year-on-year growth in revenue, volumes or net earnings of between 3% and 11%.
This growth trend across the sector reflected an improving global economic landscape, organic growth of incumbent businesses and an intense period of mergers or acquisitions.
However, the forecasted economic headwinds in key global economies such as China and Europe - and the need to invest in upgrading assets, equipment and technology - will place pressure on future revenue and escalating costs of the leading 3PLs.
"To mitigate these challenges, 3PLs are investing in capabilities that are focused on higher-return business," says Gartner analyst James Lisica. "3PLs are carefully choosing when and where to aggressively compete for new business in established vertical markets as well as seeking new ones."
And while merger and acquisition activity was significant in 2015 across the 3PL sector, more deals, albeit on a smaller scale, are expected in 2016. However, over the coming year Gartner expect 3PLs to refocus efforts on organic growth and driving operational efficiencies to increase margins.
Indeed, Gartner adds a cautionary note by observing that shippers are wary of all of merger and acquisition activity, given that it typically drives a period of instability and integration challenges within the merged companies. But more importantly, it reduces the competition by increasing the influence of the newly formed, mega global 3PLs. To that, they add, global shippers must pick and choose their partners wisely.
Previous Top Third-Party Logistics Provider articles:
About the Author
Patrick Burnson
Mr. Burnson is a widely-published writer and editor specializing in international trade, global logistics, and supply chain management. He is based in San Francisco, where he provides a Pacific Rim perspective on industry trends and forecasts.
Follow Robotics 24/7 on Facebook
Article topics
Email Sign Up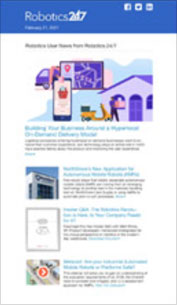 Get news, papers, media and research delivered
Stay up-to-date with news and resources you need to do your job. Research industry trends, compare companies and get market intelligence every week with Robotics 24/7. Subscribe to our robotics user email newsletter and we'll keep you informed and up-to-date.