Discussions about using robotics for flexible manufacturing invariably begin with the automotive industry. Faced with fewer manufacturing plants, an increasing product mix, and consumer demand for greater customization, automakers have been forced to innovate beyond existing processes.
Flexible automation is ideal for vehicle manufacturers' high product mix and high-volume assembly requirements. Yet, as the robotics industry matures, and sensors, software, and hardware become more accessible and affordable, many lessons from the automotive sector can apply to other industries as well.
Here are four advantages of using robots for flexible manufacturing:
1. The ability to produce different products on the same line
Economic theory does not support dedicated production lines where volumes do not merit investment. However, pressure on manufacturers is increasing with rising demand for mass customization and shorter lead times.
Automation suppliers increasingly offer quick-change end-of-arm tooling, machine vision, and programmable controls, leading to faster tool changes and management of greater product variability. Robotics offers mixed-model assembly and tailored products while better coordinating with downstream demand.
Not just a futuristic fantasy, Omron operates a flexible innovation lab at its U.K. headquarters and new research and development center in California. The robotics maker showcases a flexible manufacturing cell that is rapidly reconfigurable, easily programmable, and has a wide range of handling heads. The cell can rapidly integrate with automated guided vehicles (AGVs) and other products.
2. Vision systems manage quality in real time
Blind robots precisely follow codes dictating movement and function, making them ideally suited to high-volume repetitive manufacturing. 3D vision, machine learning, and artificial intelligence have introduced precision and self-learning, with the ability to search data patterns and apply corrective movements.
Such inherent flexibility suits low-volume, mixed-model production lines by allowing the recognition of product variation to activate appropriate responses. For product defects, a welding system with machine vision can support automated feedback and correction in real time, allowing the correction or remanufacturing of high-value parts such as those found in aerospace applications.
A U.K. automotive fabric manufacturer uses such vision systems from Shelton Vision for real-time fabric inspection. Manual inspection is impossible because of the speed of fabric throughput and the different lighting required for identifying specific defects.
Automated vision systems use all lighting conditions to identify every possible defect to a range of subtlety impossible by manual means. Defects are graded, classified, and mapped at speeds 10 times that of human ability, increasing productivity and decreasing non-conforming product shipments.
3. Flexible routing copes with capacity challenges
Routing flexibility is the ability for multiple robots to perform a required action on a specific part. Flexible manufacturing workcells use routing flexibility to produce a discrete family of parts in many possible orders of operation across multiple machines in an optimized manner.
KUKA has demonstrated such a robotics system for manufacturers. Its production cell is linked to AGVs and comes with product-neutral functions, which are expanded by product-specific tools to cope with orders and batch sizes. The cell, which is rapidly converted, produces car doors and wheel arches for multiple manufacturers.
By eliminating fixed routing and task times, flexible routing allows optimized transport to cells relevant to the product specification. The system can disengage production from failures at one location, reforming to continue manufacturing elsewhere while issues are resolved. "Productive efficiency" increases, as does the ability to scale production to deal with changes in product volume or robotic capacity.
4. Non-fixed robots reduce equipment obsolescence
"Fixed" or "hard" automation refers to systems designed for a single product or task. High-volume, medium-term product runs in the consumer electronics industry often use hard automation for new products or applications.
Once the product has completed its life cycle, the production line is decommissioned and the equipment mothballed. The manufacturer must then purchase new machines for the next product iteration, completely overhauling the assembly line.
When amortized against a single product run, hard automation is often the cheaper short-term option. But if a manufacturer looks beyond a single product and considers possible specifications, using flexible robotic manufacturing makes financial sense. It allows re-tasking of equipment for future production with less disruption than an assembly-line overhaul.
After some initial challenges, the Tesla Motors factory in Fremont, Calif., is an example. Requiring greater upfront investment in robots from Comau, the flexibility of the plant can repurpose and redirect equipment to suit amended product specifications and volumes.
Tesla founder Elon Musk has made no secret of his ambitions for general-purpose robots that would be even more capable.
Flexible manufacturing to pick up speed
The time required to change robot programming has delayed the acceptance of flexible manufacturing. Once, automating a one-hour task could require more than 15 hours of programming.
A more recent move to self-programming has simplified the process through abstraction using AI and machine learning. There is also a push by many robotics and software vendors to improve ease of use.
With this bottleneck removed, more companies are adopting robots for flexible manufacturing. Nobody wants technology for its own sake, but the latest generation of industrial, collaborative, and mobile robots offers greater efficiency, productivity, and access to a wider client base, as well as continued competitiveness.
About the author
Bryan Christiansen is the founder and CEO of Limble CMMS. Limble provides computerized maintenance management system (CMMS) software intended to help manufacturing managers organize, automate, and streamline their maintenance operations.
Article topics
Email Sign Up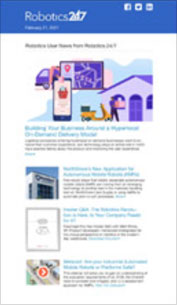 Get news, papers, media and research delivered
Stay up-to-date with news and resources you need to do your job. Research industry trends, compare companies and get market intelligence every week with Robotics 24/7. Subscribe to our robotics user email newsletter and we'll keep you informed and up-to-date.
Omron