Earlier this month, attendees at Informa Markets Engineering West, or IME West, could see the latest advances in manufacturing technologies, from robotics and packaging to plastics. The trade show and conference in Anaheim, Calif., featured more than 1,400 exhibitors; educational sessions and workshops; and 13,000 engineers, designers, and business representatives.
IME West combined five events: Design & Manufacturing (D&M) West, Medical Design & Manufacturing (MD&M) West, Automation Technology (ATX) West, Plastec West, and WestPack. Here are six of the top robotics and automation displays from IME West:
Bosch Rexroth demoes AMR, cobot
Bosch Rexroth had an extremely active booth as it demonstrated how hardware, software, and engineering can deliver complete automation systems.
The company said its MP1000R autonomous mobile robot (AMR) can move goods to target locations without human intervention. It uses laser simultaneous localization and mapping (SLAM) technology to note paths and traffic lanes.
The MP1000R's navigation software enables it to change its map and improve over time as the user's needs warrant. In Bosch Rexroth's booth, the AMR simulated the transport of assembled materials at the end of line from a workstation to a custom pallet rack. Both were assembled with various components from the company's aluminum framing portfolio.
In addition, the Bosch Rexroth ctrlX AUTOMATION Cube showcased the company's ctrlX CORE controller. It is designed to offer flexible connectivity through various automation and IT networks.
The company also presented its engineering programming environment, along with the growing ctrlX World ecosystem, in cooperation with several automation partners. Customers can use ctrlX AUTOMATION products in many production, processing, and handling applications, according to Bosch Rexroth.
The exhibit also featured the Bosch Rexroth Smart Function Kit for Handling, a three-axis Cartesian robot. The company showed a transport system that it said delivers high accuracy with speed and was integrated with a Kassow collaborative robot.
Epson exhibits SCARA robots
Epson Robots demonstrated GX-Series SCARA robots with patented GYROPLUS technology for complex tasks. It also showed its six-axis robots and RC+ Express application development software, designed for easy and effective integration.
The SCARA robots offers multiple arm configurations and payload capacities, depending on the model. The vendor claimed that they all offer precision, high power density, and fast throughput.
Epson RC+ Express is compatible with hundreds of Epson SCARA and six-axis robots, from the All-in-One series to the highest-performance GX and C series.
The company also demonstrated its integrated IntelliFlex system, which included machine vision for parts handling. The parts-feeding system is designed to accommodate a wide variety of parts, and Epson said it offers "comprehensive" service and support.
Flexiv features multiple applications
Flexiv demonstrated robots for material removal, dispensing, assembly, material handling, and even ball balancing.
"It's great to be back at ATX West again, and we are excited to demonstrate to the world the new advancements we have made over the last 12 months," stated Howard Huang, North American regional director at Flexiv. "We've seen a real boom in demand for robotic automation recently, and I am happy that our technology can help clients facing labor bottlenecks or simply looking to improve their production efficiency."
The company kicked off 2023 by launching its Moonlight adaptive parallel robot, which it expects to be available in the third quarter.
According to Flexiv, Moonlight is a force-controlled parallel robot is intended for applications requiring precise motion and force control. Examples include screw fastening, ultra-accurate loading, and polishing.
Using Flexiv's force-control technology and AI, Moonlight can precisely measure force down to 0.1 N to allow for the handling of delicate objects for sanding and polishing. The robot can be installed at any angle, the company said.
Kawasaki Robotics shows automated bin picking
At IME West, Kawasaki Robotics displayed two robots. The MC004V, guided by Apera AI's Vue robotic vision software, demonstrated a random bin-picking application of clear test tubes. Kawasaki said this capability could be useful for pharmaceutical and medical device manufacturing, as well as consumer packaged goods (CPG), injection molding, and plastics.
The robot arm meets the healthcare industry's strict guidelines for accuracy, consistency, and cleanliness, according to Kawasaki. It also has a special surface treatment and uses a unique sealing material to cope with vaporized hydrogen peroxide (VHP) sterilization.
The encoder battery is installed separately from the robot arm, so battery exchanges can be made outside of the isolator. Apera AI's Vue vision can handle shiny, reflective, clear, and translucent objects while being able to operate under ambient light, Kawasaki said.
Kawasaki partner BTB Solutions demonstrated the REAPR (Rapidly Employed Automated Palletizing Robot) cell. BTB developed REAPR to alleviate labor shortage issues while reducing safety concerns.
The REAPR offers a "turnkey, plug-and-play" launch, with setup in less than 30 minutes, according to the company. Changeable end effectors such as a suction cup gripper, a box clamp, a bag gripper, a fork gripper, and a slip sheet are available for palletizing.
SDP/SI brings brushless motors to IME West
Stock Drive Products/Sterling Instrument (SDP/SI) discussed its NH1-D series frameless brushless motors. Available in standard sizes of 35, 52, 64, 77, and 100 mm (1.3, 2, 2.5, 3, and 3.9 in., respectively), the frameless motors are machine-wound with bondable magnet wire and a large inner diameter rotor for easy cable management.
The compact NH1-D motors are designed to fit easily into smaller machines requiring precision, high efficiency, low inertia, and high torque density. Examples include robots for electronics assembly, exoskeletons, surgical robots.
"Rated for continuous operation, the frameless brushless DC motors are an ideal solution for many applications, including the replacement of heavier, traditional motors by eliminating components, reducing torsional losses, decreasing weight, system inertia, and size envelope, while providing maximum speed control," noted Jacques Lemire, SDP/SI's business unit director for motors and motion control.
"Offering an assortment of motion-control solutions that ensure accuracy and dependability, the frameless motors provide an additional option to those in the robotics, industrial automation, and medical industries," he said.
Staubli Robotics touts Stericlean line
Staubli Robotics showcased its Stericlean robots, which are designed for life science and operate safely within Grade A, B, and C environments. To minimize airborne particles, the robots have a fully enclosed structure with special seals, a smooth surface with no retention areas, and a special high-resistance coating.
The company said its robots are used for different drug delivery formats and to perform fill-finish, labeling, quality assurance testing, and inspection tasks.
A TX2-60 Stericlean robot paired with an Asyril flexible feeding platform picked and placed medical device components. The Asyril uses AI-based vision to locate acceptable parts and transmit their pick coordinates to the robot.
A second demonstration featured the TX2-60L, an ISO 14644-1 Class 2 cleanroom robot with hand-guided functionality for use in delicate procedures.
Staubli launched the Stericlean+ line in 2022 and said it has a new fully hygienic design and coating for higher performance in sensitive environments, with an optional hollow wrist. Stericlean and Stericlean+ robots are available with a dedicated documentation package for full traceability and validation support.
About the Author
Phil Britt
Britt owns S&P Enterprises and is a technology writer who lives in the greater Chicago area. In addition to Robotics 24/7, he has written for financial services and business publications, including magazines, newsletters, conference dailies, and Web sites.
Follow Robotics 24/7 on Facebook
Article topics
Email Sign Up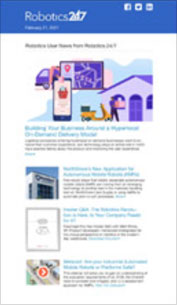 Get news, papers, media and research delivered
Stay up-to-date with news and resources you need to do your job. Research industry trends, compare companies and get market intelligence every week with Robotics 24/7. Subscribe to our robotics user email newsletter and we'll keep you informed and up-to-date.
MD&M and IME West