Speaking at the SXSW festival in Austin, Texas, AeroMobil CEO Juraj Vaculik argued that his flying car is more than just an interesting prototype, and that he hopes to release the first model of "wealthy supercar buyers" by 2017.
Vaculik spoke about how he dreamed of a flying car for the first time 25 years ago, looking for a way to escape an oppressive political regime in Czechoslovakia. "We need another revolution, we need a revolution in personal transportation."
If that metaphor isn't enough for you, Vaculik moved on to identify three new "prisons" afflicting modern commuters just like (apparently) a communist regime: the traffic prison, the airport prison, and the prison of bad infrastructure.
Vaculik also thinks that self-driving cars are only a "partial" solution. The real solution, he says, are flying cars.
All three are serious problems for car-based transit, yes, but I'm dubious that flying cars are the best solution (or even a good solution) for any or all of them. Vaculik says he's very serious about the possibilities, though, laying out a history of the engineering behind flying cars.
AeroMobile started prototyping by hanging models on the front of cars and driving around, because the company didn't have access to wind tunnels. Vaculik showed a prototype from a couple of years ago, and then version 3.0 of the car, shown in October 2014.
The new model is apparently robust enough to be able to take off and land from grass strips, not just airport runways. So Vaculik imagines large grass strips next to freeways and gas stations, which would increase the number of places you could take the car.
That's all well and good, but AeroMobile would actually need to convince municipalities to build such things - not to mention ensure it doesn't run afoul of regulations. Responding to a question about that last issue, Vaculik said his car will fit into pre-existing categories for both planes and cars. So you'd need to be a certified pilot to operate the vehicle.
The first commercial product will be a two seater and include a parachute - AeroMobil is targeting 2017 for launch. It's not clear whether AeroMobil will be able to actually achieve that goal, but it does seem like the first prototype is working.
Speaking after the event, Vaculik said the biggest work that needs to be done revolves around adding all the basic safety component necessary in a car and an airplane. He also noted that the company is still experimenting with different engines and will be conducting crash testing soon.
Are Flying Cars The Future of Transportation?


Two hundred meters for take off and about fifty for landing, is all that this flying car needs to operate, no need of long landing fields or other amenities. While emotional and attractive, the idea of personal aerial vehicles, does bring along problems as well.
If it becomes popular, it will change completely not only the way we move from place to place, but also our relationship with the sky, which, so far, is one of the few place yet relatively unspoilt and not contaminated by human presence. Noise, pollution, not the mention the risk of collisions, will all have to be dealt with.
This is not going to stop innovation, anyway, as AeroMobil is not even the only company operating in this space. US based Terrafugia, is another. The European Union itself is working on a project called myCopter, focused on 'design of an intuitive and user-friendly human-machine interface and required pilot training', and on 'understanding societal needs that are necessary for the acceptance of personal aerial vehicles in today's society'.
Read: Future of Transportation & Autonomous Flying Cars
Researchers believe that the aircraft should take off and land vertically to minimize space requirements, and fly at relatively low altitudes along predetermined flight corridors in order to alleviate road congestion during rush hours. A German firm called E-Volo is already developing a prototype, called Volocopter, based on this specifications.
Sure enough, the adoption rates of all these personal aircrafts, will depend a lot on the price tag. The Terrafugia Transition costs $279,000. The Volocopter, €250,000. As for the AeroMobil, there's no fixed price yet.
Forbes: Federico Guerrini

Of course, that target market of "wealthy supercar buyers" is a clear sign that concerns about the price of flying cars aren't going away. Asked about whether this would become nothing more than a "hobby for the rich," Vaculik expressed hope that the cost of technology always drops - but he also declined to name a specific price beyond that it would be over a "couple of hundred thousand" Euro.
After that model, AeroMobile wants to release a four-seater flying car designed to be fully autonomous. If a the pie-in-the-sky dream of the flying car wasn't enough, now you can hope for a self-driving/self-flying car. Because it's SXSW, Vaculik said he was looking forward to "Flying Uber or flying Lyft." And because it's SXSW, it was fitting that we heard that Dean Kamen, the creator of the Segway scooter, is joining the board of advisors for AeroMobil.
Source: The Verge
Related: 6 Reasons You Should Be Terrified About the Future of Transportation

Article topics
Email Sign Up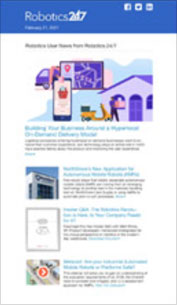 Get news, papers, media and research delivered
Stay up-to-date with news and resources you need to do your job. Research industry trends, compare companies and get market intelligence every week with Robotics 24/7. Subscribe to our robotics user email newsletter and we'll keep you informed and up-to-date.