From path planning to object recognition, artificial intelligence is essential to improving robotic piece picking, particularly in manufacturing and e-commerce.
"The number of AI applications and providers using AI in robotic picking solutions continues to increase," said Thomas Evans, chief technology officer at Honeywell Robotics. "In the past year, we've seen an increase in the demand for automation, particularly around robots that use machine learning [ML] and artificial intelligence."
"Quantifying the impact and improvements can most easily be estimated by the efficiencies and increased scope of robotics in autonomous pick-and-place tasks," he added. "The improvements most readily tied to increasing the number of products and SKU variations a robot system can visualize and handle in warehouse and DC [distribution center] operations."
In addition, Thomas explained, "improvements are made when AI solutions are exposed to more operational data and the developers can efficiently repurpose that data back into the AI and ML models."
The following systems demonstrate recent innovations for picking robots using AI:
Honeywell SmartFlex Depalletizer
Pittsburgh-based Honeywell Robotics has a strong focus on machine learning innovation and implementation, according to Evans. "This isn't just in the perspective to enhance robot performance and increase operational efficiencies, but also how we continue to quickly integrate automation solutions while on a customer site," he said.
"Having a strong understanding to generalize ML and AI models for multiple applications as the starting point for customer deployments and quickly refine the system to meet operational requirement is where we have focused our AI development," Evans noted. "It is an advantage to have a strong understanding of how to deploy AI solutions in order to provide end-to-end automation."
The company has several products that use AI and articulated robot arms to pick and place packages and products. Honeywell's Smart Flexible Depalletizer is an autonomous system that uses machine learning to identify items on a pallet, then reach and pick up individual or multiple packages (the mode can be changed) to place on a conveyor belt.
The latest computer vision technology identifies the exact location of every case on the pallet, while perception software automatically recognizes a wide variety of packaging. This technology allows for seamless handling of a continuous flow of pallets in any sequence without requiring any pre-programming or operator intervention, according to Thomas.
With AI and machine learning, the depalletizer is designed to optimize the movements of the robotic arm for maximum picking speed and efficiency. The control logic senses the weight of each item as the robot lifts it and automatically updates its gripping response to securely transfer each product.
The depalletizer, which was introduced in September, is in pilot at one production facility and is commercially available. "There is a lot of interest from our customer base," according to Thomas.
Some installations could come in early 2022 with even more advanced AI and machine learning capabilities, he said.
Mujin robot doesn't use a neural net
Other companies using AI with picking robots rely heavily on neural networks, but they are very difficult to train, asserted Brandon Coats, director of system innovation at Mujin Inc.
"No matter what you do, it will never be 100% accurate," he said. "So we're going in and using a model-based definition approach."
That approach relies on a combination of sensing the environment and then using it for measurements, path planning, and execution. This enables a picking robot to have a target and a plan to reach the target before execute mode, Coats said. "We never give the robot a target that it can't reach," he explained.
Rather than a neural net, Tokyo-based Mujin's robot relies on a database of items to be picked, enabling the task to be completed without any training.
While picking robots have been used in assembly-line operations for years, 3D vision systems have only recently advanced to the point where the robots have the necessary intelligence for warehouse and logistics applications, according to Coats.
A Japan-based company is already using 20 of the robots to perform 100,000 picks daily per unit. The success of the technology there could be the basis for quick adoption around the world, Coats said.
"With everything we're seeing, a lot of Fortune 500 companies are going to want to make their supply chains more redundant and capable," he said. "By this time next year, you're going to see some major names deploying these types of robotic systems."
Coats said he doesn't expect any major changes in the underlying AI technology. Instead, there will be continued evolution and realization of the cost benefits of such systems, he said.
"The same way that we saw robots getting into automotive manufacturing 20 and 30 years ago, you're going to see the same thing over the next five to 10 years in warehousing and logistics," said Coats.
AI advances benefit robotics users
"When it comes to AI and picking robots, the companies commercializing these systems are benefiting from broader technology trends," said Vince Martinelli, head of product and marketing at RightHand Robotics Inc. "It's now possible to hail a ride in an autonomous vehicle in some cities, for example, and we already take for granted that we can order lunch via a virtual assistant using AI-augmented speech and voice recognition based on natural language processing."
This progress seems to be accelerating, pushing the state of the art in underlying tools, methods, and sensors that are also critical for the machine vision and motion planning systems that are at the heart of autonomous picking systems, Martinelli added.
"Robotic arm costs have come down significantly over time, making the systems more attractive, and pressure on retailers from on-demand e-commerce, labor challenges, and the global pandemic have piqued demand for warehouse automation," he said.
AI software and processors, cloud and data-centric technologies, and autonomous mobile robots (AMRs) are each attracting billions of dollars of investment globally, according to Martinelli.
"When we look at the commercial impact, we see the number of production sites with picking robots increasing since they were introduced by RightHand Robotics in 2017," he added. "These robots are working across retail verticals including general e-commerce, pharma and online drugstores, grocery, and others."
This growing experience base has helped drive technology improvements in the past year, as has the demand for meaningful data from the people who operate fulfillment centers, Martinelli said. As the software has improved, so too has the reliability and performance of AMRs to execute warehouse tasks such as picking and materials handling.
RightPick 3 learns without models
RightHand Robotics incorporated AI into its RightPick 3 system, which comes equipped with all components to integrate with fulfillment systems. It also includes the RightPick MCP application programming interface (API) for easy and safe integration.
The RightPick 3 uses the RightPickAI software, which the company said does not rely on models but instead learns over time.
Apologistics GmbH is one user of RightHand's technology. The company, which claimed to be Europe's most advanced online pharmacy, with 100,000 products, recently opened a 220,200-sq.-ft. (20,438 sq. m) warehouse in the Netherlands.
With a fleet of RightPick-enabled picking robots and an automated storage and retrieval system (ASRS) from AutoStore, Apologistics handles more than 25,000 parcels per day with 20 or fewer employees, according to founder Michael H. Fritsch.
About the Author
Phil Britt
Britt owns S&P Enterprises and is a technology writer who lives in the greater Chicago area. In addition to Robotics 24/7, he has written for financial services and business publications, including magazines, newsletters, conference dailies, and Web sites.
Follow Robotics 24/7 on Facebook
Article topics
Email Sign Up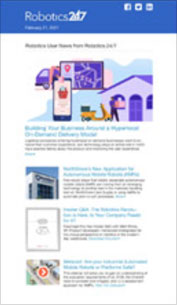 Get news, papers, media and research delivered
Stay up-to-date with news and resources you need to do your job. Research industry trends, compare companies and get market intelligence every week with Robotics 24/7. Subscribe to our robotics user email newsletter and we'll keep you informed and up-to-date.
Honeywell