RightHand Robotics Inc., which makes data-driven, autonomous systems for order fulfillment, today announced its RightPick 3 item-handling robot. The Somerville, Mass.-based company made the announcement during the ProMat DX virtual event for material handling.
RightHand Robotics (RHR) said its intelligent picking platform provides flexible and scalable automation for predictable e-commerce order fulfillment. RHR was founded in 2015 by a DARPA challenge-winning team from the Harvard Biorobotics Lab, the Yale GRAB Lab, and MIT with the intention of applying computer vision and machine learning to real-world grasping problems.
"We relaunched our site in January," noted Vince Martinelli, head of product and marketing at RightHand Robotics. "It now has a stronger product focus to serve our customers. We're also partnering with companies such as SVT Robotics on software."
"The pandemic accelerated the shift from the older model of shoppers picking items to remote fulfillment centers and has put pressure on retail productivity," he told Robotics 24/7. "Everyone is adapting and reacting. There have been big investments in this space, including Berkshire Grey, AutoStore, Locus Robotics, and Nimble Robotics, and we've been busy with existing projects."
RightPick 3 includes cognitive improvements
"We first launched RightPick in 2017 at ProMat," recalled Martinelli. "As we've worked with integrators on projects, we've learned that they want robotic item-handling systems that are relatively easy to plug and play with different aspects of automation, such as ASRS [automated storage and retrieval systems]."
RightPick 3 can pick faster and handle a broader range of items than its predecessors, said RHR. The system has a modular hardware design, well-defined application programming interfaces (APIs), and international compliance, said RightHand Robotics.
"Another finding is that our partners require our robots to do more cognitive tasks in the picking cycle," Martinelli said. "For example, RightHand partnered with PALTAC Corp. in Japan, which was very concerned about item damage. If the edge of a box was even crinkled, it was considered unsaleable."
"We've gotten to the point that the customer site's WMS [warehouse management system] has information tracking products requiring gentle handling," he added. "The robot can execute a pick in one of several modes, like just suction or fingers—and it also pays attention to the orientation of the item behing held. If it's oblong, it makes a difference in how it is set down and how you fill the tote without items shifting or being crushed."
"We all think of picking as vision to look into a tote and disambiguate items to know how to grab them," explained Martinelli. "Now, it knows how to hold on after grabbing an item and the status of the tote it's placing it in. It's multiple vision processes throughout the pick cycle."
RightHand updates features
RightPick 3 includes a dual-GPU [graphics processing unit] platform that processes data more than six times faster and is designed for use even at elevated warehouse temperatures. Its new Safety Controls Unit allows for easy integration of common warehouse safety components, claimed RHR. The system also features an integrated kiosk with the RightPick console and a simple user interface, said the company.
"GPUs have been driven by autonomous vehicles and gaming, but we can't change them every six months," Martinelli acknowledged. "We went through the process of identifying products that will be supported for multiple years. Our system is modular, so if there's a step change in the processors, we could swap them out without changing everything else."
"Our best rates with two totes near each other is 1,200 picks per hour," he said. "At each step, the camera knows where the item is, plans, and has another image of the destination. We can now process several steps in every cycle without losing time. We see the benefits in quality and more complex processes."
In addition, RightPick 3 uses the next-generation RightPick AI software that continuously understands, plans, executes, and learns, said RHR. RightPick works with RightHand's updated Fleet Management System, which uses the Rightpick Control Center for real-time, remote visibility and control to optimize throughput. The entire system is backed by RightCare service and support for integrator partners and end users to ensure 24/7 operations.
Working towards light-out operations
"We had to learn how to integrate light curtains and emergency stop for swapping grippers, but RightPick 3 has more horsepower," said Martinelli. "Our goal is to have the robot working autonomously mostly on its own, so there's less need for collaborative features."
"Our RightPick Control Center provides some dashboards," he added. "Everyone wants something different, so there's a lot of custoomization. As we get a bigger user base, we can reviisit item management tools. We want users to be able to control their own destiny so they don't have to wait for consultants."
"The RightPick 3 system achieves an unprecedented level of autonomy with flexibility to be integrated into a wide range of warehouse tasks reliably, despite the inherent variability of picking processes," stated Yaro Tenzer, co-founder and CEO of RightHand Robotics. "This is a significant milestone for integrators, as they can offer their customers a robust automation solution with simple plug-and-play on the path towards lights-out order fulfillment at scale."
RightHand Robotics is demonstrating its new technology at its virtual booth at ProMatDX from April 12 to 16.
About the Author
Eugene Demaitre
Eugene Demaitre is editorial director of Robotics 24/7. Prior to joining Peerless Media, he was a senior editor at Robotics Business Review and The Robot Report. Demaitre has also worked for BNA (now part of Bloomberg), Computerworld, and TechTarget. He has participated in numerous robotics-related webinars, podcasts, and events worldwide. Follow Eugene:
Follow Robotics 24/7 on Facebook
Article topics
Email Sign Up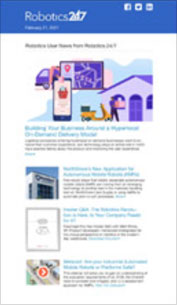 Get news, papers, media and research delivered
Stay up-to-date with news and resources you need to do your job. Research industry trends, compare companies and get market intelligence every week with Robotics 24/7. Subscribe to our robotics user email newsletter and we'll keep you informed and up-to-date.
RightHand Robotics