Ondas Holdings Inc., which designs, makes, and markets industrial drones through its American Robotics Inc. subsidiary, today announced that it has acquired Ardenna Inc., which provides image processing and machine learning software for rail monitoring and inspection. The companies said the acquisition will enable new efficiencies, reduce costs, and increase safety for the rail industry.
"The pieces that are needed to create an industrial data solution for analyzing rail infrastructure are coming together," stated Eric Brock, chairman and CEO of Ondas. "We believe the acquisition of Ardenna will provide the rail industry with a solution that combines drones, automation, communications, AI, and industry-specific expertise to significantly enhance operations and safety."
Sunnyvale, Calif.-based Ondas Holdings is a leading provider of private wireless data and drone systems. Its Ondas Networks subsidiary provides a standards-based, software-defined radio platform for Internet of Things (IoT) applications in markets including energy, utilities, and government.
Carnegie Mellon and Stanford University scientists founded American Robotics in 2016. The company is a MassRobotics member and is moving from Marlborough, Mass., to Waltham, Mass. It applies innovations in robot autonomy, machine vision, edge computing, and artificial intelligence.
American Robotics said it has designed its fully autonomous Scout drones for rugged, real-world environments. It offers them through a robotics-as-a-service (RaaS) model.
Ardenna provides data for maintenance decisions
Ardenna is a spinoff of Bihrle Applied Research Inc., which was founded in 1973 as an aeronautical research and development firm. In 2014, Bihrle partnered with BNSF Railway and the U.S. Federal Aviation Administration's (FAA) Pathfinder Program to study drone inspections of railway infrastructure with computer vision.
After identifying a need for automated processing of the aerial imagery collected by uncrewed aerial systems (UAS), Bihrle formed the Ardenna business unit in 2017. It spun off Hampton, Va.-based Ardenna as a wholly owned subsidiary in 2021.
Ardenna claimed that its system delivers objective and quantitative data, providing a comprehensive digital record of infrastructure's condition. It added that companies can benefit from both the rapid turnaround of inspection results and the monitoring of assets over time, enabling data-driven maintenance decisions.
"American Robotics' drone platform, combined with Ardenna's state-of-the-art technology, provides a comprehensive solution to properly deliver and scale analytics technology to rail customers," noted David Gingras, president of Bihrle Applied Research. "Our team is excited that this technology, developed by Bihrle Applied Research, combined with American Robotics' industry-leading autonomous drone solution, will provide value and increased safety to the rail industry."
American Robotics to add analytics to drone inspections
American Robotics said the acquisition will allow its Scout system to use Ardenna's analytic software to accelerate growth within the rail industry.
Reese Mozer, co-founder and CEO of American Robotics, answered the following questions from Robotics 24/7:
Has American Robotics been working with Ardenna's technology?
Mozer: Up until this acquisition, American Robotics had not been using Ardenna's technology. American Robotics is looking forward to serving existing and new customers in the rail space by partnering with Ardenna, the leading image processing and AI software for rail monitoring and inspections.
What will integration of Ardenna's software provide American Robotics users?
Mozer: Autonomous drones are shaping the future of railways—lowering costs and improving overall performance and safety. Whether they are used to inspect railway lines or other vital aspects of rail infrastructure, autonomous drones allow industry leaders to inspect railways more frequently and at a higher quality, collecting the data needed to improve safety, cut costs, and enhance performance.
American Robotics' Scout system will now leverage Ardenna's advanced analytic software to offer an end-to-end data solution that the rail industry has been waiting for. The pieces that are needed to create an industrial data solution for analyzing rail infrastructure are now coming together.
American Robotics and Ardenna will provide the industry with a solution that combines drones, automation, communications, AI, and industry-specific analytics. We estimate the TAM [total addressable market] for drone-in-a-box (DIB) solutions with the rail market to be $6.85 billion, and Ardenna immediately places American Robotics as the leading provider.
Does American Robotics have to adjust its hardware in any way to accommodate new sensor or processing modalities?
Mozer: The majority of use cases can be run using American Robotics existing sensor and processing hardware packages. Down the road, we expect to integrate lidar as well to enable premium feature options for the rail market.
Rail industry to benefit from AI, more frequent inspections
Have you seen any change yet in the critical infrastructure market with plans for increased federal spending?
Mozer: We are not currently aware of specific dollars being allocated to these types of projects, but in general, we anticipate increased focus and spending on next-generation technologies within the infrastructure market for years to come.
Can you give an example of how machine learning can make rail inspections more efficient and effective?
Mozer: There are over 200,000 miles of rail track and hundreds of rail yards in North America that require regular monitoring and inspection to ensure safety. Common track defects include tie skew, tie clearance, and track impediments.
Automated drones equipped with machine learning capabilities allow for the scalable implementation of inspections collecting data that is in turn used to help reduce the odds of train derailments and increases the uptime of train systems.
How can more frequent drone inspections improve rail safety?
Mozer: Autonomous drones can be used to inspect railway lines and other vital aspects of rail infrastructure such as alignment of tracks. The more regularly these inspections occur, the more safety, reliability, and performance will be improved.
Without the need for a human operator on site, American Robotics' Scout systems can make up to 20 flights per day, offering valuable insights and data that can improve the safety, reliability, and performance of railways across the country.
Mozer sets sights on future growth
American Robotics raised funding and was itself acquired by Ondas Holdings last year. Are you looking for more investors or acquisition targets?
Mozer: We raised $51.5 million. The Scout system is a platform that has broad-reaching applicability across millions of assets around the world. As a result, we will continue to be opportunistic with regard to investments and acquisitions in our ongoing pursuit to serve each of these assets with autonomous drone technology.
Our parent company, Ondas Holdings, and our sister company, Ondas Networks, provide the resources, expertise, and flexibility to pursue these types of value-adding transactions and accelerate the delivery of our industrial data solutions.
What can you share about your company's goals or milestones for this year?
Mozer: Following the success of American Robotics' FAA approval, we are now focused on executing a growth strategy—making sure we provide leading service to our customers, and working with them to prepare for further deployments. There has been a lot of overpromising and underdelivering in the commercial drone space, and American Robotics is now positioned and determined to change that trend.
From an industry standpoint, we are at the beginning of what this autonomous technology can achieve and the major impacts that it will have on a global scale. Autonomous drones represent a new category of data and analytics that will change how many of our critical industries operate, including rail.
With the acquisition of Ardenna, American Robotics is now positioned to lead autonomous DIB solutions for the rail market. Ardenna is the original and leading company dedicated to high-resolution, drone-based analytics specifically for the rail market.
After more than seven years of R&D and experience with many of the largest Class 1 rails in North America, the company has amassed a unique and valuable portfolio of 28,000+ miles of high-resolution rail track imagery—critical to the development of high-value AI software products.
As a result, American Robotics is now the only company with all three elements of the required solution: (1) autonomous DIB, (2) FAA approval, and (3) rail-specific analytics software.
About the Author
Eugene Demaitre
Eugene Demaitre is editorial director of Robotics 24/7. Prior to joining Peerless Media, he was a senior editor at Robotics Business Review and The Robot Report. Demaitre has also worked for BNA (now part of Bloomberg), Computerworld, and TechTarget. He has participated in numerous robotics-related webinars, podcasts, and events worldwide. Follow Eugene:
Follow Robotics 24/7 on Facebook
Article topics
Email Sign Up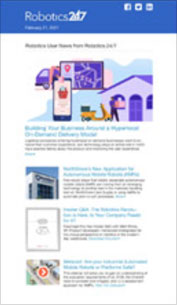 Get news, papers, media and research delivered
Stay up-to-date with news and resources you need to do your job. Research industry trends, compare companies and get market intelligence every week with Robotics 24/7. Subscribe to our robotics user email newsletter and we'll keep you informed and up-to-date.
Business Wire