Most robotics enthusiasts are aware of Boston Dynamics Inc.'s Atlas humanoid robot, which has performed feats of acrobatics on YouTube and in commercials. But to make its system more humanlike, the company has continued developing its capabilities, as seen in new videos today.
Waltham, Mass.-based Boston Dynamics said that "Atlas Gets a Grip" (below) demonstrates a natural progression of the robot's perception, manipulation, and autonomy. It also shows how such robots could eventually assist human workers, in this case by bringing tools up scaffolding.
"This video ... is meant to communicate the expansion of the research that we're doing on Atlas," said Scott Kuindersma, Atlas team lead at Boston Dynamics.
"We're not just thinking about how to make the robot move dynamically through its environment, like we did in parkour and dance," he said. "Now, we're starting to put Atlas to work and think about how the robot should be able to perceive and manipulate objects in its environment while maintaining that characteristic high level of performance that we expect from Atlas."
Atlas is a research platform and is not available for purchase, unlike Boston Dynamics' Spot quadruped and Stretch robot arm. The humanoid has compact mobile hydraulic systems and a custom battery. It also has 28 joints, is 1.5 m (4.9 ft.) tall, and weighs 89 kg (196.2 lb.). Atlas can walk at a speed of 2.5 m/s (5.5 mph), according to a spokesperson for the company.
Boston Dynamics layers capabilities into Atlas
"We're layering on new capabilities," said Ben Stephens, Atlas control lead at Boston Dynamics, in a blog post. "Parkour and dancing were interesting examples of pretty extreme locomotion, and now we're trying to build upon that research to also do meaningful manipulation."
"It's important to us that the robot can perform these tasks with a certain amount of human speed," he added. "People are very good at these tasks, so that has required some pretty big upgrades to the control software."
With improved sensing and locomotion, Atlas is able to pick up and move objects of different sizes, materials, and weights, such as the wooden plank and bag of tools, while staying balanced, said Boston Dynamics.
"Perception is letting the robot know what it's seeing, and autonomy is letting it choose what it's doing next at a high level," explained Pat Marion, Atlas perception lead at Boston Dynamics. "It's all software, so we're writing code that runs onboard Atlas."
For the video above, the team installed utility "claw" grippers with one fixed finger and one moving finger. These simple grippers are designed for heavy lifting tasks and first appeared in the Samuel Adams Super Bowl commercial where Atlas held a keg over its head.
Team advances perception, motion control
Multiple cameras, including time-of-flight cameras for depth perception, enable Atlas to build a model of its environment, said Robin Deits, software engineer, in the video below. The robot could then direct the robot to move in certain ways, said Marion.
The Atlas team also improved control systems so the robot could conduct a 180-degree jump while holding the plank. To perform a spinning jump while throwing the bag, the team extended the model predictive controller (MPC) to consider the coupled motion of both the robot and the object, said Twan Koolen, a software engineer at Boston Dynamics.
Pushing the wooden box from the platform required Atlas to generate enough power to cause the box to fall without sending itself off of the platform, said the Hyundai Motor Group unit.
Atlas' new moves also required careful management of wiring, noted Tom Stevens, electrical engineering technician at Boston Dynamics. It also uses similar hydraulics to a Formula 1 car.
"Everything that Atlas does in the real world, we run in simulation first," Marion said. Boston Dynamics has tried to limit physical damage to its robots even as it continued pushing their capabilities, he added.
'Sick trick' and commercialization
For Atlas' finishing move, an inverted 540-degree, multi-axis flip, the team added asymmetry to the robot's movement, making it a much more difficult skill than previously performed parkour, said Jakob Welner, animation software developer at Boston Dynamics.
The "sick trick" was "a very cool move, and it took a lot of work to get that to land cleanly," said Marion. "It certainly inspires people to say, 'What if we could make a robot that can do this."
"If something seems to be working really well, or we see some application in it, we can develop that technology further and move it into our products that are actually going out operating in the real world," he said.
The promise of humanoid robots is that they can operate in manufacturing or construction in spaces designed for people, Kuindersma said. They could move heavy objects and move through environments hazardous to humans, said Boston Dynamics, which yesterday said it is working with Persistent Systems Inc. on mobile ad hoc networking (MANET) technology for defense and public safety applications.
About the Author
Eugene Demaitre
Eugene Demaitre is editorial director of Robotics 24/7. Prior to joining Peerless Media, he was a senior editor at Robotics Business Review and The Robot Report. Demaitre has also worked for BNA (now part of Bloomberg), Computerworld, and TechTarget. He has participated in numerous robotics-related webinars, podcasts, and events worldwide. Follow Eugene:
Follow Robotics 24/7 on Facebook
Article topics
Email Sign Up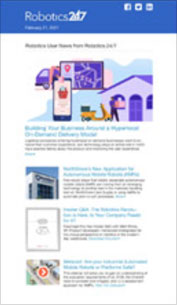 Get news, papers, media and research delivered
Stay up-to-date with news and resources you need to do your job. Research industry trends, compare companies and get market intelligence every week with Robotics 24/7. Subscribe to our robotics user email newsletter and we'll keep you informed and up-to-date.
Boston Dynamics