For a technology writer, spending a couple of days at the Automate show is like being a kid in a candy store. There are industrial robots, collaborative robot arms, autonomous mobile robots, and plenty of exhibitors with warehouse robotics solutions.
The annual event—put on by the Association for Advancing Automation (A3)—has evolved to include solutions of value to multiple industries and processes. These days, it's not just a show about industrial robots used to "make" or assemble goods in factories.
There were many exhibitors offering materials handling solutions, ranging from palletizing, to order fulfillment of finished goods in warehouses. Just a few of the exhibitors I spoke with and who offer robotics used for fulfillment processes include AutoStore, Exotec, ForwardX Robotics, Plus One Robotics, and Raymond Corp.
Short-term obstacles haven't derailed the industrial robot market
My overall take on the industry is that it's in a good place. Although the latest data on sales of industrial robots released shortly before the show by A3, and during the show in preliminary 2022 data from the International Federation of Robotics (IFR) indicates there is some cooling of the industrial robotics market after record growth in 2022, the long-term outlook for robotics uptake remains bullish.
It's worth noting that A3's data is based on orders, while the IFR data is based on installations, so there is a lag effect when examining these reports, in that installs/shipments trail orders.
The consensus is that over the shorter term, macro-economic factors like inflation and higher interest rates have slowed the industrial robotics market growth somewhat, though the automotive sector remains strong.
What's more, the long-term outlook remains strong. The challenge of finding and retaining enough labor to stick with manual processes is a long-haul challenge, so companies will continue to look for processes they can automate with robotics.
In warehousing, tough physical tasks like truck unloading or palletizing and depalletizing are likely applications, as well as smart piece picking robotics.
In the automotive sector, use of robotics has been strong because carmakers and their suppliers are retooling for electric vehicle (EV) manufacturing and all the components that go into EVs.
Another widely noted growth driver for robotics is nearshoring and reshoring in the wake of the massive supply disruptions experienced during the pandemic.
The thinking is that more supply chains will mitigate risk by sourcing components or products within North America, and to keep this supply base cost competitive, increased use of robotics will be in order.
A few key Automate trends
On the exhibition hall floor, a few trends were apparent that should help the robotics market grow across multiple industries, including fulfillment centers and warehousing.
These include:
Bigger payload cobots, which blend the simplicity of smaller cobots with a performance level that approach that of some smaller industrial robots
The continued focus on integration between robotics and human labor
Products and platforms that make it simpler and faster to deploy solutions
Here's a deeper look at each trend:
Cobots gain muscle, keep simplicity
A traditional strength of cobot arms is that they are relatively simple to deploy. The vendors in the cobot space often provide graphical, easy to use software for devising applications like end-of-line palletizing.
They don't require a costly enhancement of a facility's electrical infrastructure, because many can run on standard 120-volt outlets, or 220-volt power. Moreover, cobots don't need to be walled off by a fixed cage system, because they have safety sensing built in.
The downsides of cobots have been payload and speed versus their larger cousins. Cobots just haven't been able to lift heavier loads like industrial robots can, and cobots have operated at slower speeds for safety reasons, so they can work alongside a human and still stop immediately when touched or obstructed.
At Automate 2023, however, there was a blurring of the lines between these traditional strengths and tradeoffs. Larger cobots can lift larger payloads, which is a good thing for applications like end of line palletizing, especially for lower volume operations that want to build single SKU pallets or relatively simpler patterns.
It's all relative, however; for the highest throughput, heavier payload applications, industrial robots still rule. Additionally, when it comes to dealing with high SKU variability or discerning the orientation of SKUs/units that need handling but aren't in a predictable location, or have uneven edges like parcels, robots doing pick and place tasks typically need a layer of sophisticated vision and artificial intelligence (AI) software to provide the robot with the necessary smarts to handle what the vision sees on the fly.
But the bigger cobots are here and were on display at Automate. At ABB Robotics, I took a look at the company's new SWIFTI CRB 1300, a cobot with a payload of up to 11 kg (24 lb.).
The cobot's safety sensing makes use of a safety laser scanner from SICK that automatically detects people within the cobot's operating area in what amounts to invisible graduated rings of safety.
If you cross the outer range it will slow, and if a person (like an editor) unwittingly wanders way too close, it will stop completely.
This allows the cobot to operate safely alongside people without physical barriers.
Users can set up a palletizing application with the new SWIFTI robot by either physically guiding it through a process (lead-through programming), or through ABB's Wizard Easy Programming software, which is based on simple graphical blocks.
At the Yaskawa booth, one of the displays was for its HC30PL collaborative palletizing robot, which boasts a payload of 30 kg (66 lb.), which allowing for end-of-arm tooling (EOAT) weight, means it can easily palletize cartons or cases in the 22-25 kg range, using wizard-like software to design pallet patterns and in effect configure, rather than program a solution, said Chris Caldwell, product manager with Yaskawa Motoman.
While there are robotics applications with high variability that call for advanced vision software from partners, said Caldwell, using a cobot to palletize and leveraging simple software for setup can fit the needs of many small-to-medium enterprises looking to step into automated palletizing with robotics.
"We believe robotics should only be as complicated as it needs to be to get the job done," he said.
Similarly, at the Universal Robots booth, the cobots are gaining payload capacity, while keeping the simplicity of easy-to-use software to configure an application. UR works with systems integrators to bring solutions to market, while also leveraging software from partners, such as "Pally" palletizing software from RocketFarm, and its cloud-based digital twin software MyRobot.cloud, used by integrator partners to quickly verify application feasibility.
At the UR booth, I visited with UR partners including Columbia/Okura who discussed how palletizing solutions can be configured easily using UR cobots and supporting software, making solutions easy to verify, configure, and run.
In the video below, which was shot at the UR booth, you can see a demo of Columbia/Okura's "miniPAL" palletizing solution running in the background, with the software used to create the application, on the tablet in the foreground.
This demo makes use of the UR10e cobot arm, but a "big brother" option called miniPAL+ which makes use of UR's new UR20 cobot, which was available for preorder at Automate. The bigger cobot, which starts shipping this summer, features a 20 kg (44 lb.) payload.
Robots and people, in sync
Another key trend at Automate 2023 was integration, and how it can drive further value. For example, autonomous mobile robot (AMR) vendors are increasingly focused on integration, including Locus Robotics, whose mobile robots could be found not just at its booth, but also at other exhibitor booths.
At the Fanuc booth, a live demo had two of Fanuc's CRX-10iA cobots working in unison with AMRs from Locus Robotics, to automate an order fulfillment process.
A short clip of part of the demo can be seen below.
This demo made use of various technologies including vision sensors on the Fanuc cobots, QR codes on the bins, and RFID scans of tagged product items via the vision sensing, as well as communication between the cobots and AMRs, to facilitate accurate, automated order picking and handling of bins.
But it wasn't just robots integrating with robots on view at Automate—there also were exhibitors stressing the synchronization of robots with human labor. At the Zebra Technologies booth, which acquired AMR vendor Fetch Robotics in 2021, the company was demonstrating how its wearable devices make working with Fetch AMRs more efficient.
Not only do the wearables keep the associates hands-free when they are next to an AMR executing picks to bins on the robot, once work is complete with one bot and it goes to packout or some other downstream location, the devices show an associate where the next set of picks will be, and where the next mobile robot will be, said Matt Wicks, senior director of product management with Zebra.
Zebra's integration between its wearables and AMR technology, Wicks explained, helps reduce wasted time between sets of picks when associates are picking to AMRs, especially when the next mobile robot isn't visible within the same aisle.
"It coordinates the robots and the people, so that when the system directs an operator to the next pick location, the operator can go start that process and the robot will meet the operator at that spot," Wicks said. "There isn't this hunting around and wasted time for the operator."
Even small incremental time savings add up when you have a team of associates working all shift with a fleet of assistive picking mobile robots, Wicks added.
"It adds up to increased operational efficiency and throughput," said Wicks. "Workforce availability is limited, so the more productivity you can get from your available workforce, the better."
At the Big Joe Forklifts booth, the focus was on a live demo of its recently launched Pallet Mover AMR developed in partnership with Thoro.ai. The autonomous unit is easy to deploy with some mapping with the AMR and setting up of zone drops on the unit's tablet, explained Bill Pedriana, Big Joe's CMO.
The aim, he added, is to make pallet moving automation quick to deploy and completely "user directed" via the AMR's tablet, to bring robotics efficiency to moves between work cells, or other pallet moves in a facility, with no need to integrate the AMR to a backend system.
This also frees up lift truck operators for more complex workflows, or keeps skilled machine operators from having to halt value-added work to move a pallet with a pallet jack.
Platforms and speed to market
Vendors also see product platforms that speed up solution delivery as a way to grow the market. For example, Beckhoff Automation was demonstrating several solutions at its booth, as well as celebrating 20 years EtherCAT, its industrial Ethernet system used for high performance industrial networking, including to support automation used in warehousing and intralogistics.
One of Beckhoff's featured products at Automate was its ATRO system, which takes a modular approach which allows robotics integrators to easily assemble optimal robot structures for different applications.
At the show, Uwe Bonin, product manager for robotics at Beckhoff, explained that ATRO overall benefit is that it speeds up time to value in that integrators can basically assemble a robot that is fit for purpose, rather than wait for a robot OEM to build one. The target market is integrators, though it's possible some advanced end users might tap ATRO for simpler projects.
ATRO is more than a set of robot mechanical parts, Bonin explained, in that the modules encapsulate the communications and controls technology a robot needs, with the associated software generating a kinematic model for the robot.
"That means you can do your own robot, and can be something like your own robot manufacturer, because you just assemble the robot the way you need it," Bonin said.
In attending the Automate show, one can see the ecosystem of partners that work together to create solutions, which plenty of specialization and partnering. There are exhibitors known for EOATs, for example, so that robot OEMs don't necessarily have to develop their grippers or other tooling.
Another type of specialist is ROEQ, a Danish company focused on top modules for AMRs. ROEQ is known for its mobile robotic equipment or "MRE" for larger format AMRs from Mobile Industrial Robots (MIR)
At Automate, ROEQ was demonstrating its new ROEQ TMC130, a top module and cart system for the OMRON LD-90x that increases payload from 90kg (198lb) up to 130kg (287lb). ROEQ also offers a top module the larger OMRON LD-250 robots.
These MREs are part hardware, but they need software and digital communication to work well with the AMR, a function supported by ROEQ's ROEQ Assist installation software.
This software permits easy and consistent set-up with the mobile robot, explained Carsten Sorensen, partner and head of sales and support with ROEQ.
At Mujin, which was demonstrating robotic case palletizing and depalletizing at Automate, the platform approach is key to the company's value add, in that warehouse systems integrators don't need to cobble together solutions elements like articulating arms, vision, or mobile robots to move pallets.
"The overall theme for us is showcasing our robotics platform and how it simplifies solutions delivery for our integrator partners," said Josh Cloer, director of sales at Mujin. "If you were to do this in the traditional way, taking an industrial robot from one leading provider, and vision and sensing from other providers, and mobile robots from another provider, and then trying to integrate it all together, that's just really hard. You need a lot of expertise to do that, and it's going add cost for you as an integrator, and it's going to be costly for the end customer. That's why Mujin created a platform to control all these elements in real time, with an easy-to-use interface. The platform simplifies solutions."
Even with technology advancements, leaders in the robotics industry believe it will take a comprehensive education effort spanning robotics companies, industry end users, and educators, to build up the pool of talent it's going to take to support further uptake for robotics.
At Tuesday's executive roundtable at Automate, "The Future of Robotics & Automation in North America," the panelists noted that trends like electrification and EV manufacturing, nearshoring, and policies including the Inflation Reduction Act will all play a role in robotics industry growth, but that ultimately, the industry needs to attract more young people into robotics at all levels, as engineers with vendors, into the ranks of systems integrators, and as operators of solutions.
"We need to train our next generation of workers," says Mike Cicco, president and CEO of Fanuc America, one of the speakers on the panel.
To build this workforce will take collaboration with educators, Cicco added, which is why Fanuc sponsored the show's education pavilion which featured participation from several technical colleges. He also encouraged systems integrators and end users to reach out to local educators, even at the secondary education level, to advocate for robotics as a career path.
As Cicco told the Automate crowd, "If there are any manufacturers or any other end users out there, the best thing you guys can do is go to your local school, and say, 'I want to partner with you to try to bring kids into my workforce.'"
About the Author
Roberto Michel
Roberto Michel, senior editor for Modern, has covered manufacturing and supply chain management trends since 1996, mainly as a former staff editor and former contributor at Manufacturing Business Technology. He has been a contributor to Modern since 2004. He has worked on numerous show dailies, including at ProMat, the North American Material Handling Logistics show, and National Manufacturing Week. You can reach him at:
[email protected]
.
Follow Robotics 24/7 on Facebook
Article topics
Email Sign Up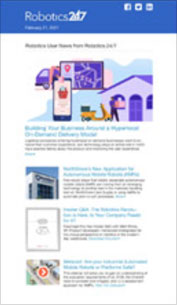 Get news, papers, media and research delivered
Stay up-to-date with news and resources you need to do your job. Research industry trends, compare companies and get market intelligence every week with Robotics 24/7. Subscribe to our robotics user email newsletter and we'll keep you informed and up-to-date.
Cesareo Contreras