Businesses have never been under more pressure to keep their customers satisfied. They're still contending with the aftershocks of the COVID-19 pandemic, ongoing labor and supply shortages, and a never-ending string of disruptions. These challenges will pass. Other changes, like the exponential increase in e-commerce sales and direct-to-consumer deliveries, are permanent, and automation can play a role.
Distribution centers (DCs) are handling more items than ever, while having to do it accurately and with greater speed to meet increasingly high customer expectations. Once taken for granted, the DC is now a vital component of a company's go-to-market strategy.
"The last four or five years for supply chain leaders has felt a lot like the turn of the century did for IT leaders," said Rob McKeel, CEO of Fortna. "Before Y2k, IT was a back-room function and didn't have a seat at the table. Post-Y2K, IT was at the top of the boardroom agenda. The same thing is happening now with supply chain, as supply chain and order fulfillment in particular are more visible inside companies, and more stressful for the people in that function."
The pandemic, worker shortages, and shipping snarls may not be the way you want to get noticed, but challenges often turn into opportunities. These factors have led to an "always-on world" for DCs, McKeel said. More and more facilities are operating around the clock, and uptime of systems and people has never been so critical.
Increasingly, distribution centers are turning to higher and higher levels of automation, data collection, and software to accommodate the always-on world. These systems must also be integrated to create seamless processes and provide clarity into the state of operations, added McKeel.
As attendees saw at MODEX, the materials handling industry and the customers it serves are innovating like never before. Each of the operations below illustrates how robots and automation are evolving to meet the challenges at facilities, from small to midsize organizations to global manufacturers and retailers. It really is a new day in the warehouse.
SB Logistics moves to 'lights-out' warehouse
With recruitment and retention posing major challenges for distribution centers, who can blame managers for wishing for "lights-out" warehouses with no workers? For most, it's just a daydream.
But in Tokyo, SB Logistics, the e-commerce fulfillment arm of SoftBank, is working to make a lights-out facility a reality.
"Our ultimate goal is a completely automated warehouse," said Masashi Okabe, a project manager and production engineer at SoftBank Robotics, and a member of the team that designed the highly automated 600,000-sq.-ft. facility in Ichikawa City.
Part of that vision includes the development of a facility where a limited number of people are primarily there for maintenance and supervision, not warehouse processes. They're not there yet.
When the facility first adopted automation, inbound receiving and outbound shipping were still manual. In addition, oversized and fragile items that couldn't be handled by automation were stored, picked, and packed using conventional process.
Still, Okabe estimated that more than 50% of the overall work in the facility had been automated. An estimated 50% to 60% of the items stored in the mini-load system could be handled by piece-picking and packing robots from Berkshire Grey. SB Logistics was working with Berkshire Grey to increase that to 70%.
"There have been very few products that we have been unable to send to the robotic system cells," added Okabe.
SB Logistics claimed that the Ichikawa facility is the first fulfillment center to completely automate the picking and packing process after receiving customer orders.
In Okabe's view, the technology to achieve full automation is already available; it just can't yet deliver the required return on investment (ROI). "But I do believe in the coming years we will be able to reach that goal," he said.
HARTING designs for efficiency, sustainability
How do you design a warehouse to support sales of €1 billion ($1.05 billion U.S.) per year? Especially if that warehouse will be required to support regional business-to-business customers, as well as the replenishment of a global distribution network? And how do you do it in a sustainable manner that aligns with a company's environmental, social, and governance (ESG) goals?
Those were the questions HARTING Technology Group asked in 2012 as it began the design of a new 615,000-sq.-ft. European DC. The organization is the logistics arm of HARTING, a suppliers of product that enable industrial automation.
"After 20 years, the software running our existing European distribution center was unstable, and we needed more space and throughput capacity," recalled Achim Meyer, managing director of logistics at the Espelkamp, German-based company.
Meyer's team worked with integrator Körber AG to design a showcase for automation. It included robotic case handing, automated storage and retrieval systems (ASRS), a shuttle system, vertical lift modules, robotic palletizing and depalletizing, and RFID for tracking.
In addition to a focus on automation, sustainability was at the heart of the design. "Sustainability is a key component of HARTING's 2030 strategy," Meyer noted, adding that all of the energy in the facility comes from renewable sources. Regenerative braking on storage and retrieval cranes put energy back into the system, and an energy management system ensures the facility optimizes the energy it does use.
Similarly, ergonomics played a key role in the design. "The heart of any warehouse is still people," Meyer said.
For example, workstations were designed with a team that included engineers, specialists in ergonomics, and associates. The teams relied on Kaizen continuous improvement principles to determine the location of every box, pen, and tool at a picking or packing station.
Since going live, the facility has received several design and architecture awards. It also positions HARTING for the future. "We are now flexible and fast to adapt to our customers' requirements," Meyer said.
NorthShore Care Supply: Even the little guys are adopting automation
They say that necessity is the mother of invention, or in the case of NorthShore Care Supply, the mother of innovation.
Green Oaks, Ill.-based NorthShore Care Supply is an online provider of incontinence products. To guarantee the health of its customers, the company's order-fulfillment processes are driven by accuracy and speed. Add to the mix that the company's relatively small size and location near DCs operated by the likes of Amazon created labor challenges even before the pandemic.
Adam Greenberg, founder and CEO of NorthShore Care Supply, opted for high levels of automation when he opened a new 173,000-sq.-ft. facility in 2020. The centerpiece was a robot-to-goods picking system designed by Numina Group that used autonomous mobile robots (AMRs) from Waypoint Robotics, since purchased by Locus Robotics.
The ability of Waypoint's AMRs to carry up to 700 lb. was essential because NorthShore Care ships full cases of product to its customers. Those cases were delivered to an automated packing, labeling, and shipping line. The Waypoint Vector AMRs use wireless chargers from WiBotic.
That was Phase 1. A year later, Greenberg launched Phase 2 when he automated receiving and palletizing with help from Exact Automation and FANUC.
Greenberg said he has embraced automation for several reasons. First, the price was now within the reach of mid-market companies like NorthShore Care Supply.
Second was that automation allowed him to build capacity and do more with less. "We were struggling to find people looking for a permanent job for the five years before COVID, and temps wanted to jump from warehouse to warehouse," he said.
The AMRs delivered a 40% to 50% improvement in the speed of picking along with improved accuracy. Robotic palletizing has reduced the time required to process an inbound container from 8 man-hours to 3 man-hours for most containers. It has also created a safer work environment, said Greenberg.
Greenberg is also considering autonomous lift trucks for some operations.
"Getting orders out is so critical to us," he said. "Automation makes it easier for us to be in control of our own destiny. If you can afford to make the right investments, you can deliver the customer experience you need to be successful."
Gap bridges global e-commerce with automation
When it comes to specialty retailers, Gap Inc. has turned distribution into an art form. Over the years, the San Francisco company has been an early adopter of technologies that would later become a standard part of the tool kit, including mini-load automated storage and robotic putwalls, to name just two. The company has long had a "fail fast and try again" attitude toward innovation. And, when Gap finds a technology that works, it adapts it to standardize operations across the globe.
In January 2021, Gap updated its primary e-commerce DC outside of Columbus, Ohio. The company added 400,000 sq. ft. to a facility that was alread 800,000 sq. ft., as well as new automation. The project doubled throughput capacity.
The project was guided by Gap's core operating principles, such as "Keep it simple," claimed Kevin Kuntz, senior vice president of global logistics fulfillment.
"That's No. 1," he said. "We know we're going to hire seasonal staff to get us through peak. If the design isn't simple, training will be difficult."
Another is to "be efficient," Kuntz noted. "Working in a distribution center is challenging, so we always try to keep labor front and center in our design. We do everything we can so that the tasks aren't too physically demanding."
In addition, Gap maximized storage by using ASRS and mini-load technology for carton storage, plus very narrow aisle pallet storage.
The company worked to make changes that are repeatable by using a global platform. Its goal was to roll out common operating systems and proven technologies across its network. Gap incorporated tools that had already been proved out in other facilities, such as robotic putwalls from Kindred AI and a warehouse execution system from Vargo.
The resulting facility now includes 14 miles of conveyor, 24 mini-load ASRS cranes, a bomb-bay sortation system, an extensive crossbelt sorter, and 40 robotic putwalls—with plans to increase that to 60.
At the time we first covered the facility, it was processing 600,000 units a day for Old Navy and Gap, with plans to grow that to 1 million units a day using the bomb-bay sorters. After publication, Gap announced that it was planning to implement AMRs from Exotec to handle returns in some of its facilities.
"There's no question that this facility will determine our network of the future," said Kuntz.
CJ Logistics meets the integration challenge
Integration among multiple robots, existing equipment and processes, and enterprise software might seem like an obvious need, but it's still a chore, noted Fortna's McKeel.
Getting them to play nice with one another can be a major challenge, and too often, distribution center operators deal with islands of automation. The result is suboptimal operations.
Third-party logistics provider (3PL) CJ Logistics set out to add AMRs, automated forklifts (AFLs), electronic pallet trucks (EPTs), and voice and vision technologies at a 1.1 million-sq.-ft. facility in Dallas. An important step was not only integrating those technologies together, but also with a warehouse management system (WMS) from Blue Yonder.
Integrating all this automation was a strategic initiative for CJ Logistics, a South Korea-based 3PL with U.S. headquarters in Des Plaines, Ill. It wanted to automate as much non-value-added horizontal travel as possible in its facility, as well as picking processes. But it needed to do so in in a way that it could then be rolled out to other facilities.
CJ Logistics used a cloud-based platform from SVT Robotics. The Norfolk, Va.-based supply chain startup onboards the necessary integration points from various system providers onto its platform­—as well as those from a host of other hardware and software providers. It then enables customers like CJ Logistics to combine the systems necessary to their production processes.
What's more, once a solution set is validated and deployed, it becomes a permanent part of the 3PL provider's DC automation toolbox. SVT Robotics' platform enabled CJ Logistics to manage the integrated technologies through its WMS.
The platform also handles orchestration decisions. For instance, it can assign a task for pallet movement on the dock to an EPT rather than an AFL if it just involves travel without putaway.
In another example, CJ Logistics wanted to capture Internet of Things (IoT) data, but not for every product. SVT Robotics' platform allowed CJ Logistics to determine in which zones to make it available.
"One of the successes of this project is that technology is evolving very quickly," stated Kevin Coleman, co-CEO of CJ Logistics America. "And I don't know where it ends. We now have the flexibility to swap out one endpoint for another and connect that back to the requirements of our customers."
About the Author
Bob Trebilcock
Bob Trebilcock is the executive editor for
Modern Materials Handling
and an editorial advisor to
Supply Chain Management Review
. He has covered materials handling, technology, logistics, and supply chain topics for nearly 30 years. He is a graduate of Bowling Green State University. He lives in Chicago and can be reached at 603-852-8976.
Follow Robotics 24/7 on Facebook
Article topics
Email Sign Up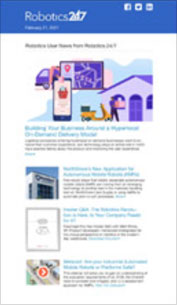 Get news, papers, media and research delivered
Stay up-to-date with news and resources you need to do your job. Research industry trends, compare companies and get market intelligence every week with Robotics 24/7. Subscribe to our robotics user email newsletter and we'll keep you informed and up-to-date.
WiBotic