Mobile robots and autonomous lift trucks promise to improve flexibility and agility, but how can warehouse and factory operators be sure of reaping those benefits? Uncertainty has held back adoption of new technologies, but suppliers have recognized the challenge and are addressing it with easier-to-use systems and close collaboration with prospective customers.
Hyster-Yale Materials Handling Inc. provides manual and automated lift trucks plus accessories through its subsidiaries, Hyster Co. and Yale Lift Truck Technologies. Yale said at ProMat 2023 that it expects autonomous mobile robots (AMRs) to be as much as 50% of its business in the next few years.
To get to that point, Hyster and Yale are explaining how AMRs and semi-autonomous lift trucks can provide real returns on investment (ROI). Robotics 24/7 asked the companies about their perspectives, and Kyle Smart, sales manager for robotics at Yale Lift Truck Technologies, and Steven LaFevers, vice president of emerging technology at Hyster, gave the replies below:
Push and pull from the market
Have Yale's existing customers demanded automation, or do you need to educate them about the potential benefits?
Smart: There's a spectrum of demand and readiness on the part of warehouse operations. Some are just dipping their toes in; others have done their homework and have warmed up to the idea that robotic solutions make real business sense and can help improve workflows.
Some businesses may still view robotics as a future proposition, but many of today's warehouses are increasingly tech-enabled. Best-in-class operations expect their material handling equipment to reflect smart automation design and technology integration.
Unexpected events and underlying trends have compelled many operations to accelerate their timeline for warehouse robotics from an opportunity for tomorrow to an essential for today. Specifically, labor costs and challenges persist, and customer expectations continue to raise the bar for performance.
In recent years, employee turnover is hovering at nearly 50%, and the global workforce shortage is expected to hit 85 million by 2030. As a consequence of replacing such a sizable portion of the workforce, warehouses are exposed to a heavy financial burden even outside of standard wages, with one study pegging the average cost per hire at over $4,400.
Robotic solutions take some of the pressure off of warehouses that find themselves consistently short on labor or investing significant resources in training new employees.
Labor and safety are commonly cited as major reasons to move to robotic lift trucks. How are your products designed to improve safety?
Smart: In today's high-turnover warehouse, operations commonly depend on less-experienced employees or workers without substantial experience at a specific site. Distracted or inexperienced lift truck operators may drive too fast, cut corners too sharply, or even drive through prohibited areas, which can lead to mistakes, damage, and injuries.
More than 7,300 forklift-related injuries happen every year. In 2021, the cost per medically consulted injury was $42,000, according to the National Safety Council, and that does not include the cost of property damage.
Compare the variety of risks inherent in a staffing model that relies exclusively on people with one augmented by technology, in which robots follow programmed site-specific rules of the road such as maximum speed or minimum distance from pedestrians.
The consistent, strong performance of navigation technology and site-specific programming enable robots to adapt to surroundings and real-time conditions, while strictly following safety protocols.
This capability helps reduce the risk of accidents, collisions, or other safety incidents, including when compared to lift trucks with human operators. Yale robotic lift trucks are compliant with ANSI/ITSDF B56.5, always default to stop, and sense ground-level obstacles as well as suspended items, such as a ladder on the back of a burden carrier.
How can relieving retention problems increase operational productivity?
Smart: Robotics can help curb employee turnover and maximize workforce productivity by automating repetitive tasks like load transportation and even retrieving or depositing loads from elevated conveyor lines and storage locations.
Augmenting a workforce with automation relieves employees of mundane, repetitive tasks, freeing them to focus on more engaging responsibilities. That shift is meaningful for retaining top talent – according to a Gallup study, organizations with better employee engagement achieve higher performance, including substantially better retention and productivity.
Who can benefit from automated lift trucks
What are some other benefits of automation?
Smart: Investments in automation might seem cost-prohibitive given the upfront spending required, yet robotic lift trucks can actually help cut operating expenses by up to 70%.
In addition to the direct labor savings associated with hourly wages, overtime, and holiday pay, automation can drive savings by drastically reducing costs associated with retraining and re-education, insurance, workers' compensation, and lost time due to illness or injury.
Automation can also help reduce mistakes and increase productivity. Impacts or mistakes may cause expensive damage to inventory, equipment or racking. To replace a damaged lift truck, companies often resort to renting or leasing a truck, which adds unplanned cost.
In anticipation of frequent downtime, companies may even regularly carry more lift trucks than necessary, adding additional units through lease, short-term rentals or outright purchase. Automation is a reliable solution to minimize the risk of costly downtime and unexpected delays.
Simple, routine tasks are prime opportunities for error, such as misplacing inventory or failing to update the warehouse management system [WMS]. The wrong pallet placement may require staff to stop and search for a missing pallet or delay delivery to a customer.
Robotic lift trucks place loads where they are programmed to be placed, reducing costly time spent hunting for misplaced inventory. And because robotic lift trucks are capable of interfacing with the WMS, they can be tracked in real time through a management portal.
Are there particular segments that could use autonomous pallet movers most?
LaFevers: Robotics are a popular consideration in warehouse settings, but they can also be extremely productive performing applications in the manufacturing sector.
For example, a robotic tow tractor can be used in a variety of time-intensive cart and product hauling duties, such as sequencing of parts, moving parts where they need to be when they need to be there to keep finely-tuned production lines moving. They can also be deployed for trash runs, collecting waste throughout the shop floor.
Likewise, a robotic counterbalanced stacker can be used to automate common pickup and drop-off horizontal transport jobs, like picking up loads from elevated pallet conveyors on stretch wrapper and palletizing lines and then transporting them to outbound staging.
Yale focuses in-house R&D
What were some of the biggest challenges in developing autonomous trucks? Do any still remain?
Smart: At Yale, our focus on research and development and technology integration has an established record of bringing technology to market quickly, including hundreds of robotic lift trucks.
Our robotic lift trucks aren't one-off solutions or aftermarket retrofits. They are built in-house, with the robotics components installed during the manufacturing process, offering a tightly integrated package with greater convenience for customers and product consistency.
Because we provide a mature, commercially proven lineup, our robotic lift trucks benefit from experience in a wide-range of real-world applications and continuous improvement.
The challenge for warehouses is that for technology investments to deliver on their promise, integration is critical ... the truck and technology must work together. Robotic lift trucks have different requirements and tolerances than standard trucks.
For example, robotic lift trucks require indoor work settings with clean, smooth, dry floors and ramps or inclines less than three degrees.
While implementing robotics in your warehouse does not have to require massive infrastructure shifts, optimizing workflows and the facility for automation is an important step, and those recommendations are part of the full solution from our team of experts.
This process can help identify considerations that can help provide a more complete solution, such as automated charging, which enables robotic lift trucks to return to a charging station and dock when needed, without an operator or supervisor initiating the charge.
Deployments grow
How widespread are deployments so far, domestically and globally?
Smart: We have approximately 600 robotic lift trucks in the field today.
LaFevers: Robotic forklifts are increasingly being deployed, and we have many active today in manufacturing facilities. Operations that have multiple shifts, repeatable paths, and long runs are typically the best scenarios for robotic lift truck deployments.
Our infrastructure-free navigation enables additional robotic units to be deployed quickly to where the need is most urgent.
Hyster talks training, supervision, and support
How much training does the end user need?
LaFevers: As with all tools, proper safety training and protocols are essential. All employees should be trained on proper procedures for working in a facility where robots are present.
New technology can only be effective to the extent to which it is accepted, so thoughtfully introducing employees to robotics is an important step and opportunity.
Best practices involve proactively informing teams about any changes to the workplace involving robotics, sharing how workflows will change and reinforcing the meaningful benefits of automation — namely, less repetitive work, allowing employees to focus on more engaging value-added responsibilities.
How much supervision or intervention is required? Is there a manual option?
LaFevers: Robotic lift trucks are fully autonomous, though a floor supervisor is needed. A floor supervisor responds if the truck encounters an exception that requires intervention.
Robotic lift trucks locate themselves in real-time by comparing what the navigation laser detects with the reference map, allowing the truck to perceive and interact with its environment in real time, making decisions autonomously. However, to switch a truck from automated mode to manual, an operator simply needs to push a button, step on the truck platform, or take control of the tiller handle.
Who manages support and service of your products? What's the role of integrators?
Smart: Our dealer network is 4,600+ technicians strong, and the same certified Yale dealer who services your manual lift trucks is trained to service your robotic trucks too.
Our network of dealers has front-line experience implementing, supporting and helping customers get the most out of robotics. They are free from the constraints of factory ownership and are instead empowered to focus solely on customer success, matching customers with a solution tailored to their needs and providing the responsive support necessary for real-world results.
ROI and use cases
Is there a typical time to return on investment?
LaFevers: Oftentimes, a customer can achieve a return on their investment in 12 to 18 months in a three-shift application or 18 to 24 months in a two-shift application.
The exact timeline depends on several variables, including the quantity of manual units replaced, quantity of robotic units purchased, total operating hours, and burdened labor rate.
What are some of the latest developments in technology or use cases?
Smart: For warehouses to truly benefit from automation, they need proven solutions, not science fair projects. That's where we can help, with robotic lift trucks that have been tested and approved in a variety of workflows and represent the industry's largest deployed fleet.
Advances in sensors and robotic technology enable Yale robotic lift trucks to automate a number of common tasks. They include clearing receiving docks, putting loads in storage, moving items to areas that support value-added services like kitting and bundling, retrieving inventory, and moving loads to outbound locations.
What plans do you have for automating more product lines?
Smart: At Yale, our design process is driven by our customers and their challenges. As part of our process, we closely consult with customers, understanding the realities of their applications, and we rigorously test and refine based on customer feedback.
About the Author
Eugene Demaitre
Eugene Demaitre is editorial director of Robotics 24/7. Prior to joining Peerless Media, he was a senior editor at Robotics Business Review and The Robot Report. Demaitre has also worked for BNA (now part of Bloomberg), Computerworld, and TechTarget. He has participated in numerous robotics-related webinars, podcasts, and events worldwide. Follow Eugene:
Follow Robotics 24/7 on Facebook
Article topics
Email Sign Up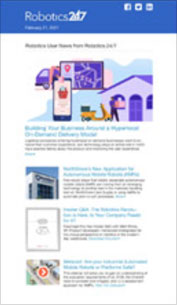 Get news, papers, media and research delivered
Stay up-to-date with news and resources you need to do your job. Research industry trends, compare companies and get market intelligence every week with Robotics 24/7. Subscribe to our robotics user email newsletter and we'll keep you informed and up-to-date.
Yale Lift Truck Technologies