Liquid handling can be a tedious and hazardous task for laboratory personnel. Copenhagen, Denmark-based Flow Robotics A/S, which makes the flowbot ONE system to automate pipetting tasks, this month announced the establishment of a North American subsidiary. Princeton, N.J.-based Flow Robotics Inc. will bring flowbot ONE to wider academic, healthcare, and pharmaceuticals markets.
"We are excited to expand our operations in North America," said Annika Isaksson, CEO of Flow Robotics. "The flowbot ONE helps labs achieve a more sustainable setup by taking over many repetitive and burdensome manual pipetting tasks. In turn, lab personnel can engage in other, more valuable activities. flowbot ONE also reduces human error and work-related injuries, resulting in an overall increase in lab productivity, where humans and robots can work in parallel."
Flow Robotics estimated that about half of medical lab technicians carry out the same arm movements for at least a quarter of their working day. Manual pipetting can involve hours of repetitive work in fixed positions, resulting in strain to the shoulders, arms and hands, the company noted.
The American Society for Clinical Pathology found that 85% of laboratory professionals suffer from burnout, 36% struggle with inadequate staffing, and 32% face a heavy workload and pressure to complete all testing on time.
Flow Robotics based on user-friendly vision
Flow Robotics spun out of the IT University of Copenhagen in 2015.
"Kasper Støy, a member of our board of directors, was a co-founder of Universal Robots," Isaksson told Robotics 24/7. "While industrial automation has been available in manufacturing, he saw a missing segment in small, easy-to-use robots. He realized the concept of making automation available to everyone."
"We're not targeting big production machines; we're targeting hand mixers," she said. "We wanted to create a handheld tool for the lab to do simple tasks."
For a relatively small country, Denmark has an outsize presence in the global robotics ecosystem. Why is that?
"I moved from Sweden to Denmark, and in the Danish culture, people are encouraged to experiment," Isaksson said. "It's a 'can-do,' 'beta test' culture, which makes a big difference. Also, there is the outspoken political ambition to make a name in robotics, so there is funding for universities."
Ease of programming a feature
According to Flow Robotics, flowbot ONE does not require advanced programming skills. The robot can integrate with other devices, and it supports the import and export of data.
"Our biggest competitor is manual pipetting," said Craig Cardella, vice president of sales and general manager for North America at Flow Robotics. "To switch to automation, people have to feel they can do a one-off or repeating task."
"The flowbot ONE is able to run within half an hour. Setting up a manual operation on a bench would take as long," he said. "And it can be programmed from a tablet."
"When COVID-19 hit, we had just gone into the market, and hospitals couldn't take in new automation," recalled Isaksson. "We went out to one hospital, and after one hour, flowbot ONE could be used. Then there was the realization that it was so simple—three people could do the job instead of five people, and microbiologists were in short supply."
Flexibility built into flowbot ONE
"The ease of use and being able to retask the system for a new setup are differentiators for flowbot ONE," Isaksson said. "We've had success with organizations doing tests with an array of robots rather than one big robot."
"The flowbot ONE can have multiple heads—a single, four-, or eight-channel head—with different volume ranges," Cardella said. "The lab worker can reconfigure it to do a sample transfer with a single head and put a reagent into microplates or four or eight vials. Plate dispensing is not so difficult to do with our software."
"With Flow Robotics' drag-and-drop interface, everything that takes more than 10 to 15 minutes to do by hand can be programmed," added Isaksson.
Not only can flowbot ONE reduce repetitive motion and allow for easy reprogramming, but it also reduced the time for diabetes diagnoses by 30%, she said.
"At Unilabs, the system increased lab productivity by 40%, and at Nordic Bioscience, hands-on lab time was reduced from more than two hours to just 20 minutes when running up to eight biomarkers simultaneously," Isaksson said. "flowbot ONE can help with staff burnout and turnover and eliminate human error."
Robots demonstrate value during pandemic
Although Flow Robotics had been marketing flowbot ONE in Europe for two years, the global pandemic demonstrated how robots could help increase efficiency and worker safety.
The system pipettes the live virus and handles several samples simultaneously, working from a predefined pipetting pattern. flowbot ONE is being used for more than 600,000 tests per month.
"Some hospitals said our system kept their teams safe, as it moved samples from swabs for PCR testing," said Isaksson. "In Denmark, which has just relaxed restrictions, we can get tested on the street and get results within four hours."
"Before, there was a resistance to complex robots," she said. "We showed there was an easier way to do automation and have had breakthrough success. We've also refined our installation procedures, which we do mostly online."
Meeting market needs
Flow Robotics already sells flowbot ONE in 15 countries, but its executives were eager to expand into the U.S. market. Did bringing flowbot ONE to North America require any changes to the technology?
"We have CE and FTC certification," replied Isaksson. "We changed the power supply, but it's the same product."
"We've just opened our U.S. office, and we have equipment and a base of operations," said Cardella. "We will go through direct sales, as well as with distribution partners for biotech, hospitals, and CROs [contract research organizations]—wherever we can find partners."
Although flowbot ONE can have different users, it is designed to be simple enough so that it doesn't require much customization, Cardella explained.
"We have single, simple product that can reach broad segments," noted Isaksson. "It could have food and beverage, agricultural, or veterinary applications."
At the same time, Flow Robotics will introduce changes based on customer requests for new features. "For customers that want to do more than the standard desktop model, we're working with integration partners," said Cardella.
"We have an agile team that can implement changes very quickly and service locations to push out software changes in pulses," Isaksson said. "CROs are looking for a connected array of robots, while other customers may be looking for workflows integrated with robot arms. Healthcare providers may want to push a single button and need less flexiblity."
"We're building awareness and want to push the market," she said.
About the Author
Eugene Demaitre
Eugene Demaitre is editorial director of Robotics 24/7. Prior to joining Peerless Media, he was a senior editor at Robotics Business Review and The Robot Report. Demaitre has also worked for BNA (now part of Bloomberg), Computerworld, and TechTarget. He has participated in numerous robotics-related webinars, podcasts, and events worldwide. Follow Eugene:
Follow Robotics 24/7 on Facebook
Article topics
Email Sign Up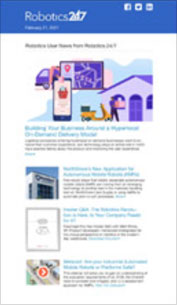 Get news, papers, media and research delivered
Stay up-to-date with news and resources you need to do your job. Research industry trends, compare companies and get market intelligence every week with Robotics 24/7. Subscribe to our robotics user email newsletter and we'll keep you informed and up-to-date.
Flow Robotics