To improve case-picking productivity, logistics provider GEODIS had to reimagine its processes as it added mobile robots to its Indianapolis campus. Vecna Robotics yesterday said GEODIS had nearly doubled throughput by combining the capabilities of robots—and humans.
In covering yesterday's announcement, Robotics 24/7 spoke with Anthony Moschella, senior vice president of product management at Vecna Robotics. In addition, Alan McDonald, vice president of continuous improvement at GEODIS, provided his company's point of view about the deployment and the returns from robotics as an end user.
GEODIS addresses a common pain point
How did GEODIS identify case picking as a task to automate? What was your pain point?
McDonald: Case picking is a nearly universal function across our more than 155 warehouses in the Americas region, so it was a natural area within the four walls we identified could have major benefits in terms of efficiency, productivity, and more if we could automate.
At the same time, case picking industry-wide has not been improved upon significantly in decades outside of infrastructure-heavy solutions. We were looking for a robotics vendor we could collaborate with on a flexible automated solution to resolve an unmet need in the market.
Specifically, case picking involves a significant amount of lifting of full cases for teammates. With today's labor market, it's increasingly difficult to identify workers with the specialized skills it takes to operate this type of equipment.
By leveraging Vecna Robotics' autonomous mobile robots [AMRs], we have been able to improve both the teammate and customer experience by rethinking the human-robot interaction by combining the strengths of both.
How did GEODIS choose Vecna Robotics as a partner?
McDonald: We have worked with Vecna Robotics for nearly four years deploying other technologies successfully together, so we already had a great relationship established. We knew Vecna Robotics had proven capabilities—especially with the size of vehicle we were looking to deploy for this type of solution.
We spoke with Vecna Robotics about the possibility of co-developing a cutting-edge solution that could offer a way to improve case-picking workflows. They expressed interested in developing this functionality, and it was a true collaboration across our teams to arrive at the solution we currently deploy at our Indianapolis campus.
Testing Vecna robots increased throughput
The initial tests used Vecna's Autonomous Pallet Trucks. How did they go? Why will you be moving to Collaborative Pallet Jacks?
McDonald: Initial tests used Vecna Robotics' Autonomous Pallet Trucks simply because the functionality had not yet been developed for the smaller Collaborative Pallet Jacks.
We're moving to collaborative pallet jacks largely because they are nimbler, offer more flexibility to get in and out of tight spots within the warehouse, and contribute to less congestion in the aisles.
Were you surprised by the throughput increases?
McDonald: Throughput increases were on par with what we expected to see. We ran several versions of a simulation prior to deployment that provided us a good sense of the type of throughput improvements we could expect.
Additionally, we utilize a number of other collaborative robots outside of case picking across our other facilities. That also provided us a general sense of what type of throughput increases we could realize by deploying an autonomous solution such as this.
Were you already familiar with the Pivotal software? How much input did you have on the extension for case picking?
McDonald: We were familiar with the Pivotal software because we used it in our previous project with Vecna Robotics at our Dallas warehouse.
We had significant input on the extension for case picking. Essentially, we told them how we needed our process to flow, and they adapted to that.
It was truly collaborative across both parties to identify our previous process, the requirements for moving forward, the areas we could potentially change, and more.
GEODIS uses multiple mobile robots
Is GEODIS using other AMRs in its facilities besides those of Vecna?
McDonald: Yes, GEODIS utilizes a number of mobile robot providers across our facilities. In the Americas region specifically, we are continuing to rapidly integrate robotics into our warehouses.
These robots are sourced from multiple vendors such as Vecna Robotics, Locus Robotics, Exotec, KNAPP, Bastian Solutions, Fetch, Robopac, Grenzebach, and Tennant. They are spread across many different campuses and buildings for a wide variety of clients.
Do you envision conducting both distribution and fulfillment in the same facilities? How could robots help both functions?
McDonald: We currently do both distribution and fulfillment—for example, sending product to other DCs and fulfilling store orders—out of many of our facilities and expect to continue to do so with this type of robotic technology.
Robots can help with both functions through a number of ways. For example, utilizing robotic technology for distribution and fulfillment can help offset the labor challenges that can come with the huge swings in demand experienced during peak season, as well as reduce training time.
Looking forward to ProMat 2023
What are you looking forward to seeing at ProMat in Chicago next week?
McDonald: During ProMat 2023, I'm looking forward to seeing a showcase of both the industry's new technology and new players, but also how the more mature companies are adding to their technology stack functionalities to best navigate the current landscape.
There is never a shortage of interesting conversations at ProMat on today's current challenges and how we can best navigate them together.
Editor's note: For more about ProMat 2023, visit Robotics 24/7's special coverage page. Vecna Robotics will be exhibiting at Booth N7133.
About the Author
Eugene Demaitre
Eugene Demaitre is editorial director of Robotics 24/7. Prior to joining Peerless Media, he was a senior editor at Robotics Business Review and The Robot Report. Demaitre has also worked for BNA (now part of Bloomberg), Computerworld, and TechTarget. He has participated in numerous robotics-related webinars, podcasts, and events worldwide. Follow Eugene:
Follow Robotics 24/7 on Facebook
Article topics
Email Sign Up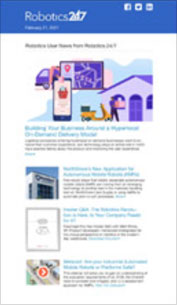 Get news, papers, media and research delivered
Stay up-to-date with news and resources you need to do your job. Research industry trends, compare companies and get market intelligence every week with Robotics 24/7. Subscribe to our robotics user email newsletter and we'll keep you informed and up-to-date.
Vecna Robotics