The MassRobotics AMR Interoperability Standard allows autonomous mobile robots, or AMRs, from different manufacturers to share their capabilities along with basic information, such as their locations and what they're doing.
The objective of the standard is to enable different mobile robots to work together effectively in the same warehouse or factory floor. However, as the interoperability standard is used only to observe how AMRs operate, vendors are not required to share the proprietary maps that their robots use to move around.
Although compliance with the standard is not mandatory, it will likely help boost the adoption of robotics by end-user companies.
"The ability to have multiple robots from different vendors operating in the same environment —as the market matures, this is going to happen," said Tom Ryden, executive director of MassRobotics, in a Robotics 24/7 article. "If you have a robotic forklift and a floor cleaner, how can they talk to each other?"
MassRobotics rolled out Version 1.0 of the interoperability standard in May 2021. Since this version is complete, any automated vehicle manufacturer can implement it. The documentation is available on GitHub.
The first public demonstration of the MassRobotics Interoperability Standard took place during the Association for Advancing Automation's (A3) 2021 AMR and Logistics Conference in Memphis. FedEx hosted the demo at its DART lab, where the company tests logistics automation systems.
At A3's 2022 AMR and Logistics Week in Boston, MassRobotics and its partners said they are working on Version 2.0 of the standard. It would establish a mission communication API to prevent too many robots from attempting to use the same optimized route simultaneously.
The group behind the standards effort
An independent non-profit organization, MassRobotics supports initiatives to advance robotics in Massachusetts and elsewhere. The MassRobotics AMR Interoperability Working Group includes a number of robotics and software vendors, including InOrbit, Vecna Robotics, and Locus Robotics. Their stated intent is to enable any company to deploy robots and other equipment that can work together in the same warehouse or factory space.
Initially, the working group decided to keep the protocol simple so all companies could easily adopt it. As such, it focused on sharing basic robot-to-robot information rather than task management.
"Another piece of software, such as a fleet management system, can understand what robots are doing, and every vendor has one," Ryden said. "This is not a task management type of system, and we're not tackling power management at this stage. It's very challenging, and it will be some time before there's a master control for all robots."
What the MassRobotics standard Includes
Under the MassRobotics Interoperability Standard, data is structured in a format that enables any automated platform that can move around in an industrial setting—including AMRs, automated forklifts, and automated guided vehicles (AGVs) — to communicate more effectively. In addition, human workers can also share the same standardized data, such as their locations, using mobile devices.
The information each robot will share includes:
Its current location and future destination
A unique identifier number
A timestamp that identifies when the data was collected
The name of the robot's manufacturer, the robot's model, and its dimensions
The robot's operational state, i.e., is it active or idle, available, or not available
Its speed and direction
It's important to note that the MassRobotics Interoperability Standard isn't a fleet management, vehicle navigation, or safety system. Consequently, vehicles that comply with the standard would still need separate navigation and safety systems.
In addition, the working group has determined that the standard will not address hardware changes such as shared chargers or other types of robots, like robotic arms. MassRobotics said it welcomes any interested parties to join the ongoing effort.
MassRobotics AMR Interoperability Standard vs. VDA 5050
VDA 5050 is the forthcoming European standard for AMR and AGV interoperability. It is a standardized interface between mobile robots and back-end software including the central control system.
This standard stems from the collaboration between the VDMA, an association of German and European mechanical and plant engineering companies, and the German Association of the Automotive Industry (VDA). Even though German organizations are developing VDA 5050, industry observers expect it to reach widely across Europe and other regions.
The two standards have different objectives. VDA 5050 aims to enable AGVs and AMRs from multiple manufacturers to work together using one common fleet management system, while the MassRobotics standard focuses on sharing basic data.
Since the VDA 5050 standard and MassRobotics AMR Interoperability Standard are not conflicting protocols, a mobile robot should be able to use both.
About the author
Kap Choi is area sales manager, USA, at BlueBotics SA. The St-Sulpice, Switzerland-based company demonstrated its Autonomous Navigation Technology (ANT) natural-feature approach to AGV and AMR interoperability at this year's ProMat, Automate, and WIN Eurasia. This article is posted with permission.
Article topics
Email Sign Up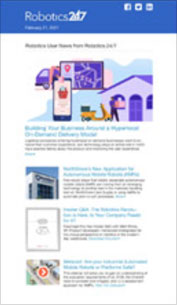 Get news, papers, media and research delivered
Stay up-to-date with news and resources you need to do your job. Research industry trends, compare companies and get market intelligence every week with Robotics 24/7. Subscribe to our robotics user email newsletter and we'll keep you informed and up-to-date.
MassRobotics