Not only can exoskeletons help workers and people with disabilities, but they can also collect and deliver useful data to users, managers, and clinicians. German Bionic Systems GmbH said it has developed On-Site Intelligence for its fifth-generation Cray X industrial exoskeleton.
German Bionic said the Cray X is "the world's first connected exoskeleton." The upper-body wearable device learns to reinforce the wearer's lifting movements, maintain correct posture, and make quantifiable improvements to work processes, claimed the Augsburg, Germany-based company.
It launched the Cray X in December 2021 and demonstrated it at Multimodal 2022 in Birmingham, U.K., in May and at the ASSP Safety 2022 conference in Chicago in June.
Norma Steller, chief product officer at German Bionic, spoke with Robotics 24/7 about development of the exoskeleton. She has experience in logistics and is responsible for software development, artificial intelligence, and the Internet of Things (IoT) at the company.
Use cases for the Cray X
For which tasks or industries are German Bionics' powered suits most useful?
Steller: Those devices bring most value for workers and companies in warehouse logistics. Most processes are not yet automated, even in the big car manufacturers, where robot arms have taken much of the heavy work.
In warehouse logistics, the vast number of goods of different sizes and weights are moved manually—including for loading, unloading, packing, picking, and commissioning. Our main use cases are where pople have to move things or where it's too expensive or flexible to hire robots.
This is not only logistics, but also in construction and completely different areas, such as a project in large hospital where an exoskeleton might be useful for nursing, elder care, and disaster recovery.
We also talk about efficiency—how can robots help normal people improve efficiency?
What has German Bionic learned from its customers?
Steller: One warehouse edge case recently brought us to a new feature. We sometimes see that people walk more than we anticipated. A really extreme example was 11 to 12 km [6.8 to 7.4 miles] a day.
We don't have such use cases very often, but we got them more frequently as we moved from warehouses to outdoor uses. The lift-to-walk ratio was more in favor of walking than lower-back assistance, which led to walking support in our newer-generation device.
It's not that people can't walk, but the Cray can save them a bit of energy. We see the whole system as one, taking in both the person and exoskeleton.
German Bionic considers training and endurance
How much training do Cray X wearers need?
Steller: Onboarding is the most important success factor. We always take the worker as the primary lead of the project. With the Cray's embedded software, the operating system is built as an assistive system.
We have a built-in display and interface that asks people when they put it on, "Can you walk 10 steps? Can you lift something and put it down?" The exoskeleton asks if you want to adjust the support, and you can review the level at any time.
We have a lot of other features in the pipeline. If a belt is loose, the exoskeleton could advise the wearer to tighten it. Another is recommendations for ergonomics. We have all this data about how much strain is put on the left leg, for example, and it can notify workers and supervisors.
We want to take advantage of onboard computers but not distract workers too much.
How much customization is necessary for an individual user?
Steller: We've seen active powered and passive systems. Both have the mechanical limtation that it's hard to fit all sizes and body types comfortably. It's super-subjective.
Height and weight don't say how users move and how they compensate for different strain or pain. We make sure to fit 95% of users, with some adjustments. The holy grail of exoskeletons is to find the right materials.
Passive systems with springs or elastic have their uses, but they still don't take into account how even one person can vary from day to day. Perhaps the worker is tired or sore after a game last night.
That's where software comes in. It can determine if the robot is really assisting you, and it can adapt. We go one level deeper with customization than most other exoskeleton providers.
How long are the exoskeletons typically worn?
Steller: It depends on the ratio of how often an employee lifts versus walks. Where are there lapses in workflow that reduce efficiency? Is each worker lifting with an ergonomically correct posture?
Depending on the setting, if the exoskeleton is giving everything it's got, the battery can last three to four hours. For a normal job, it can run for up to eight hours. Runtime isn't really an issue—our hot-swappable batteries are accesible from the outside, and the workers themselves still take breaks.
On-Site Intelligence can provide valuable data
Is On-Site Intelligence passive or active? Does it differ between developers and customers?
Steller: Both. Customers had certain requirements, like the suit had to be comfortable for wearing.
Originally, the Cray had the benefits of an active system but was not connected. We know that it makes sense to adapt an exoskeleton to an individual's movement. We have to collect data for each user to improve the experience.
We wanted to improve control, including how the exoskeleton was steered, how much force was required, and individual movement patterns.
It's a matter of inclusiveness—not only a typical 150 kg [330 lb.] male, but also a lot of other users. We decided not to find a focus group and to deploy the technology and learn on the go.
We can monitor the exoskeleton and learn usage patterns, use cases, and some byproducts of data to give insights into what the wearers are actually doing. We focused on the worker and the warehouse superviser. I want to make sure the worker understands what the suit is doing. Everyone thinks they're invincible until something happens.
What data do operators and supervisors see?
Steller: German Bionic wants to help people see what the Cray is actually doing and how they can benefit. The exoskeleton tells the worker what it's doing: "I lifted five elephants today so you didn't have to." It's like getting help with walking five miles a day.
In doing that, we saw acceptance increase as people got an understanding of the device. We don't want workers to be passive; it should be fun.
Supervisors can see time and workloads. Complying with strict European and German regulations for data, our system only provides insights into its performance, not that of the worker. We want exoskeletons to be used in a positive way, not to force people to be uncomfortable or observed.
Data can also help supervisors understand and plan processes. It's also easier to update software than hardware.
Feedback and acceptance
How have users reacted to the Cray X so far?
Steller: When German Bionic talks directly with workers, feedback has been overwhelmingly positive, and user-acceptance ratings have been very high. However, German Bionic's engineers are still working to better understand data from certain verticals to find the right settings.
When we look at different customers, the better the feedback, the more people are educated in ergonomics. Companies not on the forefront of safety technology may try to use robotics as a "silver bullet." People may not be prepared. That's why we spend a lot of time explaining things to workers.
Supervisors are more easily convinced of the Cray X's value—workers are not exhausted or injured, and productivity can increase.
How do you explain AI and robotics to workers who are worried about their jobs?
Steller: We are proud of the adoption of our exoskeleton, as well as our machine learning applications. When most people talk about AI, they imagine something bad. We want to give people access to technology that assists rather than replaces workers.
We want to keep the critical thinking of people plus robotic capabilities for dangerous tasks such as heavy lifting or working in hazardous environments.
Where else could wearable assistive devices be useful?
Steller: Even though nursing is not our primary focus, it's an interesting area for exoskeletons. In that case, we not only have a human-machine interface, but the technology could also help take care of another human being.
The hospital environment is also very different from a warehouse. Active exoskeletons can be loud, and operators may need their hands free, so we'd need to develop a bit more autonomy.
As long as you have robots, they will need to call people for help. People need purpose. My family is proud to be construction workers, so for German Bionic, it's not about finding a cheaper labor but offering society the intelligence of a person with the power of a robot.
About the Author
Eugene Demaitre
Eugene Demaitre is editorial director of Robotics 24/7. Prior to joining Peerless Media, he was a senior editor at Robotics Business Review and The Robot Report. Demaitre has also worked for BNA (now part of Bloomberg), Computerworld, and TechTarget. He has participated in numerous robotics-related webinars, podcasts, and events worldwide. Follow Eugene:
Follow Robotics 24/7 on Facebook
Article topics
Email Sign Up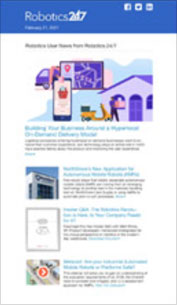 Get news, papers, media and research delivered
Stay up-to-date with news and resources you need to do your job. Research industry trends, compare companies and get market intelligence every week with Robotics 24/7. Subscribe to our robotics user email newsletter and we'll keep you informed and up-to-date.
German Bionic