Last month, GreyOrange Inc. received recognition as the "Customer Impact Technology Leader" in Quadrant Knowledge Solutions' SPARK Matrix report on autonomous mobile robots, or AMRs. The company was named because of its Ranger AMRs and GreyMatter Fulfillment Operating System, or FOS.
"GreyOrange's robust product portfolio and initiative to combine AI/ML [artificial intelligence and machine learning] and robotics assist organizations in optimizing operations and meeting fulfillment needs," stated Akshaysingh Chandel, an analyst at Quadrant Knowledge Solutions.
"GreyOrange offers a dynamic master framework that can integrate with Ranger Robots and GreyMatter software to deliver agility, accuracy, and optimal workflows for efficient fulfillment outcomes," he added.
SPARK Matrix report identifies market leaders
Quadrant Knowledge Solutions' SPARK Matrix report analyzed the global AMR market and ranked leading vendors. It cited GreyMatter's ability to integrate with robots and provide a visual representation of performance to inform decision-making.
"The GreyMatter intelligent Fulfillment Operating System (FOS) from GreyOrange uses real-time and predictive data to collaboratively orchestrate how and when orders are filled by people, the company's AMRs, and other companies' robots and automation agents that have been certified to the Ranger standard," said Chandel.
The report also noted that GreyOrange is relevant to industries including e-commerce, omnichannel retail, electronics, fast-moving consumer goods (FMCG), healthcare, and third-party logistics (3PL), among others. The company also has a strong presence in North America, followed by Europe and Asia-Pacific, as well as a growing presence in Latin America.
"With our customers' need to outperform their competitors at the forefront of our innovative advancements, our AI-enabled software allows our customers to upgrade any robot to help meet consumer demands for speed, quality, choice, accuracy, and sustainability," stated Samay Kohli, co-founder and CEO of GreyOrange.
The Roswell, Ga.-based company in May raised $110 million to continue its growth.
Kohli spoke with Robotics 24/7 about how GreyOrange is helping supply chains deal with labor shortages and other challenges.
SPARK recognition and global growth
What does this recognition mean to you?
Kohli: Frankly, we didn't know where we'd end up with it, but we just wanted to be open. The SPARK process was extremely thorough.
Our industry is very enamored with cool robots, and a lot of companies will do demonstrations. ... I'm grateful to the clients that gave references. Most of our clients have now had sites running for a couple of years. They know [our equipment] is real; it's not just pilots.
As GreyOrange expands on multiple continents, is the demand different between regions?
Kohli: We've continued to grow in North America, and we're very focused on investment in Europe.
Outside of that, our customers are taking us into different continents. We work with some of the top 1,000 retail brands in the world, and they have multi-continent deployments.
For us, our challenge has been more around education. In EMEA, specifically Western Europe, companies are used to buying rigid automation, where the software like PLCs [programmable logic controllers] are baked in.
If you take our robots, which are flexible right now, no two days are the same, so AI matters a lot. That was the initial hurdle to what we're doing, but the good thing is that people want to be educated. The SPARK recognition will help grow awareness.
GreyOrange scales deployments
How are you continuing to refine the GreyMatter FOS as deployments scale?
Kohli: Quarter over quarter, it's really growing. The most important one for our clients is reliability at scale. That's where one side of GreyMatter has gotten mature.
We're now active on really large sites with up to 800 robots running, shipping 200,000 orders a day. We've been able to achieve 99.97% uptime on GreyMatter. We were at 99% a year ago, and as you know, adding another 0.97% is a whole different matter.
For three big brands, we run 50% to 60% of their North American volume.
It's really about, "Is this going to be a robust system? I won't be able to recover from a 10-minute downtime."
We've really been spending time on building this language that is fault-tolerant. You can have subsystems that can go down, but they can reboot themselves and essentially self-fix. That's a big piece of our deployment at scale.
How does GreyOrange help with warehouse management and consolidation?
Kohli: We started realizing that if you want to run these facilities at their full capacity, GreyMatter needed to move from robots and the humans around them to multi-agent orchestration.
Second, if you run high-throughput systems, you need to make sure your inbound is working well. You're also need to load the right inventory, and you need to get stuff out of the building fast enough. It's not abut one or two good hours.
The third improvement has been that GreyMatter is increasingly hardware-agnostic. We were already on this journey two years ago. We now support six third-party robots. We've accelerated that even further because we've come to realize that this is a big win for both the customer and the robot manufacturers.
Fetch is on our platform, and now HAI Robotics is on our platform. To be able to scale to large operations, they need to do inventory orchestration, which is everything GreyMatter does. We're even expanding to Zebra devices, which has just been amazing.
GreyMatter as a multi-agent manager
Can you explain how the command center delivers real-time insights? Does it interface with existing warehouse management and execution systems?
Kohli: You should look at it as the GreyMatter multi-agent link. The way Command Center works for us is less about the robots, and much more about operations flow. How's your productivity going; what's your inventory flow?
It actually has forecasting capability, like reading the weather. Depending on how many people have showed up and how the robots are running, it can say, "You will miss 15 orders today in your cutoff of four hours," for example. "And here are the three things you can do to minimize that gap."
It can provide insights such as "You can move these two people from inbound to putaway or picking, or you use some inventory which is missing in the forward area." It's tying that loop. This command center is much more about fulfillment KPIs [key performance indicators], and a small part of it is managing what the robots are doing.
You mentioned that your software works with multiple robots. Is GreyOrange following interoperability standards efforts?
Kohli: We believe the future is in coexistence. We see what a lot of industry bodies are doing and the multi-robot standards efforts. We're actually moving towards the multi-agent approach. It's important to view what humans, elevators, and conveyors do.
We also have visibility into Wi-Fi routers and RFID. We recently launched the gStore app under GreyMatter, which gives you real-time inventory visibility in a retail store.
How does GreyMatter handle software integration?
Kohli: Usually, we're integrated with two or three upstream systems like WMS [warehouse management systems], ERP [enterprise resource planning], or a shipping system module. In addition to the conveyors, there's one customer site where we actually manage about 25 elevators. This is all operating at scale.
Most modern conveyor-belt systems are like PLCs and have a dashboard where you can go in and see the data, and you have Cisco routers, Zebra dashboards, but it's just so overwhelming. Devices are generating anywhere from 1 million to 2 million signals a second, so there's no point in showing people all that information. It's not insightful.
But we do forecasted maintenance, for example. We also look at past trends. We know what your lull periods are and where you have excess capacity. And that's when it sends the robots for charging and maintenance activities. Because again, it's not about reading the weather, it's what you do with all the data.
Industries and use cases
As GreyOrange serves multiple industries, do you have to tailor GreyMatter in any way to different use cases?
Kohli: We slice industries a little differently. We don't look at them as e-commerce or 3PL; we slice them from core industries. So home improvement, fashion, general merchandise, spare parts.
Our systems are inherently omnichannel. COVID was a stress test—we had multiple sites that literally went from 10% e-commerce and the remainder retail to 100% e-commerce. We support ship from store to pickup from ordering online and all the permutations.
GreyMatter is not customized per customer site. We're a SaaS [software-as-a-service] platform, and all our customers share the same services. The customizations are in the upstream integration, as wholesale warehouses decide which algorithm to use—theirs or ours.
We help run massive wholesale facilities, business-to-business parts replenishment, and robots as pickup lockers inside a store. All of that is on the GreyMatter SaaS platform.
About the Author
Eugene Demaitre
Eugene Demaitre is editorial director of Robotics 24/7. Prior to joining Peerless Media, he was a senior editor at Robotics Business Review and The Robot Report. Demaitre has also worked for BNA (now part of Bloomberg), Computerworld, and TechTarget. He has participated in numerous robotics-related webinars, podcasts, and events worldwide. Follow Eugene:
Follow Robotics 24/7 on Facebook
Article topics
Email Sign Up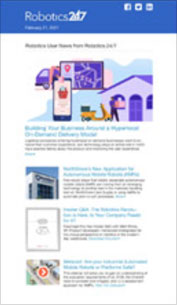 Get news, papers, media and research delivered
Stay up-to-date with news and resources you need to do your job. Research industry trends, compare companies and get market intelligence every week with Robotics 24/7. Subscribe to our robotics user email newsletter and we'll keep you informed and up-to-date.
GreyOrange