The drive to add automation to warehouses, distribution centers, and order-fulfillment facilities is not just a matter of deploying some mobile robots. Operations must understand their processes, choose the best people or robots for certain tasks, and deploy the right software to manage multiple systems. The need for efficiency has never been greater, as the COVID-19 pandemic continues and retailers deal with back-to-school sales and the approaching holiday season, according to GXO Logistics.
"When we talk about warehouse automation, it's clearly an ecosystem," explained Sandeep Sakharkar, chief information officer at GXO Logistics. "We've evaluated automation across the board—not just robotic movement and picking devices like robot arms or devices for induction into totes. We're also seeing small pick improvements because of computer vision."
GXO Logistics focuses on contract logistics and transportation services worldwide. The Greenwich, Conn.-based company has 869 warehouse locations and about 94,000 employees in 27 countries. It spun off from XPO Logistics and launched on the New York Stock Exchange last month.
Logistics struggles with labor shortfalls
Despite increases in unemployment, retailers and supply chains are struggling with labor shortages. There were 1.1 million open jobs in retail in June, according to the U.S. Bureau of Labor Statistics. How is GXO Logistics helping companies manage?
"Our strategy is to work hand in hand with employees," Sakharkar told Robotics 24/7. "The types of solutions we use are a big driver for attracting talent. In addition to increasing efficiency and productivity, collaborative robots can also improve worker safety."
"We have a history of working in a certain way, which helps with attracting and retaining staff," he said. "When we deploy a technology, it's a live example of what it can do in real life in terms of higher productivity, less waste, and making the environment safer."
"We also use virtual reality as a tool for training employees with demonstrations of less-than-truckload automated systems," said Sakharkar. "It can even be used to augment recruiting, which is a fascinating use case."
As a new spinoff, GXO Logistics is hiring worldwide. "We're a very tech-centric organization," Sakharkar said. "We create a baseline for talent from the parent company. For automation, certain areas are in high demand in all the countries we operate in."
"Typical in-demand roles are in data science, AI, UI/UX [user interface and user experience], and the cloud," he added. "We offer game-changing projects for cusomers and industry-leading compensation and benefits."
GXO evaluates automation, AI
"When we discuss warehouse automation at GXO, we look at four areas," Sakharkar told Robotics 24/7. "There's physical automation, such as robots for sortation. There's different software and applications for smart logistics, and there's data as we move from traditional reports to real-time predictive analysis, thanks to artifiical intelligence and machine learning."
"The initial uptick in robotics and AI was in AGVs [automated guided vehicles] and AMRs [autonomous mobile robots]," he said. "The industry has moved more and more from proofs of concept to operationalizing and contextualizing the specific needs of customers. There's a need for holistic solutions."
What about collaborative robots? "We've deployed a few cobots out of the 3,100 in our warehouses," replied Sakharkar. "They have evolved in terms of speed, accuracy of movement, and the sensors that can be used. We've piloted and tested all kinds of new capabilities, and we typically use cobots in goods-to-person picking."
"We use AMRs for things like tramming, the guided movement of products and bins," he added. "When it comes to industrial automation, we also deploy automated lifts for the movement of pallets. For automated storage and retrieval systems [ASRS], it depends on the size, shape, density, and weight of the product. We'd deploy it in the right place."
Interoperability and customer service
As production and logistics environments start to use multiple types of robots from different vendors, interoperability and management have become concerns. Is GXO monitoring efforts by organizations such as the Association for Advancing Automation (A3), MassRobotics, and the Robot Operations Group (ROG)?
"We are keeping abreast and have a dialogue with robotics vendors," Sakharkar said. "Ultimately, orchestration is critical in two dimensions. We bring our expertise in contract logistics to connecting the dots and finding optimized orchestration for any given situation, based on customer needs."
"Second, in terms of collaborating with vendors, we work with best-of-breed technologies," he said. "We're looking at the latest technologies and POCs [proofs of concept] and then see what use cases to progress further."
While there is a lot of talk about the "factory of the future," automation has a role to play in any supply chain now, acknowledged Sakharkar.
"The differentiation that we make and that customers look for is specialized knowledge and understanding of robotics, automation, and AI," he said. "We understand the dynamic ecosystems of customers, their current product spend, and timelines. GXO has a very engaged sales process, focused on the value proposition."
Contract logistics to grow with e-commerce
With its ability to scale services and automation, contract logistics will continue to grow, said Sakharkar.
"Most 3PLs [third-party logistics providers] are looking at their networks at the node level, the network level, and the warehouse level," he said. "Outsourcing to companies like GXO has huge tailwinds, given the volatility in industry and unabated growth of e-commerce during the pandemic."
"If you look at the broader $130 billion industry for contract logistics, we're No. 2 at 5%—it's very fragmented," Sakharkar said. "We have a broad customer base, including consumer packaged goods, food and beverage, and aviation. Retail and e-commerce are the fastest-growing, accounting for 40% of our revenue."
"E-commerce as a percentage of retail is here to stay," he said. "The growth trend was evident even before the pandemic. GXO deploys technology to predict upcoming needs for labor forecasting and planning, using real-time historical data and AI modeling. Our customers can use technology to be ahead of the curve."
Another area of interest for automation is the grocery industry. "We operate one of the largest frozen and cold warehouses in the Netherlands," said Sakharkar. "We're now piloting an AMR and testing ambient versus cold, from proof of concept to operations."
"We're also testing the Lowpad AMR in grocery," he added.
GXO keeps testing tech
GXO Logistics is planning to advance in all four technical areas in the coming year, according to Sakharkar. "Most of our objectives are around technology," he said. "We're trying, testing, and piloting purposeful solutions, as well as commercializing them in a cost-effective manner."
"We have two labs, in the U.S. and Europe, for research and development within a certain timeline," said Sakharkar. "We want to prove their value around use cases and the types of technology. In a post-pandemic world, everyone will need to scale automation."
"We're always looking for new and disruptive partners," he said. "GXO has an existing inventory of partners that can co-create value and generate ideas—specifically in data science, AI and machine learning, and robotics."
About the Author
Eugene Demaitre
Eugene Demaitre is editorial director of Robotics 24/7. Prior to joining Peerless Media, he was a senior editor at Robotics Business Review and The Robot Report. Demaitre has also worked for BNA (now part of Bloomberg), Computerworld, and TechTarget. He has participated in numerous robotics-related webinars, podcasts, and events worldwide. Follow Eugene:
Follow Robotics 24/7 on Facebook
Article topics
Email Sign Up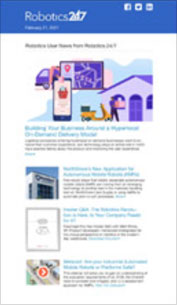 Get news, papers, media and research delivered
Stay up-to-date with news and resources you need to do your job. Research industry trends, compare companies and get market intelligence every week with Robotics 24/7. Subscribe to our robotics user email newsletter and we'll keep you informed and up-to-date.
GXO Logistics