The future of food and agriculture may rely more heavily on robotics and intelligent machines. The Washington Post recently reported that a trial run was launched in Midwest and the Mississippi Delta where robots were deployed, plodding along at 12 miles per hour. By using computer vision, the robots were able to distinguish between crop or weed and spray herbicide at pinpointed crops.
The effort is an undertaking at its early stages of implementation, but the potential is enormous. It allows very specific treatment, and no wide-scale crop dusting or spraying, as used in the past (often with aviation). Machines are helpful and don't have the concerns of toxicity, the hot sun, and hours deployed in the field, as with human labor, or other methods used to accomplish the same end.
While agriculture stands to benefit in many ways from robotics, such benefit will depend on the return on investments (ROI) associated with robots and a capability to fine tune their deployment to use them in a way that will save time, cost, and spare growers of the wares of agricultural danger from pesticides, fertilization, and the intense labor associated with it all.
Scalable and adaptable swarms
The technology outlook for this segment, follows the development path of so many other use cases of robotics in an industry niche: technology development is underway by researchers in academia and at many colleges and universities worldwide.
For example, adaptive swarm robots have the potential to provide significant environmental and economic benefits.
Texas A&M University-Corpus Christi recently received funding from the United States Department of Agriculture National Institute of Food and Agriculture through the National Robotics Initiative 3.0 program to develop swarm robots to be used in agricultural applications.
The project will incorporate multiple disciplines from the university, which will work on developing a swarm of robots that are "adaptable and scalable" and can assist in agricultural tasks. Much like The Washington Post's feature story about using robotics for weed control, swarm robots are also complex and would work to accomplish tasks such as soil compaction reduction and have an ability to pinpoint the weeds they wish to control.
Swarm robots are complex. However, their capabilities are great. And they have an ability of scaling up with a larger swarm. A swarm can perform multiple functions and may coordinate with others in the swarm. Such functionality is ideal for agricultural applications which consume labor and time, while being costly to an industry that is seeking ways to reduce costs and be more efficient.
Kiju Lee is an associate professor and Charlotte & Walter Buchanan Faculty Fellow in the Department of Engineering Technology and Industrial Distribution from Texas A&M. Lee is working on the swarm robot project.
In an article on the university's website, Lee said that "current trends in precision agriculture and smart farming mostly focus on larger machinery or a single or a small number of robots equipped and programmed to perform highly specialized tasks. This project will serve as a critical pathway toward our long-term goal of establishing a deployable easy-to-use swarm robotic system that can serve as a universal platform for broad agriculture applications."
Harvesting berries with robots
Other universities are hard at work on other innovations aimed at the agricultural sector. For example: developing gripper robots that could be used to harvest berries.
A field of blackberries is laborious to harvest and normally requires many labor hours to pick berries. The fragility of the berries usually requires that agricultural workers work in the field, gently plucking the blackberries from the bushes.
In a conjoint effort with a roboticist, Yue Chen, and others at Georgia Institute of Technology (Georgia Tech) and the University of Arkansas, are working on an autonomous robotic system that could complete the arduous task of picking blackberries.
The autonomous robot would use soft robotics to perform the delicate operation. It uses a soft robotic gripper to carefully grasp and remove blackberries from the plant without damaging the plant or the berries.
Chen is a biomedical engineering roboticist and said the motions required to perform something as mundane as blackberry picking is an ideal candidate for a soft robot that would be used in biomedical applications. In fact, it's another example of how an engineering application can be smartly transferred from one industry to another - in this case, biomedical to agricultural.
Chen's contributions draw from his experience designing medical devices.
"I'm a medical-device person; I'm trying to develop a device that's very dexterous, that's very compliant to save patients' lives," Chen said in an article on Georgia Tech's website. "I deal with a lot of math, engineering, and mechanics problems, and from that perspective, taking berries from a plant is quite similar to removing a tumor from the body.
"You want to identify a target, perform the path planning, reach the target, remove the target very gently, and, most importantly, avoid damaging the surrounding tissue, like a blood vessel or a nerve," Chen added.
The team worked with a blackberry expert (yes there are such folks) and specifically developed a gripper that resembles a three-finger hand that is suitable to the operation of picking blackberries. It's a dexterous process where the force generated from the hand is analyzed and the then the fingers used to hold on to the berries is examined to create the precise motion needed to accomplish the task.
It's yet another example of how robots perform tasks once thought unimaginable by any machine. But it is still in development. When such innovations come to market, they may be beneficial to food harvesting and benefit the entire world. Concurrently, as with all technology development, the outcome of the team's development and findings that may transfer to other sectors such as biomedical applications.
When innovative robots coincide with the backdrop of agriculture
This is just enough to whet our appetites when it comes to the application of robotics - not just in agriculture, but also in their influence on the future of sustainable and economic food production throughout the world in places that need more advancements in agriculture to improve their economy and feed their inhabitants best.
Agriculture is an industry with a long history of innovation. In fact, a student of history will always read about Eli Whitney's cotton gin or McCormick's reaper. In our present day, it is robotics that is coinciding with the innovative spirt of agriculture.
Consulting firm Deloitte, in an article on the use of robotics in agriculture, stated it aptly:
"Agriculture has a proven track record of developing and adopting new innovations to improve on-farm productivity and efficiency, enhance product quality, and open up new markets. Facing disruptive changes, the industry needs to look within and beyond itself to identify innovations that can maintain (and even extend) its competitive position."
About the Author
Jim Romeo
Jim Romeo is a freelance writer and contributor to Robotics 24/7 based in Chesapeake, Va.
Follow Robotics 24/7 on Facebook
Article topics
Email Sign Up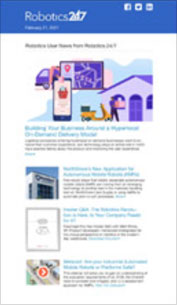 Get news, papers, media and research delivered
Stay up-to-date with news and resources you need to do your job. Research industry trends, compare companies and get market intelligence every week with Robotics 24/7. Subscribe to our robotics user email newsletter and we'll keep you informed and up-to-date.
Getty Images