Collaborative robots are increasingly being used in industrial applications such as material removal. Kane Robotics today said it will exhibit with three different partners at Automate 2023 this week in Detroit. The company's GRIT cobot works alongside people to perform a wide variety of labor-intensive finishing tasks.
"If a person's doing it, we can train a cobot to do it," stated Alan Hiken, chief operating officer at Kane Robotics. "We're not reinventing new processes to automate; we're helping manufacturers move to new tools that will make them more efficient."
"We're excited to be in this space," said John Spruce, founder and CEO of Kane Robotics. "3M is a big proponent of robotic finishing. It's typically a very hard problem, and there's not a lot of penetration of automation into finishing."
Kane Robotics develops cobot finishing
Since its founding in 2019, Kane Robotics has worked with manufacturers in aerospace, construction, defense, and other industries to simplify material removal processes through automation. The Chino, Calif.-based company claimed that it created the first collaborative robot built specifically for composites sanding.
Kane said its GRIT cobot is reconfigurable and easy to operate, working alongside humans to perform safe and precise sanding, grinding, and finishing. It asserted that its systems are compact, mobile, and affordable, making automation accessible to all sizes and types of manufacturers.
Why did the company choose to work with cobots rather than industrial robots?
"I have another business and a big customer was looking for ways to automate," Spruce told Robotics 24/7. "We showed people what a lightweight, low-cost robot could do next to a human ... sanding, polishing, and grinding. We had heard from customers over and over again that nobody likes to do these tasks."
"There's a nimbleness to collaborative robots that enables small and midsize enterprises [SMEs] to embrace this type of automation," added Hiken. "One key for us was our relentless focus on material removal. We saw an opportunity and teamed with leading suppliers in active/passive compliant technology, brush sanding, and end-of-arm tooling [EOAT]."
"It's hard to ignore the strides being made by collaborative systems," he said. "It's not trying to displace industrial automation, but we think cobots are opening the marketplace to a whole group of customers who never would have considered automation and can now benefit."
Kane Robotics to exhibit with partners
Application partners Applied Automation, ATI industrial Automation, and FerRobotics sought out Kane Robotics to exhibit GRIT cobots in each of their booths at Automate 2023 because GRIT operationalizes their products and services in realistic scenarios, said the company.
In the Applied Automation booth, Kane will showcase its GRIT XL, a system designed for polishing large objects such as aerospace parts. This is the first time Kane has exhibited with Applied Automation, but Applied's six distributors offer the Universal Robots robot arm that is used in Kane's GRIT solution in 41 of the 50 states.
"Customers want more options for solutions going forward so they can implement automation faster, rather than building a custom solution every time," said Silas Robertson, senior vice president of sales and marketing at Applied Automation. "Standard platforms like Kane's GRIT system are a better method because they are already put together with all the software ready to use."
Kane will also perform sanding and finishing tasks using FerRobotics' EOAT on the GRIT XL's robotic arm.
With FerRobotics' patented Active Compliant Technology (ACT), robots can adapt to complex surfaces with automatic force dosing. Moving objects or spontaneously occurring counterforces are compensated by the FerRobotics end effector.
"Transferring human competencies to ACT-equipped robots for sensitive application possibilities leaves unimagined opportunities for companies and processes," said Dr. Ronald Naderer, founder and president of FerRobotics.
With ATI Automation, Kane's smaller GRIT ST cobot will demonstrate ATI's CGV weld grinding tool, Universal Robots' UR10e cobot, and 3M's Cubitron II abrasive media. The system provides an alternative to the tedious and dangerous work of grinding and finishing by hand.
ATI said its CGV grinder has built-in compliance that allows the unit to compensate for irregularities in part surfaces, and its compliance force is adjustable, enabling users to make changes in real-time as needed. The CGV's sensing data allows for process validation, avoiding rework and downtime, it claimed.
Kane said it plans to demonstrate some of GRIT's material-removal capabilities that have already helped manufacturers with the following:
● Removing coating and sanding surfaces for paint preparation or repairs on helicopter main rotor blades (see video below)
● Polishing fighter jet canopies
● Sanding primer from machine components
● Deburring metal castings
GRIT promises utility
Unlike traditional industrial automation, GRIT systems are reconfigurable for different tasks and, with various sizes, the cobots can accommodate a wide variety of jobs, said Kane Robotics. They are accessible even for smaller manufacturers; a GRIT system requires an average investment of only $150,000 and can realize a 100% return on investment (ROI) within months, it added.
Costs and timelines are important to SMEs, noted Spruce.
"An automaker can take two years and spend millions of dollars [to add automation]," he said. "But a 100-person machine shop can't hire enough people, and they can have one of our systems in six to eight weeks. They can just plug it into 110v power, and we've already worked out the path planning for sanding."
"There's FOMO [fear of missing out] among larger companies," said Hiken. "We're not selling a lights-out solution. This is going to work where the robot does 80%, but manufacturers still rely on skilled operators for the 20% of evaluating quality, using their judgment, and loading and unloading parts. We're not inventing new processes."
Kane said it employs top industry experts in automation for sanding and composites. The company said users of its robots report 50% to 80% improvements in productivity.
Focus stays on practical applications
Unlike automation designers who create robots for the sake of technological innovation, Kane said it believes in practical systems.
"We don't ask, 'Can we automate?' We ask, 'Should we?'" Hiken said. "We educate our customers to focus on what their pain points are."
As a certified systems integrator for Universal Robots and FANUC, Kane taps into its domain expertise and sales leads to offer useful cobots, said Spruce.
"We offer a whole turnkey solution," he told Robotics 24/7. "In finishing, do-it-yourselvers are few and far between."
Kane has offered its systems through a robotics-as-a-service (RaaS) model, but most of its finishing customers prefer capital expenditures, Spruce said.
By performing tedious tasks that could cause repetitive motion injuries and respiratory illness in humans, the cobots can reduce health care costs for employers, noted Kane. They can also free up workers from the dull, dirty, and debilitating work that humans typically don't want to do, helping small and midsize manufacturers retain their employees and reducing the need to hire for hard-to-fill jobs.
Editor's note: For more about Automate 2023, visit Robotics 24/7's special coverage page.
About the Author
Eugene Demaitre
Eugene Demaitre is editorial director of Robotics 24/7. Prior to joining Peerless Media, he was a senior editor at Robotics Business Review and The Robot Report. Demaitre has also worked for BNA (now part of Bloomberg), Computerworld, and TechTarget. He has participated in numerous robotics-related webinars, podcasts, and events worldwide. Follow Eugene:
Follow Robotics 24/7 on Facebook
Article topics
Email Sign Up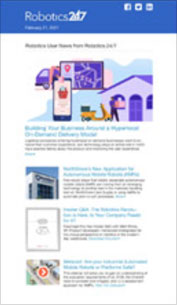 Get news, papers, media and research delivered
Stay up-to-date with news and resources you need to do your job. Research industry trends, compare companies and get market intelligence every week with Robotics 24/7. Subscribe to our robotics user email newsletter and we'll keep you informed and up-to-date.
Kane Robotics