Amazon's purchase of Kiva Systems in 2012 has had a ripple effect on the entire robotics industry. In the wake of the purchase, numerous robotics companies emerged, and interest and investment in warehouse robotics began to grow.
Quiet Logistics, which had been a customer of Kiva's, decided to start making its own autonomous mobile robots (AMRs) and would go on to found Locus Robotics in 2014. A number of former Kiva Systems employees banded together to start 6 River Systems in 2015. Other AMR makers that were founded around that time include Geek+, Fetch Robotics, and IAM Robotics.
But how did Kiva become such an influential player, and what made Amazon acquire the Massachusetts-based warehouse robotics company for $775 million?
Mick Mountz, co-founder and former CEO of Kiva Systems, and Peter Wurman, co-founder and former chief technology officer of Kiva Systems, were the keynote speakers at this week's Robotics Invest event in Boston. Cybernetix Ventures and F-Prime Capital hosted the conference, which drew more than 300 attendees.
Mountz and Wurman outlined Kiva's origins, its relationship with the Seattle-based e-commerce leader, and lessons for today's robotics startups and investors.
The origin
Mountz came up with the idea for Kiva Systems while working at Webvan, an online grocery business that ceased operations in 2001. While working there as the director of business process in logistics, he took note of how inefficient their fulfillment process was.
"After I had been there for six months, I looked through the cost of running the fulfillment center—70% of the cost was the human labor doing the picking and packing," he said. "When I was studying the labor, 70% of their time was walking around."
Mountz noted when he multiplied those two numbers together, he found 49% of the company's costs came from paying people to walk.
"I thought that only happened in golf," he joked.
In addition, Mountz observed that Webvan was still focusing on handling pallets and cases, while much of the industry had moved on to each-based picking for order fulfillment.
"E-commerce was emerging," he added. "There were no new technologies, no new ways to do this."
He thought a better method would involve a robot bringing goods to people. That way, a worker would not have to leave their station and could complete more picks.
Mountz enlisted the help of his former MIT roommate Peter Wurman and Raffaello D'Andrea, who served as the faculty advisor and system architect of Cornell University's robot soccer team.
"I was a professor coming up for tenure," Wurman told Robotics 24/7. "Mick pitched something interesting to me, but if the company failed, we'd have great material for years of research."
The trio went to work building a system. The result was a mobile robot and pod shelf designed to carry multiple items.
"Once we decided that we should move orders and not just products, we worked out the details in a half-hour ride," said Wurman. "We then figured out a demo that we built in two weeks. We didn't yet have outside experience to draw on."
The team faced some challenges in getting its first customers. There was a stigma around robots entering warehouses, Mountz said.
"Robotics was a four-letter word when we started this company," he said. "We were called Distribution Robots; 'DisRobot' was the name. People were horrified of robots going wild in their warehouses. So we just changed it to 'Kiva,' which means 'the meeting place of the ant people.'"
The pitch
To help sell the system, Kiva developed simulation software that allowed potential customers to see how their systems could be used to complete orders on the warehouse floor.
"People didn't believe it would work," Wurman said. "These simulation models allowed us to show them a top-down view and how the little pieces are robots."
"They could see them all moving, and they could see the workers on the permitter doing work, taking items out," he recalled. "Everyone's staying busy, and there's no massive congestion problem."
The visualization of Kiva's robots in action was a precursor to much of today's warehouse and fleet management software.
"We wanted to transition from demonstrations to managing complete solutions," said Wurman, who is now working on artificial intelligence at Sony. "We bought into the Apple mindset that technology should be pushbutton simple for people. The advantage to owning the whole 'walled garden' was that we could take an order, the lines, and boxes and take a robot out of service without complexity."
While Mountz had come up with the idea of robots helping warehouses save money on labor, that wasn't the biggest draw of the Kiva system, he said. Operators wanted the technology to increase their capacity, enhance order accuracy, and shorten cycle times, Mountz noted.
"One fun thing—we did an analysis five years after our first systems at Staples," Wurman told Robotics 24/7. "We looked at the heuristics, and those algorithms could have run the whole building with two-thirds the robots. It's important to get optimization by not separating the hardware from the software controls."
E-commerce's rise forced warehouses to be more agile, as customers demanded their products arrive at their doorstep sooner and sooner. Mountz cited luxury fashion department store Saks Fifth Avenue as an example. Saks installed Kiva's robots at its facility in Aberdeen, Md., and was able to go from offering four-day deliveries to same-day deliveries in some cases.
Mountz was quick to note, however, that the labor savings the robots provided did help those customers pay for Kiva's systems.
"The customers would say, 'I'll spend $5 million and save $2½ million a year, and in Year 3, I'm full.' That was kind of our macro business model," he recalled.
The build
Unlike today's robotics vendors, which can rely on contract manufacturers, Kiva Systems built its original hardware and software in-house, enabling more control over iterations and improvements, noted its founders.
"We had three rules: 1. Never starve the operator, so robots had to keep running; 2. Use the least amount of equipment possible; and 3. Don't do anything that looks stupid or endangers customer trust," said Wurman.
He added that Kiva had a "Tell it, sell it, design it, build it, deploy it, support it, and corporate overhead" division among its staff, with designers being 74 out of a total of about 275 employees. Kiva decided on its corporate culture by learning what positive traits were common in its existing staff, said Mountz.
He added that it's important for robotics startups to identify what customers want and then work backwards to build a pilot that does it. "Use their industry vernacular," he said.
"We focused on bookings and stayed lean through 2008," Mountz said. "With only $33 million in fundraising, we remained cash flow-positive and earned $100 million before the acquisition."
At the same time, not every warehouse is an easy candidate for automation, so startups must know their value proposition, added Wurman, who later started Amazon's Picking Challenge.
"Collaborative solutions such as those from Locus Robotics are easier to step into existing environments, but they sell fewer robots and thus make less profit," he observed. Capital depreciation cycles and fast returns on investment (ROI) are also factors to consider, Wurman said.
The goal
To grow its customer base, Kiva Systems kept a list of the top 500 internet retailers. Mountz and company would mark which of them were customers and which were not.
"We were lucky [as a robotics startup]. Because of e-commerce, we had a very focused goal and a very focused market," Mountz said.
He recounted conversations the company had during quarterly and monthly sales meetings, where its team would decide who would reach out to major brands such as Foot Locker, Office Depot, and more.
"We would just focus on this list and make sure everybody was using it," said Mountz. "At one point, we had gotten to about 12% of the market share among the top 100 internet retailers."
Mountz noted that the list was hard to maintain because many of the companies on it ended up getting bought by Amazon.
"We would sell a system to Zappos, and the next year, Amazon would buy Zappos, so we'd have to erase that because we couldn't really claim Amazon as a customer," he said. "The next year, Amazon bought Diapers.com, so we thought about changing our tagline to 'Buy a Kiva, get bought by Amazon.' Then it happened to us, and it wasn't so funny anymore."
The sell
After leaving Webvan in 2000, Mountz went on a tour around the country visiting companies to tell them about his idea to start Kiva Systems. He managed to get a meeting with Amazon's Pick team, and they hit it off. They loved his idea and thought it could make for a great solution.
Mountz stayed in touch with the company, and would go out to Seattle every year to show them how the company was progressing.
When Amazon's team visited Kiva in 2011, it had recently acquired Diapers.com, which was a major user of Kiva's robots.
"They learned through that process of buying Diapers.com that the Kiva system was pretty robust," Mountz said. "When we went out there to say, 'Let's do they project together,' they said, 'Yeah, we think we should do a project together, but we would need so many of your robots, so it only makes sense if we own the whole thing.'"
In 2012, Amazon bought the company and created Amazon Robotics based on Kiva's technology.
"If we hadn't sold Kiva to Amazon, the number of robots deployed wouldn't have grown from 200 to 600,000 or 1 million," Wurman told Robotics 24/7. "We helped create a category."
Editor's note: Eugene Demaitre contributed to this article.
About the Author
Cesareo Contreras
Cesareo Contreras was associate editor at Robotics 24/7. Prior to working at Peerless Media, he was an award-winning reporter at the Metrowest Daily News and Milford Daily News in Massachusetts. Contreras is a graduate of Framingham State University and has a keen interest in the human side of emerging technologies. Follow Cesareo:
Follow Robotics 24/7 on Facebook
Article topics
Email Sign Up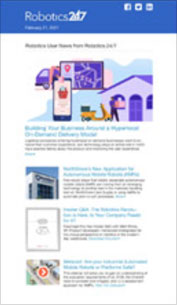 Get news, papers, media and research delivered
Stay up-to-date with news and resources you need to do your job. Research industry trends, compare companies and get market intelligence every week with Robotics 24/7. Subscribe to our robotics user email newsletter and we'll keep you informed and up-to-date.
Cesareo Contreras