Locus Robotics Corp. today announced the the expansion of its relationship with Radial, a bpost group company. The e-commerce fulfillment provider will deploy Locus autonomous mobile robots, or AMRs, at its warehouse in Romeoville, Ill. The companies said the AMRs will support high-volume order fulfillment for SKIMS, a retail apparel brand.
"This new deployment expands Radial's ability to strategically scale to meet the growing needs of dynamic and growing customers like SKIMS," stated Rick Faulk, CEO of Locus Robotics. "Locus' flexibility, seamless scalability, and fast ROI [return on investment] have helped Radial to consistently meet and exceed their global customers' expectations."
Wilmington, Mass.-based Locus Robotics said its multi-bot system incorporates AMRs that collaborate with human workers improve productivity by two to three times, with less labor compared to traditional piece-handling systems. The company said its technology can help retailers, third-party logistics providers (3PLs), and specialty warehouses efficiently meet and exceed the increasingly complex and demanding requirements of fulfillment environments.
Radial reaps productivity gains with robots
Locus said its system works with Radial's existing picking technologies and warehouse infrastructure. The company added that its robots and software are designed to be easy to deploy, improve, and scale on demand without workflow disruption or downtime.
The AMRs will help Radial's fulfillment center operations to meet rapidly increasing volumes and seasonal peaks, while also helping to control labor costs, Locus said. LocusBots can optimize worker productivity by decreasing walking time and improving worker ergonomics and workplace quality, it noted.
In addition, the interface of Locus' AMRs is designed to expedite onboarding of new employees. It includes integrated multi-language capabilities and an intuitive interface, without the need for long training times or added training and development resources.
"The innovative, multi-bot Locus solution has already proven itself in multiple operations in our network, driving greater operational efficiency, productivity, and accuracy for our customers," said Matt Snyder, senior vice president of solutions and transformation at Radial. "The Locus solution has been an ideal choice to help Radial continue to deliver high productivity and provide our clients with intelligent and efficient fulfillment solutions."
Customer success in a changing market
A key part of Locus' value proposition is its close relationships with customers.
"I joined the company about five and a half years ago, just as it started its first major deployment," said Jasmine Lombardi, chief customer officer at Locus. "We called our initial customers 'penguins' because they were willing to jump off the ice first."
Lombardi recently won a Bronze Stevie Award for "Woman of the Year in Customer Service" in the 16th annual Stevie Awards for Sales & Customer Service.
"There was a lot of skepticism, but the dynamics have changed," she told Robotics 24/7. "For example, DHL was a successful penguin, managing the supply chain of a bioscience/medical device company. It started with 15 robots in a 15,000-sq.-ft. building, alongside people who were still picking manually, since they didn't know if our system would work."
"That pilot has grown to 65 robots and hundreds of thousands of square feet within one year," Lombardi noted. "The whole building now runs with Locus, with no manual cart picking."
"Fast-forward to today, and DHL has signed a 2,000-bot deal, with more sites—not just North America, including the U.K., Ireland, and Australia," she said. "We're becoming a standard solution in its sites, and other customers, such as Geodis, are helping us expand globally."
Are only large 3PLs interested in Locus? "We've seen both smaller and larger initial deployments, with some installs of 150 to 200 robots out of the gate," said Lombardi. "For example, we're going live with a new site for one company every few months, once we've proven the business case, integration, and ROI."
Locus Robotics aids retention
While Locus and other AMR providers have experienced rapid growth around the COVID-19 pandemic, why haven't 75% of warehouses adopted automation yet?
"Even though we've had success, there are still companies that are skeptical," replied Lombardi. "A lof of it has to do with change management, but now with labor shortages, it's harder to find people to do the work of pushing heavy carts and having RF [radio frequency] devices strapped to their arms."
"Recruiters tell me that when they tell people that they can work with robots, there are soft benefits," she added. "In addition, we have the ability to translate the tablet display to the language of preference of the employee."
"I was at a customer site in Indiana, which has a huge Burmese community, and I facilitated translation to Burmese," Lombardi recalled. "Our systems have an easy list of terminology, and we support 21 languages. Once you have an environment set up for people, they'll recruit family and friends, and there will be less turnover."
Diversity drives innovation
How does diversity at Locus Robotics help it serve its customers? "I came here as an adult from Singapore and have a pretty wide range of skills and qualifications based on my background," said Lombardi. "I was a programmer, and then moved into project management. In the C-suite at Locus, 30% is female."
"We hire people from around the globe, and bringing different perspectives helps with innovation," she said. "We're able to solve problems faster, which provides better results for the company and our customers."
Last week, Boston Business Journal named Locus Robotics to its 2022 Fast 50 list for the second year in a row. The company, which acquired Waypoint Robotics last year, ranked third as one of the fastest-growing companies in Massachusetts.
'With MassRobotics, the state government has a big interest in the community," Lombardi said. "We need to differentiate ourselves from other robotics companies like Boston Dynamics to attract talent, and our culture is very much customer-first. I'm proud of my team, which brings the customer voice back to engineering and collaborates with other departments across the company."
About the Author
Eugene Demaitre
Eugene Demaitre is editorial director of Robotics 24/7. Prior to joining Peerless Media, he was a senior editor at Robotics Business Review and The Robot Report. Demaitre has also worked for BNA (now part of Bloomberg), Computerworld, and TechTarget. He has participated in numerous robotics-related webinars, podcasts, and events worldwide. Follow Eugene:
Follow Robotics 24/7 on Facebook
Article topics
Email Sign Up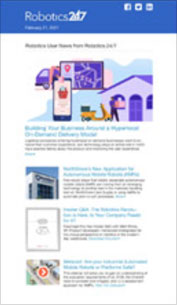 Get news, papers, media and research delivered
Stay up-to-date with news and resources you need to do your job. Research industry trends, compare companies and get market intelligence every week with Robotics 24/7. Subscribe to our robotics user email newsletter and we'll keep you informed and up-to-date.
Locus Robotics