A 50-pound flying robot can be lethal.
As drones swarm the U.S., regulators need convincing before they give Amazon, Google, and others permission for expanded use.
Bloomberg Technology has a fascinating article titled "Crashing Drones Into Test Dummies for Safety" which clearly identifies how the small- and medium-sized drones flooding the U.S. market can seriously injure or even kill someone.
Researchers at Virginia Tech - home to both a Federal Aviation Administration-designated test site for unmanned aircraft systems and a world-renowned injury biomechanics group - are developing methods to evaluate the risk posed by small unmanned aircraft to anyone on the ground.
This research is key to enabling flights over people.
Federal Aviation Administration regulations for unmanned aircraft systems, or UAS, currently prohibit these flights unless a special waiver is granted.
The regulations are designed to prevent injuries if an aircraft descends unexpectedly or the pilot loses control.
But they present challenges for efficiently conducting operations that otherwise seem ideally suited for unmanned aircraft, such as package delivery and aerial journalism.
And most applications face steep hurdles in densely populated areas, where it would be virtually impossible to ensure that there was no one beneath an aircraft's flight path.
"The majority of applications would be much more effective if they weren't restricted from operating over people, but you have to demonstrate that it can be done safely," said Mark Blanks, the director of the Virginia Tech Mid-Atlantic Aviation Partnership, which runs Virginia Tech's test site.
"The risk of injury is very low, particularly with small aircraft," Blanks said.
"This research can mitigate those risks further. And we have the world's best team doing it."
The Federal Aviation Administration is working to develop regulations that could allow certain small unmanned aircraft to fly over people depending on their injury risk.
Determining what those risk thresholds should be, and how to evaluate aircraft to ensure that they pass, will require experimental methods that can systematically assess the potential of unmanned aircraft to cause injuries of varying degrees.
"What we can do at the test site is help provide the data that can inform that decision-making," said Blanks, who also chairs an industry standards subcommittee developing guidance for safe flights over people.
Leading the injury biomechanics side of the research are Stefan Duma, the Harry Wyatt Professor of Engineering and interim director of the Institute for Critical Technology and Applied Science, and Steven Rowson, an assistant professor of biomedical engineering and mechanics in the College of Engineering.
Duma and Rowson have developed experimental methods and specialized equipment for measuring and simulating head impacts and assessing injury risk in fields including automotive engineering, athletics, and consumer products. Their research has informed industry safety standards and driven the development of more effective safety features and protective gear.

Virginia Tech engineering professor Stefan Duma, who led the study on head impacts in youth football, fits a football helmet on his son Brock.
Their lab is internationally recognized for their ratings of football and hockey helmets, which rank helmets based on how much they reduce an athlete's concussion risk; they are extending their work to other sports, and, now, unmanned aircraft.
"I see this research as having two key pieces," Blanks said.
"First, what is the risk of injury: how likely are these impacts, how hard are they, and are impacts at that level dangerous? And second, what can we do, from an engineering or operational perspective, to reduce that risk?"
The team has already begun the first phase of the project. Different unmanned aircraft are flown directly into a test dummy, mimicking what might happen if an aircraft accidentally hits someone. Sensors in the dummy's head and neck measure the force generated by the impact.
"We can get a good idea of what the kinematics are, and correlate that to different rates of injury, whether it's skull fracture, brain injury, or neck injury."
Other parts of the project will involve simulating impacts in the lab and conducting drop tests, which can measure the force exerted by a falling aircraft. This comprehensive experimental protocol will allow the team to study injury risk in a variety of possible impact scenarios.
The test methods can also be used to evaluate the effectiveness of safety features that unmanned aircraft manufacturers may design to help their aircraft meet any federal standards that are developed.
"There's a lot that you can do - bumpers, enclosed rotors, airbags - but you have to put in the research," said John Coggin, the chief engineer at the Mid-Atlantic Aviation Partnership, who has helped design the impact experiments.
Reliable testing methods and evidence-based safety standards will facilitate unmanned-aircraft operations that are restricted today. They are also expected to inspire the development of safer technology, as they have in the automotive industry.
"This testing gives us a route to not only determining whether a particular aircraft is safe, but also making aircraft safer than they currently are."
The Virginia Tech Mid-Atlantic Aviation Partnership has tackled key challenges in the integration of UAS into the national airspace - for example, traffic management for unmanned aircraft, detect-and-avoid technology, and flights beyond the visual line of sight.
This fall, a groundbreaking research collaboration with Project Wing investigated package delivery, with food as the cargo.
The partnership is based at the Institute for Critical Technology and Applied Science.
Related Article: UPS Drone Meets UPS Delivery Truck
Article topics
Email Sign Up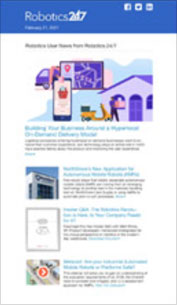 Get news, papers, media and research delivered
Stay up-to-date with news and resources you need to do your job. Research industry trends, compare companies and get market intelligence every week with Robotics 24/7. Subscribe to our robotics user email newsletter and we'll keep you informed and up-to-date.