Since 2020, Rapid Robotics Inc. has been using Markforged Inc.'s 3D printers to help it manufacture end-of-arm tools for its robotic workcells, which it offers to customers through a robotics-as-a-service model. Recently, Markforged released a video case study highlighting that relationship (see below).
Robotics 24/7 spoke with Tripp Burd, Markforged's director of new platforms, to talk about the company's partnership with Rapid Robotics and its efforts to help customers enhance their "manufacturing resiliency."
In addition, Burd talked about Markforged's new 120,000 sq. ft. global headquarters in Waltham, Mass. The goal of the new facility is to unify the company's growing staff. The new headquarters features engineering labs and an "interactive product showroom" for visitors, according to Markforged.
Editor's note: This interview has been edited and condensed for clarity.
Can you describe your role at Markforged?
Burd: I've been in the manufacturing industry for 15 years. For the past six years, I have been at Markforged, typically in the applications engineering space.
I do a lot of customer-facing activities, working to take our printers and go solve industrial problems. For the past year, I've pivoted a bit and now work on new platform development.
My understanding is that Markforged really focuses on 3D printing of manufacturing components.
Burd: Markforged offers what we call the Digital Forge, it's a 3D printing ecosystem that includes hardware, software, and materials. In 3D printing, it's not just one of those components that can deliver a good part. People are interested in getting parts at the point of need, which is what 3D printing is all about.
By offering the whole ecosystem, it's more of a turnkey experience that can provide higher levels of repeatability and reliability. It's an industrial-ready manufacturing system.
How long have you been working with San Francisco-based Rapid Robotics?
Burd: They started with us back in 2020 and have grown rapidly as their business has expanded. They've been able to scale with us and continue to add capacity as their needs have grown.
In the video, Rapid Robotics said it is able to iterate very quickly using your platform as opposed to traditional methods. Can you speak about streamlining that process? Is that a big part of how you pitch additive manufacturing?
Burd: It is. 3D printing has historically been used as a prototyping tool. It's fantastic for it. It's a great way to iterate quickly and develop prototypes.
The difference with Markforged is that the material properties and the repeatability and reliability of the printers and of the ecosystem are such that you can prototype and iterate using the same technology that you're going to use in production.
Traditionally, you might be using a more hobbyist or lower-performing 3D printer. That's good for form and fit check. … The advantage of Markforged is that you can iterate and tune as part of that development cycle, but then there is no requalification or translation from what was originally designed to the end process.
I can take the same design, and the same performance of the parts, and test all the way through to end function. And then once I've stabilized them in design, I'm locked. I already know the manufacturing process. I already know the performance of the parts, so pushing that into production use caes is a seamless process. That's a major difference compared with how additive meshes with traditional industry.
Can you speak about the usability of your systems?
Burd: The Markforged ecosystem prides itself on simplicity. 3D printing has an enormous amount of variables.
A lot of systems offer all that functionality and variability to the users to be able to fine tune, which can be useful in the hobbyist or academic setting, but in a factory environment, your goal is to not to be a 3D print tuner. Your goal is to go be a robotics solutions provider, to go out and put parts in the field.
By simplifying and taking R&D in-house, we've been able to empower our users so that they don't have to be a 3D printing expert. They have be to a robotics automation expert. They have to take the 3D printing tools that we provide and put it to work.
Rapid Robotics and ROI
Jordan Kretchmer, CEO of Rapid Robotics, mentioned how the company started out by working with small and midsized manufacturers. He also spoke about reshoring. Is that something Markforged thinks a lot about – this trend of bringing production closer to where the products are actually getting designed and used?
Burd: Absolutely. The closer the design loop and production loop, the more quickly and with more agility you can address and solve problems. In this case, it's a shortage of labor.
[Manufacturers] are trying to automate traditionally manual processes and improve the efficiency of factors. And for these small and medium-sized businesses, they're having challenges hiring. They're looking to continue to grow as demand in the U.S. opens for them. For them, going to automation is a great solution.
Markforged is following this trend because we want to empower people in this position with the ability to solve their own problems. We provide a manufacturing tool that allows them to solve their own problems.
How hands-on is your relationship with Rapid Robotics?
Burd: Markforged is here to support all our customers as they need. In the case of Rapid, they've been able to quickly understand the strengths of our materials, the performance of our printers and bolt that knowledge into their design and manufacturing workflows.
From a coaching and collaboration point of view, they haven't asked for a lot of help because the systems are simple enough, and their engineers are pretty talented. They can adopt this tool and go out and quickly solve problems.
Of course, we have resources available if they have a challenge or if they want to use our printers or materials in a way that we don't have experience with. We'd love to develop that with Rapid or anybody else.
When you speak with new customers, what are some of the key performance indicators that get brough up?
Burd: The validation process for Markforged or 3D printing or almost any manufacturing technology is the technical and functional requirements and then the ROI [return on investment].
On the technical side, we need to make sure that they intend to address can be solved with our printers. That might be repeatability and reliability for production volumes. That might be geometric precision and accuracy of certain features that might have critical tolerances or dimensions that need to be maintained.
A very robust solution is needed for people to ensure that they can get the same part every time now and in the future. So you have that end of things, but also, is it being exposed to temperature ranges that our materials can handle? It is being exposed to loads that are continuous carbon-fiber Kevlar that we can go and resist and replace aluminum or meet the strength requirements of these high-stress parts?
On the ROI side, we ask, "Does this solution actually make sense? If functionally or technically the needs can be met, then financially, are we still on the right path?"
If you look a their loaded cost of traditionally sourced components, it's not only the upfront cash costs—thousands of dollars for a set of grippers, for example—but also the cost of lead time, being able to iterate quickly and deploy a solution in a few weeks, versus consulting with a customer and then waiting two or three months before he can provide a custom solution. That hamstrings your ability to grow, it limits the value of that the customer can get, and it reduces your competitivities in the market.
So, provided that you can check the potential ROI box and meet the technical capabilities, those are the two ways you'd evaluate bringing our system in house.
Markforged consolidates facilities
Can you speak about your new headquarters and what the new space has enabled you guys to do?
Burd: We're very excited about our new building in Waltham. It's our corporate headquarters. Throughout Markforged's history, we've been a rapidly growing. We went from a startup in Cambridge to now a 500-person organization and are continuing to grow.
As we've grown in the past few years, we've been pressed for space. We were spread across three different facilities. We had sales and marketing and some corporate functioning in one headquarters, and then engineering, R&D, and support over in another, with manufacturing in a third. There was a lot of spread that we had to cover as we've grown and taken up space as needed.
Now bringing all these teams and the Markforged community together into one building, we've dramatically improved our ability to collaborate and build upon one another's success.
Is there anything else you think we should be talking about?
Burd: I think it's important to highlight the opportunity that Rapid Robotics is representing. They're a great innovator with their robots-as-a-service [RaaS] model. The partnership is a great example to highlight Markforged's fit in the robotics and automation space. The types of parts that companies in that industry are looking for are often complex and high value.
With additive manufacturing, you have the ability to make parts that meet the performance requirements. But also from a cost and lead time point of view, 3D printing and Markforged are perfect for that lower-volume, higher-value ecosystem.
About the Author
Cesareo Contreras
Cesareo Contreras was associate editor at Robotics 24/7. Prior to working at Peerless Media, he was an award-winning reporter at the Metrowest Daily News and Milford Daily News in Massachusetts. Contreras is a graduate of Framingham State University and has a keen interest in the human side of emerging technologies. Follow Cesareo:
Follow Robotics 24/7 on Facebook
Article topics
Email Sign Up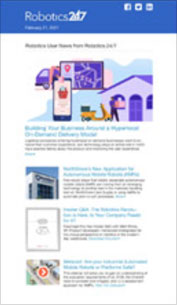 Get news, papers, media and research delivered
Stay up-to-date with news and resources you need to do your job. Research industry trends, compare companies and get market intelligence every week with Robotics 24/7. Subscribe to our robotics user email newsletter and we'll keep you informed and up-to-date.
Markforged